Online Child Care Registry Guide - For Centre and Home Providers (steps 1-2)
Online Child Care Registry Guide - For Child Care Providers (PDF version)
View long scrolling version (web)
This guide will help you create an account on the OCCR, a user-friendly tool that will allow you, as a licensed child care provider, to access and manage your online wait list. Learn how to create and manage your OCCR provider account by reviewing all of the sections in the guide or go directly to a specific section by using the index below:
Watch for these images while reading this guide:


This icon is for important information. Please read carefully.


Look for this icon to learn some helpful tips.
---
1. About the OCCR and Child Care in Manitoba
The Online Child Care Registry (OCCR) was created to help families search for licensed child care in Manitoba. Families can see a list of licensed providers based on the address or location they are searching from and the program type their child is eligible for. The OCCR is the easiest way for families to add their child(ren) to your wait list and keep their contact information up to date. It also gives families a place to see your program details and contact information.

 
Families are informed that being on the OCCR does not guarantee they will find a spot by the date that care is needed.
The OCCR is a great alternative to keeping a paper wait list. It collects the same information, but it lets you easily sort through your wait  list by using the child's age; date care is needed; date added; school child is attending and more. This gives your wait list the flexibility to be useful to all programs and all types of facilities and child care spaces.
On the OCCR, there is a function that helps providers using a paper wait list to transition from paper to online. It is explained in more detail later in this guide.
You Manage Your Own List
The OCCR is a tool families use to add their children to your wait list and to provide you with their contact information. Every provider manages their own wait list and accepts a child based on their own policies and procedures.  The Early Learning and Child Care Program is not involved in the enrolment process.
If a change that you have made to your wait list needs to be reversed, the OCCR staff will contact you before taking any action.


We may contact you to discuss a child's status on your wait list.
2. Logging in for the First Time
When a new licensed facility opens, the Online Child Care Registry (OCCR) support staff will add it to the OCCR. As soon as your facility is in the system, families will be able to find it online and add their child(ren) to your wait list. You will be notified by email when your facility has been added and you'll be asked to create a username and password so you can access the list.


If you manage many wait lists, you will need a unique username for each one. However, you may use the same email account to register each username.

Check the OCCR wait list.


Now is a great time to bookmark this page in your browser. A bookmark will save the page so you can easily return to it again. Bookmarking is done a little differently in each browser.
Internet Explorer: Bookmarks are called Favorites. Use Ctrl-D or click Add to Favorites in the Favorites drop-down menu.
Chrome, Safari and Firefox: Use Ctrl-D (or z-D on a Mac), click the star symbol near your address bar or click Bookmark this Page in the bookmark menu. 
On the first page you will find a brief introduction of the OCCR, links to the wait list and other user support tools. Click on  
to continue.
On the next page, find the white Login on the green tool bar and click it to continue. This will take you to the My Waitlist login page.


On the My Waitlist login page you can log into an existing/current account, recover your username, reset your password or create a new account.
Let's create a new account. Click the New Users? link to start.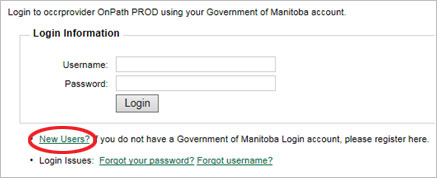 A new user registration form will appear on the page once you click the New Users? link.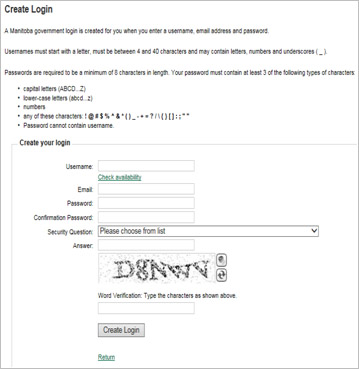 First you will need to create a unique username. You can click the Check availability link to see if the username has been registered by anyone else.
Then enter your email address. If you have an email address you use only for your facility, we suggest using that over a personal email address.
Next, you need to create a password. You must use certain characters to make sure it is secure. These requirements are listed at the beginning of the New User form.

Having trouble creating a password?
You can always contact us for help or you can go online to find guides for creating secure but memorable passwords.
Enter your password in the Password and Confirm Password fields. This is done to make sure you don't make a typing mistake when entering it.
Now choose a security question and provide the answer to it. You can choose from any of the questions in the menu or create one of your own.
Finally, you need to enter the Word Verification. This is a security tool used on many web forms. Type the letters or numbers in the field below exactly as you see them. They are case sensitive (it matters if they're capital or lower-case letters) and don't use spaces. If the letters and numbers are not clear, click the 

button and they will change. You can keep clicking, and the letters or numbers will keep changing until you can read them.
Last, click Create Login and the system will load the final step of the New User process.

This final step will connect your username to your facility wait list. This only needs to be done once, on your first log in.
Enter your Facility Number and the PIN that you  received in your invitation to use the OCCR.
If you no longer have that email, or have forgotten your PIN, please contact us and we can re-send it.
Once you click Save, your new account has been created. You are now logged into your wait list.