Online Child Care Registry Guide - For Centre and Home Providers
Online Child Care Registry Guide - For Child Care Providers (PDF version)
This guide will help you create an account on the OCCR, a user-friendly tool that will allow you, as a licensed child care provider, to access and manage your online wait list. Learn how to create and manage your OCCR provider account by reviewing all of the sections in the guide or go directly to a specific section by using the index below:
Watch for these images while reading this guide:


This icon is for important information. Please read carefully.


Look for this icon to learn some helpful tips.
---
1. About the OCCR and Child Care in Manitoba
The Online Child Care Registry (OCCR) was created to help families search for licensed child care in Manitoba. Families can see a list of licensed providers based on the address or location they are searching from and the program type their child is eligible for. The OCCR is the easiest way for families to add their child(ren) to your wait list and keep their contact information up to date. It also gives families a place to see your program details and contact information.

 
Families are informed that being on the OCCR does not guarantee they will find a spot by the date that care is needed.
The OCCR is a great alternative to keeping a paper wait list. It collects the same information, but it lets you easily sort through your wait  list by using the child's age; date care is needed; date added; school child is attending and more. This gives your wait list the flexibility to be useful to all programs and all types of facilities and child care spaces.
On the OCCR, there is a function that helps providers using a paper wait list to transition from paper to online. It is explained in more detail later in this guide.
You Manage Your Own List
The OCCR is a tool families use to add their children to your wait list and to provide you with their contact information. Every provider manages their own wait list and accepts a child based on their own policies and procedures.  The Early Learning and Child Care Program is not involved in the enrolment process.
If a change that you have made to your wait list needs to be reversed, the OCCR staff will contact you before taking any action.


We may contact you to discuss a child's status on your wait list.
---
2. Logging in for the First Time
When a new licensed facility opens, the Online Child Care Registry (OCCR) support staff will add it to the OCCR. As soon as your facility is in the system, families will be able to find it online and add their child(ren) to your wait list. You will be notified by email when your facility has been added and you'll be asked to create a username and password so you can access the list.


If you manage many wait lists, you will need a unique username for each one. However, you may use the same email account to register each username.

Check the OCCR wait list.


Now is a great time to bookmark this page in your browser. A bookmark will save the page so you can easily return to it again. Bookmarking is done a little differently in each browser.
Internet Explorer: Bookmarks are called Favorites. Use Ctrl-D or click Add to Favorites in the Favorites drop-down menu.
Chrome, Safari and Firefox: Use Ctrl-D (or z-D on a Mac), click the star symbol near your address bar or click Bookmark this Page in the bookmark menu. 
On the first page you will find a brief introduction of the OCCR, links to the wait list and other user support tools. Click on  
to continue.
On the next page, find the white Login on the green tool bar and click it to continue. This will take you to the My Waitlist login page.


On the My Waitlist login page you can log into an existing/current account, recover your username, reset your password or create a new account.
Let's create a new account. Click the New Users? link to start.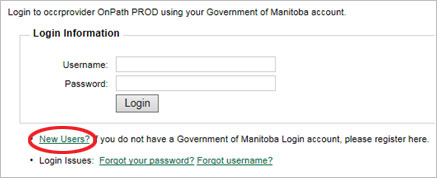 A new user registration form will appear on the page once you click the New Users? link.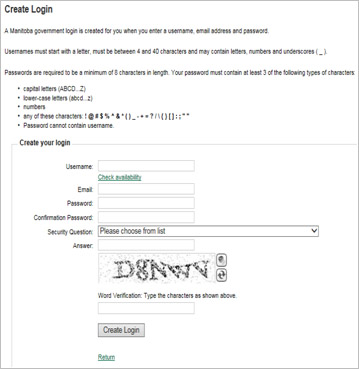 First you will need to create a unique username. You can click the Check availability link to see if the username has been registered by anyone else.
Then enter your email address. If you have an email address you use only for your facility, we suggest using that over a personal email address.
Next, you need to create a password. You must use certain characters to make sure it is secure. These requirements are listed at the beginning of the New User form.

Having trouble creating a password?
You can always contact us for help or you can go online to find guides for creating secure but memorable passwords.
Enter your password in the Password and Confirm Password fields. This is done to make sure you don't make a typing mistake when entering it.
Now choose a security question and provide the answer to it. You can choose from any of the questions in the menu or create one of your own.
Finally, you need to enter the Word Verification. This is a security tool used on many web forms. Type the letters or numbers in the field below exactly as you see them. They are case sensitive (it matters if they're capital or lower-case letters) and don't use spaces. If the letters and numbers are not clear, click the 

button and they will change. You can keep clicking, and the letters or numbers will keep changing until you can read them.
Last, click Create Login and the system will load the final step of the New User process.

This final step will connect your username to your facility wait list. This only needs to be done once, on your first log in.
Enter your Facility Number and the PIN that you  received in your invitation to use the OCCR.
If you no longer have that email, or have forgotten your PIN, please contact us and we can re-send it.
Once you click Save, your new account has been created. You are now logged into your wait list.
---
3. Recovering My Login Information
We recommend keeping the username and password in a safe place. If you forget your username and password, the Online Child Care Registry (OCCR) has the tools you need to recover that information on your own. As long as you know the email address you used to create your account, you will be able to recover your login information.
If you have forgotten your username, use the following steps to reset it:
On the login page, click the Forgot username? link, circled in the image below.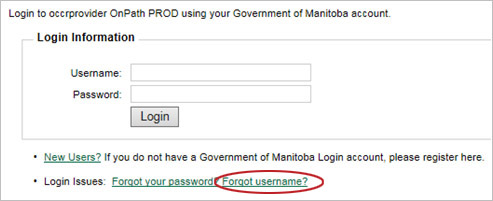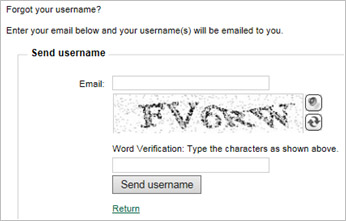 This will open the Send username form.
Enter your email address and the word verification code (as shown on left). Again, if the letters or numbers are not clear, please use the  button to load a new code until you get one you can read.
Click the Send username button and you will receive an email with a list of usernames connected to that email address.
Now that you have your username, you can use it to log in with your password. If you have forgotten your password, use the following steps to reset it:
On the login page, click the Forgot your password? link, circled in the image below.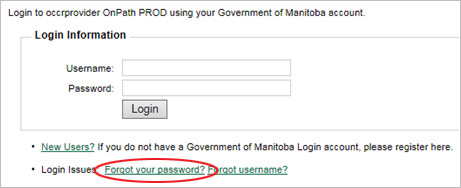 This will open the Reset Your Password form.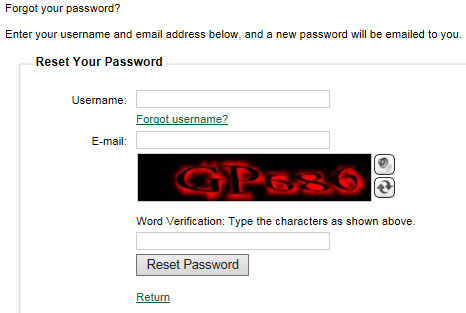 Enter your username and email address in the fields provided. Then enter the word  verification code. Again, if the letters or numbers are not clear, please use the  button to load a new code until you get one you can read.

Click Reset Password and you will receive an email with a new temporary password.
Return to the login page and use your username and password to log in.
When you log in for the first time after resetting a password, the system will ask you to change it. The same rules for passwords apply, like when you first created your account. The password will require at least eight characters including a capital letter, a lower-case letter and a number or symbol.


Having trouble with your temporary password?
Make sure you are typing the password exactly as it is shown. It is case sensitive (must use CAPITAL LETTERS and lower-case letters as they appear). If you are copying and pasting the password, make sure you select only the password, without any spaces before or after.
If your password does not work, try to reset the password again. 


Is the system asking for another PIN?
If this happens,
contact us
and we will send you a new PIN.
---
4. Child Care Provider Confidentiality Agreement
Each time you log into your Online Child Care Registry (OCCR) account, you will be required to accept the terms of a Confidentiality Agreement. To sum up, staff will only use the information on your wait list to contact families about their child care needs. This information will not be shared with anyone else without written consent (permission) from the parent/guardian.
Staff using the wait list must acknowledge the same terms each time they log in.
You can view the agreement here:
Child Care Provider Confidentiality Agreement
NOTICE of COLLECTION of PERSONAL INFORMATION
Online Child Care Registry is a Government of Manitoba, Department of Families ("the Department") program that works with parents/guardians and licensed child care providers in Manitoba.
The Department has collected personal information from parents/guardians to process and administer applications for their child on a placement waiting list with child care providers they have selected, licensed under the authority of The Community Child Care Standards Act.
The personal information provided by parents/guardians will be shared with the licensed child care providers they have selected on their application form.
By completing their application form, the parents/guardians have represented and warranted to the Department that they have the authority to consent on behalf of each person for whom they have provided personal information, such as a spouse and children.
The collection of the personal information entered on their application is authorized by section 36(1) (b) of The Freedom of Information and Protection of Privacy Act[1] as the information is related to, and necessary for ,the Department's Online Child Care Registry.
Questions can be directed to the Early Learning and Child Care Program at onlinechildcareregistry@gov.mb.ca or by calling 1-888-213-4754.
Please note that, as one of the selected providers, if you contact a parent/guardian to collect further personal information about the parent/guardian, child, or anyone else -- the collection, use, and sharing of that information are governed by your privacy policy.
The Department is not responsible for the personal information practices of licensed child care providers.
CONFIDENTIALITY, Guidelines for Providers
Every licensee shall keep information concerning a child or the child's family strictly confidential, but;
The child's parents or guardians shall have access to such information upon request; and
The information can be disclosed  with the written consent of the child's parents or guardians; or in accordance with the provisions of any legislation or a court order.
Guideline
Child care centres should develop policies to ensure written and verbal information about a child or family is always kept confidential. This includes information held and shared with the provider via the Manitoba Online Child Care Registry – List Manager.
Any information copied or reproduced from the Manitoba Online Child Care Registry – List Manager and held by the provider is subject to that individual provider's privacy policy.
A centre or provider cannot discuss a child or a child's family with another centre or provider.
Neither family nor child information can be passed on to another centre or provider without written parental/guardian approval.
Any concerns about the release of information should be discussed with the child care co-ordinator.
Best Practice
The centre or home care provider has a written confidentiality policy.
All board members, parent advisory committee members, facility staff, substitutes, practicum students and volunteers know about, understand and sign the facility's written confidentiality policy.
The director and board of directors/operators comply with other privacy legislation, such as The federal Personal Information Protection and Electronic Documents Act.
The Manitoba Child Care Association's Privacy Policy Resources for Child Care Facilities is used to ensure compliance with federal privacy legislation.
---
5. My Facility Information and Programs
My Facility
After logging into your Online Child Care Registry (OCCR) account and accepting the Confidentiality Agreement, you will begin at the My Facility page. Use the menu in the green bar along the top to navigate to other pages in your OCCR account.


On this page you'll find all your facility information, most of which is available for families to see when they view your OCCR profile. You can change your phone, fax, email and website on this page. If you are a home provider, you may also choose to hide your address or name from the parent-searching tools. To change all other information, please contact us.
If you make any changes, remember to click Save at the bottom of the page.
My Programs
The My Programs page will show families the programs your facility is licensed to offer. If you want to make any corrections to the programs, please contact us. You won't be able to change anything on this page, as it is for your information only. Note that provisionally licensed program spaces will not be listed on the OCCR.



The days/hours available for each program (infant, preschool and school age) cannot be seen by families.
My Facility Description
Each facility is encouraged to give a description of their services to help families decide if a certain facility is right for their child. When families find you on the search tool, a description appears along with your contact information. You are not able to see the description on your OCCR account, but the OCCR support staff can send you a copy and make updates for you.
If you would like to see your current description or update it, please contact us.


The OCCR support staff may contact you as part of an ongoing effort to keep information on the registry up to date. This information may be about your contact info, descriptions, use of the OCCR or it may ask for feedback on certain features and possible upgrades.


 Making Changes to Your Information
All information listed about your facility must match your license. This includes the facility information and the types of child care spaces offered.
---
6. Using My Waitlist
The My Waitlist page is where all the child and parent information is found. The top of the page has filtering options, which allow you to see only specific portions of your list.
The chart at the bottom is the actual wait list that can be sorted. Below, you can see what the page looks like. We will go into more detail about each option and column.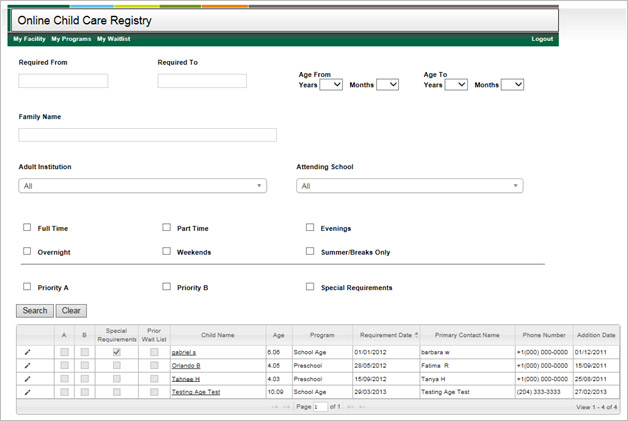 Sorting
Each column on the list at the bottom of the page can be sorted. To sort, simply click the column name. It will sort the list based on the values in that column (ex: with names, alphabetically). Click it again to sort it in the reverse order.
The column farthest to the left has a small picture of a  pencil .

This is a button you can use to change what's in the check boxes in columns A and B. When you click on one, it unlocks the check boxes for editing (changing) and the pencil changes into a disk

and a cancel sign

.
Click the picture of the disk      to save changes or the cancel sign to cancel any changes. Click the picture of the disk to save changes or the cancel sign to cancel any changes. Now let's go over each column name and the information it contains.



A:  This is a custom priority column. You decide what this means to you. For example, you can check this box if the child has a sibling (brother or sister) already in care. It will help you identify children on the list who may have priority over others regardless of the date they were added. This flag can also be applied or removed on the Child Details page.
B: Another custom priority column. It works the same as A.
Special Requirements:  In this column, families will let you know if their child has a special requirement. You should discuss this with the family in more detail as it could mean many different things (i.e. allergy, dietary needs, additional support needs).
Prior Wait List: This check box is for when a family has told you their child was on your previous paper wait list. This is used to help with the change-over from paper to online. Any family can say their child was on a previous list so it is up to you to confirm the information. You can remove the check on your wait list by clicking the child's name and clicking the Unconfirm Prior Wait List box on the Child Details page.
Child Name: This is the name the family provides you with. If the child is not born yet, the family may use Baby or Unknown, etc.
Age: This is the current age of the child in years and months. (ex: 3.5 = 3 years and 5 months old).
Program:  This column is for the program type the child is on the wait list for.
Requirement Date: This is the date on which the child needs care. If the requirement date has passed, it means that child care is needed immediately.


 
The requirement date is not the date the child was added to the wait list. An earlier requirement date does not mean the child has been waiting longer.
Primary Contact Name: This is the name of the parent/guardian who should be contacted about a space or for more information.
Phone Number:  This is the phone number the parent/guardian provided as a contact number.
Addition Date:  This is the date the child was added to your wait list. The older the date, the longer they have been waiting for a space in your facility. This date carries forward if the child ages up into an older program.  For example, if an infant turns two while on the wait list, they will automatically be moved into the preschool program, but the original date added will remain the same.
Filtering
Filtering will help you see only a portion of your wait list. This is useful when you have a specific space to fill or need to find a child that meets certain criteria. After setting your filters, click on Search to apply them to your list. When you want to return to your full list, remove your filters by clicking Clear and then Search again.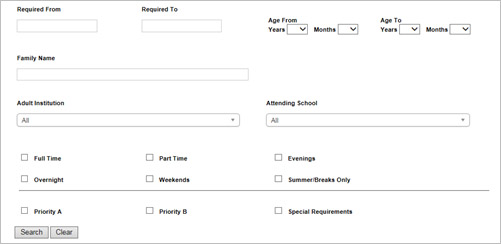 Now let's go over the filtering options and how they can be used.
Required From/Required To: Enter a date range for when the child requires care (ex: Jan. 1, 2016 to Jan. 1, 2018). This is useful when trying to fill a space that is available immediately.
Age From/Age To: Enter an age range to show children who fall into a specific age group. This is useful for showing children who are immediately eligible for a specific program.
Family Name: Enter a last name to help find a specific child on your list.
Adult Institution: When registering, parents may declare they are part of an organization, company or group. Some providers give priority to the children of parents affiliated with certain groups. For example, the priority for staff/students of a university would be to have on-site child care.
Attending School: When registering, families may include the school their child is or will be attending. Some providers give priority to children attending specific schools.
Time/Days Needed: Families must include the specific type of child care they are looking for, and when care is needed. This will help you find eligible children on your list, or discover children who are not eligible and need to be removed from the list.
Priority A/B: These are custom check boxes you can use to flag children on your list (ex: If a child on your list has a sibling and has priority when a new space opens up).
Special Requirements: If a family has shared that their child has a special requirement, this box will be checked off. This check can mean many things and you should get further details when speaking to the family (i.e. allergy, dietary needs, additional support needs).
Child Details
To see more information about a child on your wait list, click on the name of the child. This will open the Child Details page seen below.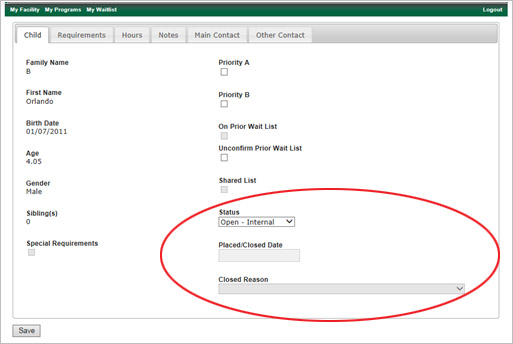 Here you can find additional information about the child that might help you to plan ahead. Look at each tab to see information or the actions you can take. You can learn if the child has a sibling listed, check his or her birth date, look at other methods of contact, add Priority A/B flags, manually change the Prior Wait List status and even leave notes about the child or contacts.


Once you place or remove a child, the notes on that child will be lost with the child's account. If there is any important information entered there, be sure to copy it to a permanent location first.
When managing your wait list, it is important to change the status of children. These capabilities make the OCCR useful for all providers. A child's status can be changed on the lower-right corner of the Child tab, seen circled in red above.
From the status drop-down menu, choose Open, Placed or Closed.
A status of Open means the child is still on your list and eligible for a space.
Changing the status to Placed means you have offered a space for a child and the family has accepted. Enter the date the child will begin attending your facility and click Save.


Changing a child's status to Placed will not only remove the child from your list, but from all other provider wait lists as well. The child has now found care and the family is no longer searching.

Changing the child's status to Closed means you have taken that child off your list. When you change a child's status to closed, you must choose a reason for removing the child by selecting a Closed Reason. There are several reasons shown in the drop-down list provided. Pick the most accurate reason and then click Save. Once this is done, the child will be removed from your list only. They will remain on all other wait lists they have registered for. 


When you close a child's profile on your list, the main contact for that child is notified. The notice does not explain the reason for the closure. You may receive a call from the contact looking for more information.

To exit the Child Detail page without saving, click the My Waitlist link on the green tool bar. It will bring you back to your wait list page.
When you are finished using your wait list, remember to log out of your account. You can do this by clicking Logout on the far top-right corner of the green tool bar, available on all pages of your account.  

Timing Out
You may get timed out of your account if you are logged in but have not clicked on the page for a long period of time. The screen may look the same but once you try to make a change, you will be re-directed to the login page and you will need to re-enter your username and password.  No changes will be saved.
---
7. The OCCR for Families
Steps I to VI have explained all the actions you can take in your Online Child Care Registry (OCCR) account for providers. The OCCR for families is quite different than yours. To give you an understanding of their process, below is a brief overview of what families can do in their OCCR account.
Registering for an Account
When a family creates an account to add their child(ren) to the OCCR, they must enter all the contact and child information that you, as a provider, see on your My Waitlist and Child Details pages.
Part of the process is searching a map for child care providers they are eligible for.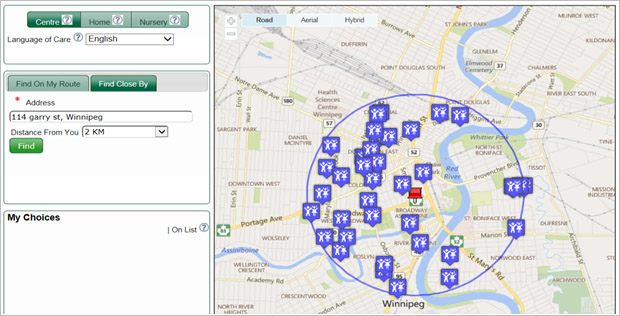 The family enters a facility type and an address to search by. If one of your programs matches their needs, it will appear as an option for the family to add to their list of choices. While centres and nurseries will appear both on the map and the list below it, homes with hidden addresses will appear only on the list below the map. It is on this map page that families will see your contact information, programs and facility description.

Are families having trouble finding your facility on the map?
A family may tell you they can't find your facility on the map. The most common reason for this is because their child is not yet eligible for your program due to their age. The map only shows facilities that the child can attend based on their age and the requirement date.
Please ask these families to contact us for help.
When Will My Child Get a Spot?
Families may contact you looking for information about their child's place on your list. The amount of information and detail you share with them is completely up to you. If families ask the OCCR support staff for this information, they will be told to contact the provider directly since you manage your own wait lists. If your wait list is long, you can ask families to call closer to the date they need care or you can tell them that your list is long and it's not likely they'll get a spot by the time they need it.
Notices to Families
Families receive email notices for any action taken on their account and may be contacting you for more information.  Here is a list of the notices families may receive:
Registration confirmation: This is a summary of the information families provided when creating their OCCR account. It shows the original date they added their child to each individual wait list.
Confirmation that their child is placed with a child care provider: Families will receive a notice letting them know when their child's status has changed to Placed. At this point, you should have already contacted the family directly and they have accepted the offered space. The notice will also inform families that their child has automatically been taken off all other wait lists. If the families want any of these lists recovered, they must contact the OCCR support staff.
Child removed from wait list: This notice informs families that you have removed their child from your wait list. Families may contact you for more information about why their child was removed.
Child removed from all wait lists: The OCCR requires families to log into their accounts at least once every four months, to verify they are still looking for child care and to update their contact information. If they do not respond to the warning email/letter, their accounts will become inactive. An email is sent to inform families of the removal.
---
8. OCCR Contact  Information
The Online Child Care Registry (OCCR) support staff is happy to help you with the registry. Feel free to contact us, whether it's to help you access your wait list or to show you how to use the tools available to you. We also welcome any feedback about the OCCR.
Phone: 204-945-0776
Toll free: 1-888-213-4754
Email: onlinechildcareregistry@gov.mb.ca