Table of Contents
---
Child Care, Your Child and You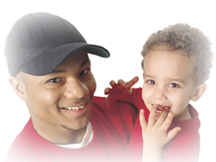 Each year, thousands of parents throughout Manitoba enroll their children in child care programs. For many parents the decision is not easy because they feel uncertain about what to look for in a child care setting.
Parents want child care that will promote their children's physical, emotional, social and intellectual development. Of course, they also require that the child care setting be healthy and safe.
Manitoba has done much to ensure these basic requirements of quality care are met in all child care settings in the province. As a priority, Manitoba's efforts have been directed to ensuring quality child care in facilities licensed by the provincial Child Day Care office.
If you are seeking child care for your son or daughter, you will find there are a variety of settings, each of which is clearly defined by Child Day Care. One of your first decisions will be to determine which type of care is best for you and your child.
By browsing these pages, you will learn:
the types of child care available in Manitoba;
ideas of what to look for when you visit a child care centre or home;
questions you should ask as a parent looking for quality child care; and
the requirements child care centres and homes must meet to be licensed by Manitoba Child Day Care.
Print this section and take it to the next child care centre or home that you visit and use it as your guide.
---
Child Care in Manitoba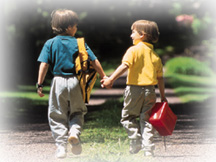 In 1983 The Community Child Day Care Standards Act was introduced by the Manitoba government to define the type of child care situations that would require licensing. The Act and its regulations ensure that child care in licensed centres and homes meets prescribed minimum standards.
In Manitoba there are two major types of child care available for your child: child care centres and family child care homes.
Child care in centres includes:
full-time care;
part-time or nursery school care; and
school-age care.
Child care in homes includes:
family child care homes;
group child care homes; and
private home child care.
The provincial government does not operate any child care services directly. Child care centres and homes are all operated by non-profit organizations or parent co-operatives, private companies or individuals. In all cases, they must be licensed. In addition, the provincial government provides grants to some child care centres and family and group child care homes as well as subsidies for qualifying families who use either private or public centres and licensed homes.
---
Child Care Centres
Full-Time Pre-school
A full-time pre-school centre provides care for children from three months to six years of age to meet the needs of working parents, parents who attend school and others who usually need full-time care for their children. In most instances, full-time centres open at 6 or 6:30 a.m. and remain open until 5:30 or 6 p.m. In some circumstances, evening, overnight or weekend care is also provided.
Part-Time or Nursery School
A part-time centre or nursery school provides child care for children under six years of age. It is used by parents who may not be working out of the home, but want an enriching experience for their pre-school children. These programs usually operate for two or three hours a day and from two to five days a week.
School-Age
A school-age centre provides child care for children from six to 12 years of age when they are not attending school. The care is most often provided before school, at noon-hour and after school. School-age centres normally provide care on teacher in-service days and seasonal vacations.
---
Child Care Homes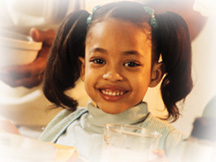 The main difference between a child care centre and home is that in the child care home the number of children is considerably less than in a centre. Like centre care, home care provides care for children whose parents are working, attending school or must be away from their children for other reasons.
Family Child Care
Family child care is a service provided in a family dwelling to a maximum of eight children, of whom no more than five can be under the age of six, and no more than three may be less than two years of age. The child care provider's own children are included in these maximum numbers.
Private Home Day Care
Private home day care is also provided in a family dwelling. The caregiver may operate without a licence and offer care for a maximum of four children under the age of 12, with no more than two children under two years of age. If more children than this receive care, the home must be licensed as a family child care home.
Group Child Care Home
A group child care home is run by "two" providers in one of their homes. A licensed group child care home can accommodate as many as 12 children under the age of 12, of whom no more than three may be less than two years of age.
---
Licensing of Child Care Centres and Homes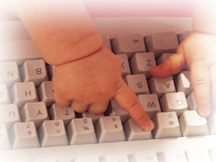 Child care centres and homes must be licensed every year. In order for a centre to be licensed, it must be assessed by a day care co-ordinator from Child Day Care, Manitoba Family Services and Consumer Affairs. Licences must be posted in a prominent place in the child care centre or home. There are three basic licensing documents of which parents should be aware:
a regular licence;
a provisional licence; and
a licensing order.
Regular Licence
A regular licence is issued for up to one year. The licence indicates that the centre or home meets the necessary requirements outlined in government legislation and regulations. The licence indicates the maximum number and ages of children that may be cared for at one time.
Provisional Licence
The posting of a provisional licence at a child care centre or home indicates that there are some areas that do not meet the required standards. These areas are listed on the provisional licence. The licence will usually cover a short period of time to give the child care centre or home an opportunity to meet all the standards. Once the conditions of the provisional licence have been met, the child care centre or home is eligible to obtain a regular licence.
Licensing Order
A licensing order is issued to a child care centre or licensed home when a severe violation of the act or regulations occurs. The order, issued by the Director of Child Day Care, requires immediate correction of the areas listed on the licensing order to bring the child care facility up to the minimum standards. Failure to correct the violation may lead to the loss of the child care licence.
The order also includes the name and telephone number of the day care co-ordinator, who will provide additional information about the licensing order on request.
---
What to Look For in a Child Care Centre or Home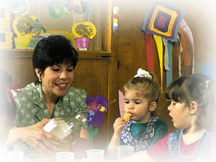 Parents should set aside some time to visit the child care centres or homes in which they are interested. It is important to see a variety of child care centres and homes to understand the differences that exist between the two types of care and from one facility to another. Visit as many centres or homes as possible, even if there may be waiting lists at the time of your visits. Once you have narrowed down your selection to a few centres or homes, you may wish to take your child with you to visit.
To help prepare you for your visit to the child care centre or home, seven basic areas of a centre or home operation are described in more detail in the following pages: general impressions, daily program, behaviour management, health, nutrition and safety, furnishings and equipment, staff training and ratios and administrative policy. A brief explanation of each area will assist you in preparing appropriate questions for your visit.
General Impressions
When you visit a child care centre or home, you will get an immediate impression as a result of some of the things you see. The following suggestions are general tips to think about as you look through the centre or home for the first time.
Is the child care centre or home clean and safe?
Do the children appear to be happy and enthusiastic in what they are doing?
Do the adults appear to be warm and friendly and responsive to the needs of the children in their care?
Does the child care centre or home seem to have enough space for the number of children attending?
Is a Child Day Care licence clearly posted?
Are daily menus, staff schedules and daily programs posted for parents' information?
Is the equipment at the centre or home in good condition?
Is there outdoor space for the children's activities?
Are there adequate napping and toilet facilities?
The Daily Program
A daily program at a child care centre or home should provide a well-planned and balanced program for your child. The daily routine should be flexible and include play activities, snacks, and in some instances lunch, a nap or rest time and outdoor play. Programs should allow for individual as well as small group play and there should be both active and quiet periods during the day. The program should be suitable for your child's stage of development. Daily play activity should include activities that allow your child to develop language, social, emotional, physical and cognitive skills.
Before a child care centre is licensed by Child Day Care, it must submit a statement describing how it will run its program and what is sees as its goals and objectives. This program philosophy may include statements that reflect the child care centre's attitudes to child care. All policies should include a statement of how parents may be involved in the centre's operations.
In all licensed child care settings, a daily program will be posted for parent information.
Here are some questions you may wish to ask to give you a better understanding of the type of program the child care centre or home provides.
What are the centre's or home's goals and objectives for children and parents?
What type of daily activities are there (e.g., creative art, music, dramatic play, science, reading)?
What are the policies regarding nap time and toilet training?
How is free play incorporated into the program?
At what time of the day do children play outdoors?
What are the centre's or home's expectations of parents' involvement?
Behaviour Management Policy
As a requirement of licensing, a child care centre or home must have a behaviour management policy, which is made known to child care staff and to parents whose children are enrolled in the centre or home.
The regulations state that physical punishment such as spanking, verbal or emotional abuse, and denial of physical necessities for any child attending a child care centre or home are not permitted.
Child care centres or homes that are effective in the care of young children have developed a range of positive alternatives to these negative forms of handling children. A copy of the behaviour management policies of the program will be provided to parents. These policies describe how they relate to children and how they handle children's behaviour if it becomes unacceptable.
Health, Nutrition and Safety
A number of specific regulations govern the area of health in child care facilities. Some of the more common requirements are procedures for distributing medication, what the centre or home must do if a child contracts a communicable disease, guidelines for keeping animals at the centre or home, procedures regarding diapers and the need for a first-aid kit at each child care centre or home.
All child care workers in centres and homes are expected to have completed instruction in emergency first aid and training in cardiopulmonary resuscitation (CPR) for the age of the children they are caring for.
The centre or home should outline when snacks and meals will be provided. Snacks must be provided if the child attends the centre for at least a three-hour period. If a child attends a facility for more than six hours a day, a nutritious meal (as outlined in the Canada Food Guide) and two nutritious snacks must be provided.
Parents should look for the menus, which must be clearly posted, to see the types of meals and snacks provided for their children. In some instances the child care centre or home may request that parents supply the meals and snacks for their children.
Parents should be made aware of the type of safety precautions that have been arranged in the child care centre or home. The emergency procedures and responsibility of staff should also be posted in a visible area.
The types of questions parents can ask about the child care centre's or home's policies regarding health, nutrition and safety may include the following:
What types of snacks and/or meals are served?
Are parents required to supply the food for their children?
Can a parent send a child to the centre or home if the child is ill?
What safety precautions have been taken to ensure the children's safety in the child care centre or home, in the outdoor play area and on outings?
What procedures are followed in the event of an emergency, illness, accident or fire?
What policies does the centre or home have to help ensure the health and safety of children with life-threatening allergies (anaphylaxis)?
Furnishings and Equipment
Furnishings at a child care centre or home can vary, depending on the nature of the child care arrangement.
The furnishings in a school-age or infant centre will be different from those in a pre-school centre or family child care home. Items such as tables and chairs, high chairs and infant seats, playpens and cribs, cots and sleeping mats are all part of the furnishings of a centre.
Child care centres often arrange their equipment in areas called learning centres. You will often see equipment arranged in the following areas: creative art, science, dramatic play, blocks, library, large muscle, sand, water, small table toys and construction. There must be a quantity of equipment available for the children to use and it must be accessible to the children.
In family child care homes you can expect to find the same range of equipment, but it will not usually be arranged in the same way as a child care centre because of the other family activities that take place in a home.
The types of questions that may be asked are:
Do the playpens and cribs meet current safety standards?
What type of equipment do you have and why is it arranged the way it is?
Do the children use the equipment on a daily basis?
How does the equipment help to develop the children's learning capabilities?
Staff Training and Staff-to-Child Ratios
Children who are cared for by competent early childhood educators will have a beneficial experience while they are away from their parents.
Manitoba Child Day Care classifies each person employed in a child care centre. Employees can be classified at Child Care Assistant (CCA) and Early Childhood Educator (ECE) II or III levels. Two-thirds of child care workers in a preschool centre must be at the ECEII or III levels. A person classified at the ECE II or III level has completed specific child care training or has formally demonstrated child care skills. In part-time centres or nursery schools and school-age centres, half of the workers must be at the ECE II or III level. In part-time or nursery school centres operating three or fewer sessions per week, only one staff person for every 30 children must be at the ECE II or III level.
Family child care providers are not required to be formally classified, but must be assessed by staff of Child Day Care as being suitable to care for young children in their homes. New family child care providers licensed after January 2003 must complete, within one year of being licensed, an approved course relevant to early childhood education or family child care.
The number of staff caring for children, which is called the staff-to-child ratio, plays an important role in the daily operation of a child care centre. Regulations outline the staff-to-child ratios for children of different age groupings. Family child care providers are limited to a maximum number of children of different age groupings, and these ages and totals appear on the child care licence.
Here are some questions you may wish to ask concerning qualifications and ratios in the care setting you are visiting:
What experience do the staff or family child care provider have?
What educational training have the providers completed?
For how many children is one person responsible at any time during the day?
Administrative Policy
Administrative policy takes into consideration matters such as child information records, fee schedules, fee payments and the daily rules the child care centre or home may set.
The child information records contain necessary information such as the child's name, address and phone number; the child's legal guardians; a listing of who can be contacted in case of emergencies; names of persons to whom the child may be released; and, any medical, physical, developmental or emotional conditions that may affect the child's care in the centre or home.
Parents should clearly understand the centre's or home's policies on fees and their payment. Most child care centres and homes care for subsidized children. Depending on total family income, some families may be eligible for a child care subsidy to assist with the cost of child care.
The following questions may help you learn about the child care centre's or home's policies concerning fee payments, subsidy status and attendance policies.
During what hours is the centre or home open?
What is the cost of child care, and are there any additional charges?
Are parents eligible to receive subsidies?
What is the procedure for fee payment?

When are fees to be paid?
In cash or by cheque?
When will receipts be issued?

What is the policy for payment for days when your child is sick, absent or on holidays?
What notice is required for withdrawal, holidays or other absences?
---
How to Apply for Subsidies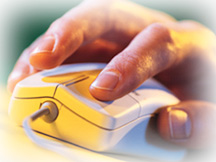 The first step in applying for a child care subsidy is to ask whether the child care centre or home of your choice enrolls provincially subsidized children. Many licensed child care centres and homes may care for children whose parents require financial assistance to pay their child care fees.
To be eligible, parents must show a reason for needing child care service. They may be employed, in training, attending school or university, looking for a job or have a medical or special social need.
The actual amount of subsidy is determined by a formula that examines the total family income, allowable deductions, number of children in care and the number of days of care required per week.
Upon request, the centre or home provider will give you a Child Care Subsidy Application. You will be notified in writing of the amount of subsidy to be provided on your behalf.
Or, you can estimate your subsidy online using the Subsidy Eligibility Estimator and then also submit a Subsidy Application by visiting our web site. Follow the links on the left hand side of the screen.
---
Children with Disabilities Program
The child care facility your child attends may be eligible for support through Child Day Care's Children with Disabilities Program.
For more information, contact the child care office nearest you and ask to speak to a day care co-ordinator. The co-ordinator can tell you about available supports and the process for applying.
---
Now That Your Child Is Enrolled in a Child Care Setting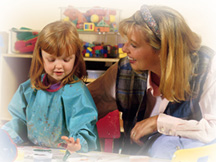 Your interest in your child's care should not end once you have found a suitable arrangement. There is a place for you at your child's centre or provider's home.
Legislation for pre-school, school-age and part-time centres funded by the provincial government requires that parents be represented on the centre's board of directors and that they become members of the centre's corporation. Private centres may also have a board of directors, but at the very least will have a parent advisory committee.
Be involved! Take an avid interest in what your child does on a daily basis. Talk with the centre director, staff or family child care provider about your child's progress and what is happening in the child care centre or home.
---
For More Information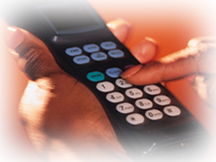 If you need more information regarding child care or financial assistance for child care fees, please contact one of the following offices:
Winnipeg
102-114 Garry Street
Winnipeg, Manitoba R3C 1G1
945-2197
Toll-Free: 1-888-213-4754
South Central
63B Stephen Street
Morden, Manitoba R6M 1Z6
822-2865 or 822-2868
Interlake
Selkirk Mental Health Centre
3rd Floor, Administration Building
825 Manitoba Avenue
Box 9600
Selkirk, Manitoba R1A 2B5
785-5107
Parklands
Dauphin Provincial Building
27-2nd Avenue S.W.
Dauphin, Manitoba R7N 3E5
622-2344
Norman
102 - 143 Main Street
Flin Flon, Manitoba R8A 1K2
687-1723 (Flin Flon)
627-8208 (The Pas)
Westman
Brandon Provincial Building
340-9th Street
Brandon, Manitoba R7A 6C2
726-6336
Toll-Free: 1-800-230-1885
Thompson
Box 5
59 Elizabeth Drive
Thompson, Manitoba R8N 1X4
677-7275
Central
Portage la Prairie Provincial Building
25 Tupper Street N.
Portage la Prairie, Manitoba R1N 3K1
239-3121
Eastman
Beausejour Provincial Building
20 - 1st Street S.
Beausejour, Manitoba R0E 0C0
268-6160
Bilingual Service Centre
Box 209
467 rue Sabourin
St. Pierre-Jolys, Manitoba R0A 1V0
433-2576