Health, Seniors and Active Living
Health Professional Resources
Baby Friendly Manitoba Pledge
Breastfeeding Poster
8.5 x 11 poster - click to download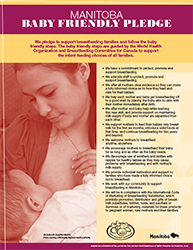 ---
What Is the Baby Friendly Initiative?
Leaflet
8.5 x 11 poster - click to download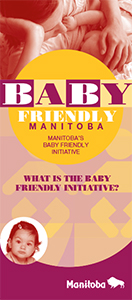 ---
Breastfeeding Photo Frame Magnet (English & French)
A magnet that provides important breastfeeding information for new mothers including signs that your baby is getting enough breast milk from the first days of life to two years and beyond.
---
Boys & Girls Crib Cards (English & French)
Crib cards that include the Baby Friendly Manitoba logo and provide helpful breastfeeding information on the reverse side.
---
Measuring tape (bilingual)
A coiled roll of 25 tear off measuring tapes that include the Baby Friendly Manitoba logo and a place to record height and weight.
---
To order copies of these resources:

Download the Breastfeeding Resources Order Form
(MS-Excel file)
Fax or e-mail completed form to:
Materials Distribution Agency
Fax: (204) 942-6212
E-mail: InformationResources@gov.mb.ca
These resources are available for order only to
RHAs and Health Professionals in Manitoba, free of charge.