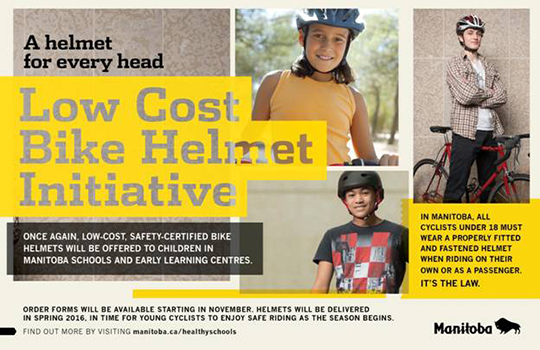 Protect your Noggin

Get out and bike. Wear a helmet every time.
In 2005 The Healthy Kids Healthy Futures All Party Task Force heard from Manitobans that it was important to promote the increased use of helmets and safer bicycle riding skills and behaviour as well as make affordable helmets more accessible to families in Manitoba. Since that time, by working in partnership with the Materials Distribution Agency (MDA), Manitoba schools and child care centres, over 104,000 low to no-cost bike helmets have been purchased by families throughout the province. Helmets offered through the Low Cost Bike Helmet Initiative cost $15 to $17; this includes taxes, shipping and handling.

Information about the Low Cost Bike Helmet Initiative is sent to schools and child care centres in November and orders are due in December. Helmets are shipped to schools and child care centres in the spring, just in time for young cyclists to get "in motion".
If you want to order helmets through the initiative, parent letters and order forms can be requested through your school or child care centre, or accessed and printed off here:
The deadline for families to submit their orders to schools or child care centres is January 8, 2016. Please encourage children and youth in your school community to continue to wear a helmet so they can be protected from head and brain injury.

For more information on helmet and bike safety, please visit:
---
Healthy Schools is a partnership of:
Health, Seniors and Active Living
Education and Training | Healthy Child Manitoba