Health Topics: Healthy Eating
Benefits of Healthy Eating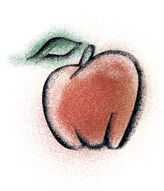 Healthy eating helps children grow, develop, and do well in school.
Eating breakfast, at home or school, improves children's memory, concentration levels, problem-solving abilities, and creative thinking.
A healthy diet helps children be more settled, attentive, and ready to learn.
Poor nutrition is associated with poorer learning in language arts, math, and general knowledge.
Healthy eating helps prevent child and adolescent health problems such as obesity, diabetes, and dental caries.
What can your FAMILY do to promote healthy eating?
Offer a variety of foods at meals by following Canada's Food Guide to Healthy Eating.
Provide a healthy breakfast. Save time by getting breakfast ready the night before.
Pack a healthy lunch.
Make time for meal-times. Eat together as a family whenever possible.
Involve children in planning and cooking meals.
Parents can teach children to eat well through their own example
What can your SCHOOL do to promote healthy eating?
Form a school nutrition action group.
Teach good nutrition.
Develop school policies that support healthy eating.
Provide pleasant areas and sufficient time for eating.
Ensure there are nutritional choices available in cafeterias, canteens, and vending machines.
Don't use junk food for classroom rewards.
Offer healthy alternatives for fund-raising.
Strengthen school food programs by learning what works best and why.
Click here for some examples of what Manitoba schools have done to promote healthy eating.
A Healthy School Approach to Food and Nutrition
Commitment to Nutrition and Physical Activity

Quality School Meals

Healthy Food Options

Pleasant Eating Environment

Nutrition Education
Healthy Eating Statistics
Good eating habits in childhood and youth have immediate and long-term benefits.

Children who eat breakfast are more likely to meet their overall daily nutritional requirements.

Only one-half of boys and two-thirds of girls report eating fruit five days a week or more.

Children eat less fruit and vegetables as they get older.

Soft drink consumption increases dramatically in boys between grades 6 and 10.

Older students, especially girls, tend to skip breakfast more often.

One in two grade 10 girls are on a diet or think they need to lose weight.

50% of boys and girls report not drinking enough milk.

In the last twenty years, intake of soft drinks has more than doubled.

Food is the most advertised product to children on TV. There are almost no ads for fruit and vegetables, milk, or whole grain products.

Childhood obesity in Canada has tripled over the past 20 years. 33% of 7-13 year old males and 27% of females are overweight. 10% of 7-13 year old males and 9% of females are obese.

Obesity leads to poor health, lower quality of life, and lower life expectancy.
---
Sources:
Alaimo, K. et al. (2001). Food insufficiency and American School-Aged Children's Cognitive, Academic and Psychosocial Development. Pediatrics, 108: 44-53.
Birch, H.G. and J.D. Gussow (1970). Disadvantaged Children: Health, Nutrition, and School Failure. New York: Harcourt, Brace & World.
Briefel, R. et al. (1999). Universal-Free School Breakfast Program Evaluation Design Project: Review of literature on Breakfast and Learning. Prepared for USDA Food and Nutrition Service by Mathematica Policy Research Inc., Princeton.
Joint WHO/FAO Expert Committee on Diet, Nutrition and the Prevention of Chronic Diseases. (2002). Geneva.
Papamandjaris, A. (2000). Breakfast and Learning in Children: A Review of the Effects of Breakfast on Scholastic Performance. Breakfast for Learning, Canadian Living Foundation. N. York, Ontario.
---
Healthy Schools is a partnership of:
Health, Seniors and Active Living
Education and Training | Healthy Child Manitoba