Climate Change and Air Quality Branch
Climate Change and Green Jobs Actions – Priority for Manitobans
With a new climate change agreement recently completed in Paris, the world is poised to take action on reducing carbon emissions and shifting to a green economy. Manitoba is prepared to continue to do its part, in partnership with with the Government of Canada.
Climate change is truly the defining global environmental issue of our time. The science around climate change is clear and conclusive. The world's climate is changing and human activities are rapidly accelerating this change. The time for action is now.
Manitoba's objective is to address climate change and air quality while building a prosperous green economy that is resilient, low-carbon, socially equitable and environmentally sustainable. The province will create more good green jobs that are local and stable. The province will also build on previous commitments, policies and programs that leverage investments and achieve multiple benefits.
Manitoba has a critical role to play in advancing global efforts to address the changing climate around us. We will build on our world class expertise to manage floods, droughts and water quality. We will continue to work towards eliminating costly and wasteful inefficiencies. We will enhance renewable energy and ecological goods and services to increase our natural, localized advantages.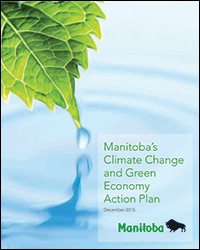 Manitoba's Top Climate Actions
Manitoba's new plan will work to drive innovation in the transportation and agriculture sectors, assess local climate-change risks and develop solutions, combat climate change through new community partnerships and advance innovative energy projects in local communities to continue to grow the green economy and create green jobs.
World-leading Energy-Efficiency Investments:
| | |
| --- | --- |
| | Manitoba will take immediate action to create a new demand side management agency, establish energy savings targets, lower utility bills by expanding the Power Smart program and support adoption of green-heating alternatives to fossil fuels such as geothermal technology. |
| | The Agency will develop conservation electricity rates, set energy efficiency product standards, and support building owners to generate energy efficiencies. |
| | Manitoba will partner with the geothermal industry and community organizations, such as Aki Energy, to responsibly introduce more geothermal and biomass installations, creating green jobs and powering the green economy. |
The Right to a Clean Environment
| | |
| --- | --- |
| | In October, 2015, Manitoba became the first Canadian province to sign Dr. David Suzuki's Blue Dot Declaration. |
| | The province will introduce a comprehensive environmental bill of rights that will enshrine the commitment that every Manitoban has the right to clean air, water, land and a stable climate. |
| | The new act would include an independent oversight body to ensure public accountability |
| | The province will work with Indigenous partners, utilizing and honouring traditional ecological knowledge on land and water use planning and will work with First Nations and Métis communities to develop localized plans |
Partnering Towards Green Jobs and a Green Esconomy
| | |
| --- | --- |
| | Manitoba will join Ontario and Quebec in introducing a cap-and-trade system for large emitters |
| | The province will engage with other sectors on the potential to introduce carbon stewardship, a unique made-in-Manitoba solution for non-capped industries. |
| | Manitoba will also partner with the City of Winnipeg to introduce curb-side composting, reducing nutrient loading through historic investments in wastewater treatment, electrify public transportation and expand active transportation. |
| | New partnerships have also been forged with the Manitoba Trucking Association, Keystone Agricultural Producers, National Farmers Union, universities and colleges, Economic Development Council for Manitoba Bilingual Municipalities and community organizations to help fight climate change and implement the actions in the plan. |
Innovative Programs, Incentives, Partnerships and Resiliency
| | |
| --- | --- |
| | The province will continue to expand on nationally recognized green building standards. |
| | Manitoba will move to make government operations carbon neutral. |
| | The province's support for climate science will be expanded through the Prairie Climate Centre and the Churchill Marine Observatory, which will research and inform Manitobans about climate change and allow the province to adapt to the adverse effects of climate change. |
| | The province will continue investments in crucial infrastructure from flood mitigation to adaptable transportation in remote communities. |
| | The province will expand on internationally recognized sustainable development education that will assist all Manitobans to understand their role in protecting the environment. |
| | The province will assist and support agriculture to adopt new environmental practices that reduce carbon emissions. |
| | The province will continue to expand ongoing work and research with the transportation industry and academia to increase fuel efficiency. |
Manitoba's Air Quality Program
Green house gas emissions are usually considered in the global perspective. However these emission sources and other air quality concerns in Manitoba usually tend to be of a localized nature. Some Air Quality impacts may include the presence of odours, noise and other air pollutants. The sources for green house gasses and other airborne pollutants include industrial operations, vehicle emissions, man-made substances released to the atmosphere and other specific activities. While all these localized events reflect the cumulative nature of global climate change, they also reflect the potential for individual and local actions to have on solving climate problems.
For more information: http://www.gov.mb.ca/conservation/envprograms/airquality/index.html