2010 Manitoba Fruit Crop Summary: Acceptable Season for Most Manitoba Fruit Growers
Strawberry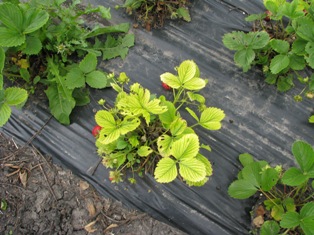 A very warm April, followed by cool May and June slowed development of strawberries. Some iron chlorosis in saturated fields early in the season, most fields recovered quite well. Harvest started closer to normal compared to the 2 previous very late years. Harvesting started last weekend in June and lasted till mid-July. Yields were below average due to higher levels of fruit rot in the field and smaller berry size as a result of the cool and wet spring/ early summer weather. All farms experienced good volume of u-pick customers throughout the picking season with some farms reporting higher pre-picked sales than normal. The day-neutral strawberry harvest continues with average yields expected if September does not experience a killing frost until late in the month.
Overall prices ranged from $1.80-2.00/ lbs ($9.00-$10.00/ 4 L pail) for U-Pick. Pre-pick prices ranged from $2.40-3.20/ lbs ($12.00-16.00/ 4 L pail).
Saskatoon
Wet conditions during flowering late spring and early summer resulted in leaf and berry spot disease in orchards unable to apply a timely application of fungicides. Growers who were able to apply a fungicide experienced average to above average yields. Some iron chlorosis in saturated fields early in the season similar to the strawberries. Overall orchards yielded average to below average across Manitoba. The harvest occurred mid-July to late July, which are the normal harvest dates.
Prices for Saskatoons ranged from $2.40-2.90/ lbs ($12.00-$14.50/ 4 L pail) U-Pick and $3.60-4.00/ lbs ($18.00-20.00/ 4 L pail) for pre-pick.
Raspberry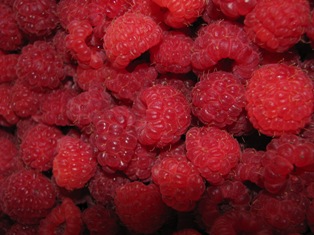 Normal picking season for many raspberry farms, with harvest starting mid July and continuing until early August. Again similar to last year's bumper yields with above average yields, large berry size and great flavour across the province. Growers had to monitor and spray for fruit rot disease early in the season to ensure good yields. Sap beetles were an issue during the last part of harvest, especially on over-ripe berries.
Prices for raspberries ranged from $2.67-3.67/ lbs ($2.00-$2.75/ pint) for U-Pick and for pre-pick $4.00-6.33/ lbs ($3.00-4.75/ pint).