Oak Leaf Blister
Oak Leaf Blister (Taphrina blister) is caused by the fungus Taphrina caerulescens.
Symptoms
Oak leaf blister symptoms include raised, oval to round-shaped blisters similar in appearance to that of bubbling paint from a heat gun.
Raised light green to yellow blisters may appear on upper leaf surfaces in late spring to early summer (See Figures 1, 2 and 3). These symptoms may be the result of an earlier infection to the young, expanding leaves. Cool, wet weather conditions can promote the development of the disease.
The underside of the blisters (viewed from the underside of the leaf) appear as a dull grey-green coloured indentation, rather than a gall which is formed by an insect. Numerous blisters may make a leaf curl.
As the disease develops, the yellowing blistered leaf tissue may appear brown, and grey (See Figure 4). The blisters will appear powdery in midsummer from the development of a new generation of spores, which may land on buds and overwinter on the budscales. In late summer or early fall, the leaves may fall from the tree prematurely. Conidiospores overwinter in bud scales or crevices in the bark and are transferred to susceptible leaves the following spring as the leaf buds begin to develop, and infect new growth.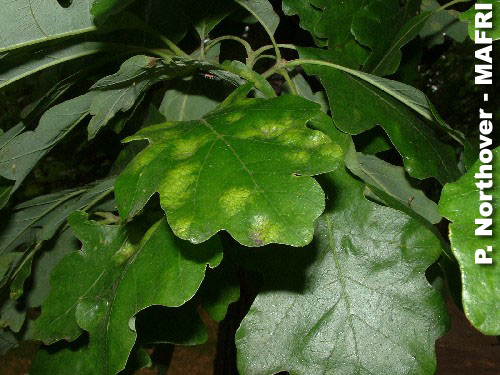 Figure 1.Oak leaf blister symptoms (caused by Taphrina caerulescens) on bur oak (Quercus macrocarpa) in Manitoba, June 2005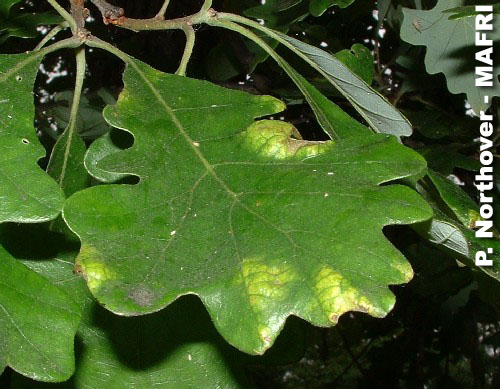 Figure 2. Oak leaf blister symptoms (caused by Taphrina caerulescens) on bur oak (Quercus macrocarpa) in Manitoba, June 2005
The disease may cause concern to homeowners as the disease can make the leaves (and the tree in general) look unsightly. Heavily infected leaves may fall off prematurely during the summer. Heavy infection each year and extensive defoliation over several years, has the potential to reduce growth which could weaken the tree, but this is rarely a significant problem.
Chemical controls are not normally justified, except in the case of very valuable specimen trees or in nursery situations, if economical. Application of fungicides after bud break WILL NOT be effective, as infection of leaves by the fungus would have already occurred. There will be no effect on the development of symptoms. Homeowners are urged not to treat large landscape trees, as there are no fungicides registered for domestic use, and the adverse effects associated with this disease are quite minimal.
Chemical Controls Registered In Canada For Commercial Use
It is too late to prevent oak leaf blister in 2005. In the spring of 2006 (the next window to prevent new infections) chemical options are available if the disease becomes a problem this year. The chlorothalonil products, Daconil 2787 (PCP#15727) and Daconil Ultrex 90SDG (PCP#24794) are registered for management of "Taphrina blister" (oak leaf blister) to be applied at dormant budswell.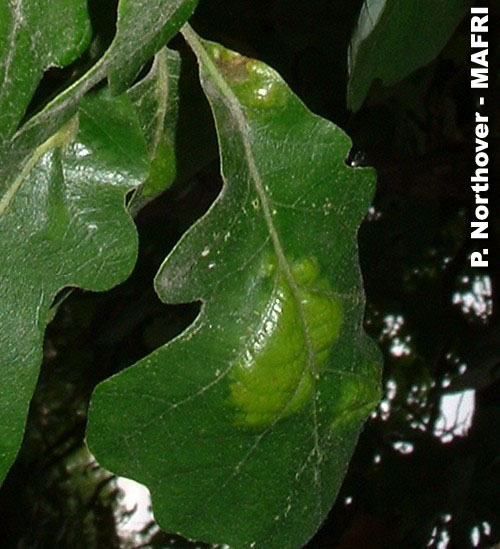 Figure 3. Oak leaf blister symptoms (caused by Taphrina caerulescens) on bur oak (Quercus macrocarpa) in Manitoba, June 2005
Cultural Management Practices
Removal of leaves from proximity to the tree will help reduce the potential for future disease, but will not completely eliminate it. As with most diseases, keeping the trees well watered and adequately fertilized, and pruning out dead or dying branches will help reduce the impact of this disease.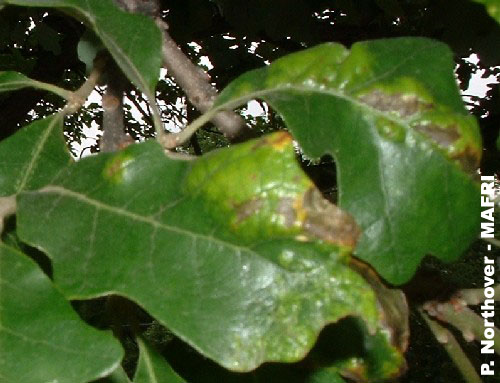 Figure 4. Grey-brown areas on the blisters caused by Taphrina caerulescens
References:
Conway, K.E. and J.E. Watkins. 1986. Oak Leaf Blister, In: Riffle, J.W. and Peterson, G.W. Diseases of trees in the Great Plains. Fort Collins: USDA.
Sinclair, W.W, H.H. Lyon and W.T. Johnson. 1987. Diseases of Trees and Shrubs. Ithaca: Cornell University Press.
For further information, contact your GO representative.