This page is archived. We will no longer be updating the information, but it can be used for research or reference purposes.
Verticillium Stripe of Canola Detected in Manitoba
Manitoba Agriculture  identified Verticillium stripe (Verticillium longisporum) in canola (Brassica napus) in Manitoba in 2014, this was the first time this disease has been detected in Canada.
The disease was visually identified by the Crop Diagnostic Centre on a canola sample submitted from patches of wilted canola were observed in a field. The pathogen culture was sent to the National Fungal Identification Service in Ottawa for molecular identification, which confirmed it as Verticillium longisporum. 

 This disease is known as Verticillium wilt or more commonly Verticillium stripe.
Manitoba Agriculture worked with the Canadian Food Inspection Agency (CFIA) to implement biosecurity risk mitigation measures, where the pest was detected. The CFIA conducted further surveying in spring 2015 to determine the spread of the pathogen.
Facts about Verticillium Wilt in Canola
Verticillium wilt is the most common disease found in canola in Sweden and is common throughout much of northern Europe.
Brassica crops like mustard, rutabaga, cabbage, cauliflower and broccoli crops can also be affected by this species of Verticillium. This is not the same species that causes Verticillium wilt in sunflower and potatoes, which is common throughout Manitoba.
Symptoms of Verticillium wilt in canola include chlorosis of lateral branches or leaves (often one-sided), early senescence and stunting. At later stages, the epidermal layer of the stem may peel back to reveal black microsclerotia.
Management of Verticillium Stripe in Canola
Verticillium longisporum is a soil-borne pathogen that can survive in the soil for 10 to 15 years, so biosecurity practices similar to those recommended for clubroot can help also prevent the spread of this disease.
The amount of spores in the soil declines over time. In Europe, where Verticillium stripe has been a long-term issue, the recommended crop management practice is to leave three years between canola crops.
Fungicides are not effective against this disease and host resistance in canola is not available at this time.
Symptoms of Verticillium Stripe in Canola at Harvest
Black microsclerotia can be seen just below the surface epidermal layer in this photo of an affected plant: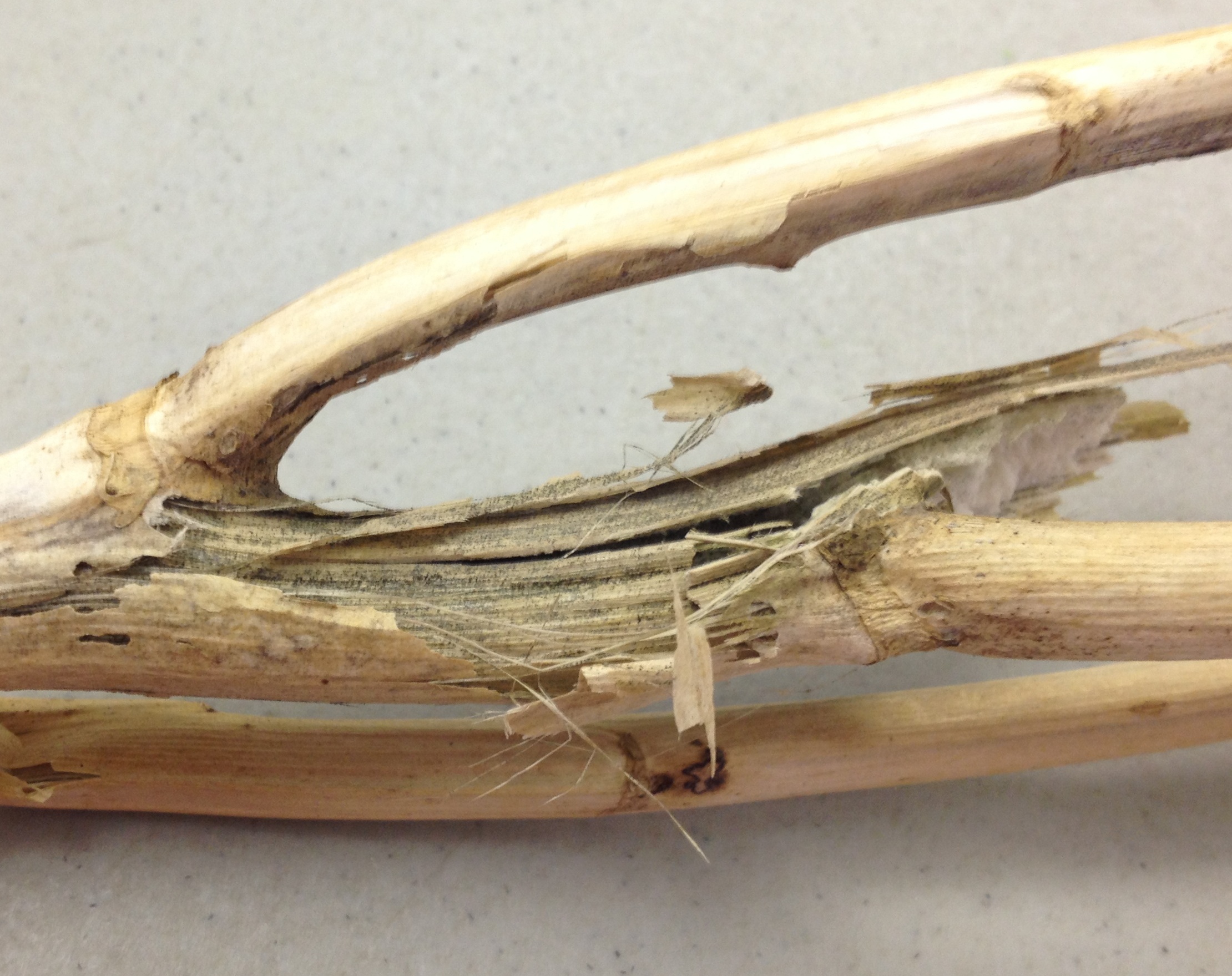 For more information
Contact Crop Industry office at 204-745-5660.