Crop Report: Issue 4, May 23, 2017
Weekly Provincial Summary 
Dry and moderate weather conditions at the start of the week with cooler and rainier conditions for the latter part. About 10 to 30 mm of rain came on the weekend for most of the eastern half of the province.

Seeding operation progressed well during the week. Rains reported in the Central, Eastern and Interlake areas are helping to re-supply surface soil moisture and improve emergence of later planted crops. It is estimated that 85 to 90% of seeding is completed in Manitoba.

Frost conditions reported in all regions with temperatures dipping to -2°C to as low as - 6°C on Friday morning. Most frost sensitive crops like canola and soybeans were not yet emerged limiting the extent of damage. There are some reports of reseeding but very limited.

Early planted cereal crops are growing well and many fields are in the 2 to 3 leaf stage.

Herbicide applications are being done as fields are in the proper stage and weather conditions allow.

Forage growth has been slow, but the recent rains and gradually warmer conditions should help.

Cattle are being moved out to pastures as forage growth allows. Water supplies are considered adequate.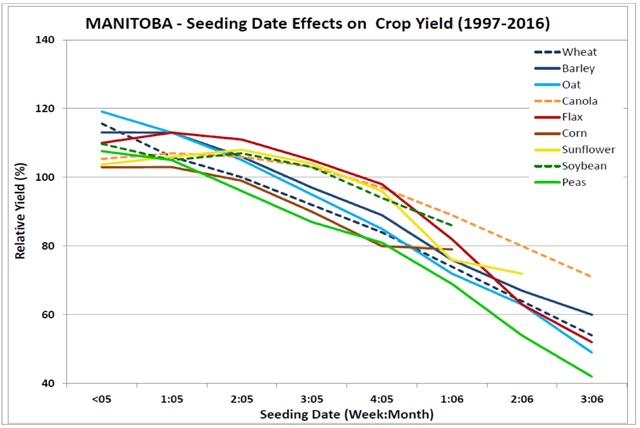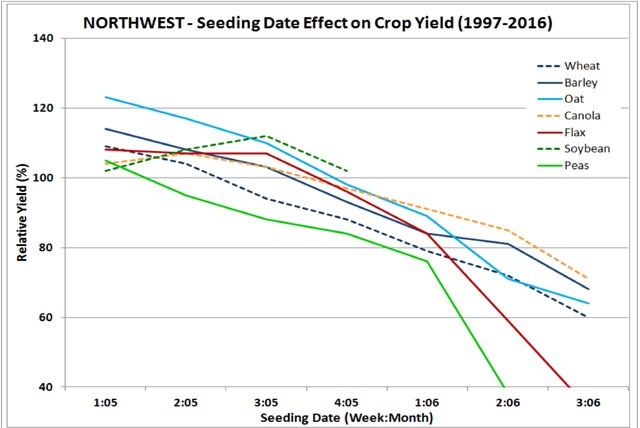 The Seeding Date and Relative Yields graphs are based on yields reported to MASC contract holders based on the seeding date provided in Seeded Acreage Reports.  The figures show the trends for crop yields based on the week seeded. These figures should be used as a guideline only, the true yield of crops is very reliant on weather conditions throughout the growing season.
Southwest Region
Showers early in the week but dry and windy conditions during the week allowed many more acres to be seeded. Daytime temperatures were variable during the week going from normal to above normal. There were a couple of nights with temperatures falling below freezing in the -3°Celsius in some areas. There are some reports of frost damage south west of Highway #1 but no reports of reseeding yet. Most frost sensitive crops had not emerged when the frost hit. Many farmers are still seeding around the clock while good conditions prevail.
Near Tilston, there is still excess moisture in low lying areas of fields. Those fields remain to be seeded. Water levels in river flats continue to recede but remain too wet to seed.
Overall 75% seeding is done in the Southwest region. Cereals are 80 to 90% done, canola is 50 to 60% done. Field pea seeding is mostly completed and emerging well. Soybeans are about 60 to 70% range done planted Majority of corn is planted. Most farmers are hoping for a rain that would help mellow seeded soil and provide sufficient moisture for germinating canola. Most crops seeded before last week have emerged. Soil temperatures have been stable at around 8 to 13°C this past week.
Most spring seeded cereals are in the 1 to 3 leaf stage. Some very early soybeans have emerged. Canola is in the cotyledon stage and should be checked regularly for flea beetles. Corn is emerging.
Winter cereals are in the tillering stage and growing well. Most herbicide applications are done on winter cereals.
Pastures are greening up but remain short requiring a rain and some warmer temperatures to stimulate growth. Alfalfa and clover stands are growing well. Dugouts have remained within their normal level. Many potholes on farmland have dried up allowing field equipment to cultivate and plant them to annual crops. Most areas need rain to stimulate growth. Producers are moving cows to pasture.
Northwest Region
As a result of warmer weather and limited precipitation through the week, good seeding progress was made throughout most of the Northwest Region. Soil moisture remains excessive in various areas with fields worked and seeded in less than ideal conditions. Some frost was reported mid-week however most frost sensitive crops are expected to recover or were not yet emerged.
With the exception of the northern part of the region, overall seeding progress is estimated to be 50 to 70% complete. Seeding of the spring wheat crop is approximately 75 to 95% complete with the earliest planted fields starting to emerge uniformly. Canola is 40 to 50% done seeding and approximately 20% is starting to emerge. Other crops grown in the region include field peas, soybeans and flax. Most of the acres dedicated to these crops are starting to emerge.
Herbicide applications are being applied to the earlier seeded crops. There are reports of cutworm damage in the Benito area requiring spraying.
Forage growth remains slow across the region due to the cooler temperatures. Producers are reporting alfalfa winterkill and brown root rot. Fertilizer is being applied on forage fields that were previously too wet for field equipment especially in the Swan River area. Corn silage seeding is underway with 50% of fields planted in the Dauphin/Ste. Rose area and 70% in the Roblin area. Some fields require extra preparation to level wheel track ruts from last fall's wet conditions. Some cattle herds are being hauled out to pasture but require supplementation as forage growth is insufficient.
Central Region
Cooler than normal weather conditions in the second half of the week as well as frost mid-week slowed crop development were experienced. Frost was reported in all areas with temperatures falling between -2 and -6°Celsius were reported in the Pembina Valley. Daily air temperature averages declined into the 9 to 10°C range. Seeding continues, with the majority of the crop in the ground in most areas. The region received some rainfall this past week, with many areas ranging from 10 to 20 mm. Dry conditions prevail in some lighter textured soils in the southwest part of the region, and seed germination is limited as a result. Blowing soil is a concern in these areas. Some soil erosion was seen from corn stubble fields planted on heavier soils.
Frost damage was reported on the canola fields that had emerged in the areas where frost was most severe. Most fields seem to have survived the frost, with minimal re-seeding required, based on reports to date.
Due to last fall's wet conditions, many fields required heavy harrowing or cultivating prior to seeding. The recent rains were beneficial as uneven germination was evident in fields with poor seedbed conditions. The rains have also helped to level out wheel tracks left from operating machinery in wetter field conditions.
Seeding overall ranges from 80 to 100% complete, with progress most advanced in eastern and southern parts of the region. Progress is less advanced in areas to the north and west, but progressing quickly.
The majority of cereals are in the ground. Most fields are germinating to two leaf stage, with the most advanced wheat in the three leaf stage.
Canola acres range from 80 to 100% complete, with progress most advanced in areas to the east and south. More reports of flea beetle activity, with injury seen in fields that have been seeded the earliest as the seed treatment protection weakens. Slow emergence and growth due to cool weather conditions and dry soils have allowed for flea beetle injury to occur. Both striped and crucifer types are being seen. Insecticide applications are being applied to headlands, and in a few cases, entire fields. Canola is in the cotyledon to 2 leaf stage, in eastern areas where the crop has been in the ground the longest. Warmer temperatures will stimulate growth, and allow crops to advance to less susceptible stages of injury. Fields need to be monitored closely up to the 4 leaf stage.
The majority of field pea acres are starting to emerge, as is corn. Sunflowers and flax are starting to emerge. Soybean acres range from 80 to 100% seeding complete, with the south and eastern parts of the region most advanced. Some fields are starting to emerge.
Edible bean planting is about 30% complete to date. Planting should continue this week in areas that didn't receive rainfall.
Winterkill has been a concern in some winter wheat and perennial ryegrass fields in eastern parts of the region, with the majority of acres re-seeded. Fields in western areas with good survival are growing and tillering well; stem elongation has begun. Some patchy fields are reported in the northwest part of the region.
Post-seed and pre-emergent herbicide applications as well as post-emergent applications are a challenge due to windy conditions. Some growers are having a hard time keeping up to pre emergence spraying. The rain also delayed spraying progress. Post-emergence applications have begun in the most advanced cereals, with some early spraying for wild oat control. Wild oat pressure is high in some fields. There is a lot of weed pressure, broadleaf and grassy weed types, in many fields especially where early application attempts were thwarted by adverse weather conditions.
Fertilizer applications, harrowing and land rolling operations continue as conditions allow.
Pasture conditions are rated as fair; but range from poor to good. Excess moisture is still a concern for some pasture and forages; others need a good rain. Forage growth in pasture and hay fields is progressing, but slowed last week due to cooler temperatures and light frost. Alfalfa in the northwest part of the region has suffered winterkill, and fields have uneven growth. Pasture growth is not yet adequate to turn cattle out. Livestock water supply is rated as adequate.
Eastern Region
Much welcomed precipitation fell across the eastern region this past weekend. Amounts of 10 to 27 mm were reported. The rain slowed the seeding progress but was most welcomed moisture as seed beds were considered to be on the dry side. Soil temperatures at 5 cm depth ranged from 8 to 12°C. Soil moisture conditions on cropland across the region are rated as adequate to slightly excessive given the weekend rain. Soil moisture conditions of hay and pasture land were rated at 10% surplus, 80% adequate to 10% short.
Reports of frosts were received from across the Eastern Region. Temperatures early Friday morning dropped as low as -3°C in some areas. Crop damage appears to be minimal as frost sensitive crops like canola and soybeans are just emerging and seem to have escaped damage. Some damage expected in cereals and corn but recovery is expected with little consequence as to yield.
The weather conditions last week were favourable for good seeding progress made up until the weekend rain. The majority of producers are expected to be wrapping up seeding operations by the end of this week if the weather holds. Seeding progress throughout the region is rapid and will result in many fields being ready for herbicide application around the same time. Pre-emergent and even early post emergent spraying is going on at a limited pace as producers focus on finishing seeding. Some producers may pause spraying operations because of the frost so that weed and crop growth can resume before further herbicide applications are done.
Across the region it is estimated that 90% of spring seeding is complete. Spring wheat, other cereals and corn are all but complete and many fields at the 2 to 3 leaf stage. Planting of canola, soybean and sunflowers are wrapping up and should be complete by the end of the week. Canola is emerging and is in the cotyledon stage. Soybeans are beginning to crack the soil surface and should be emerging this week.
Livestock are slowly being moved on to pasture as forage growth was slow. With the weekend rain pasture growth should be rapid. Hay fields are in good condition with some alfalfa fields showing signs of winter damage. Some producers are terminating damaged stands and replanting. Availability of livestock water is rated as adequate.
Interlake Region
Minimal to light precipitation during the week was had. Air temperatures ranged from -5 to +24°C enabling good seeding progress this last week throughout most of the region.
In the south Interlake seeding is over 95% complete, with spring cereals almost complete. About half of the fields have emerged and are in the 1 to 2 leaf stage. Canola seeding progress is about 90% complete with some fields emerged. No reports of frost injury to date. Soybeans are 95% seeded with some plants close to emergence.
In the north Interlake seeding is about 80% complete, with spring cereals nearly done and a few fields emerging to the 1 leaf stage. Canola and soybean seeding progress is 60% complete, with few fields emerged yet.
Seasonal rainfall for the region since May 1 is about 50% of normal and growing degree days range from 76 to 111% of normal.
Cool night time temperatures slowed the growth of forages, particularly legumes. There is significant winterkill in some alfalfa seed and hay fields, approximately 5 to 8% of these fields will be terminated and seeded to other crops.
Cattle are being hauled or walked out to native and tame pastures. Pastures are rated in fair to good condition. There is adequate water availability for livestock requirements.