Manitoba Insect & Disease Update
Issue 11:  July 27, 2016
Summary
Insects: Lygus bugs around economic threshold levels have been noted in a few canola fields in eastern Manitoba. Banded sunflower moth adults have also been noted; late bud to early bloom stage is when sunflowers should be monitored for seed feeding insects like banded sunflower moth, Lygus bugs, and red sunflower seed weevils. Trace levels of soybean aphid have been found on soybeans near Fannystelle and Lac du Bonnet; so far only trace levels have been noted and so far there are no reports of any populations approaching economic levels.
Plant Pathogens: Pathogens of various field crops continue to be reported.
 
 
Soybeans: Downy mildew in soybeans was reported from Manitoba Agriculture's Crop Diagnostic lab.
Sunflower: Sclerotinia was reported in sunflower.
Cereals: Low levels of Fusarium head blight (FHB) is being reported in cereal crops. 
  
Lygus bugs in flax
Some have been noticing Lygus bugs in flax and wondering if they could be an economic issue. Adults move into flax from nearby host plants in July when flax produces buds and flowers.

Although Lygus bugs can reach high densities in flax, flax is quite tolerant of their feeding damage under good growing conditions. A study in Manitoba found that under good growing conditions, populations of up to 100 per 10 sweeps were not economical. Whether this tolerance extends to flax growing under less favourable conditions in uncertain. Flax can compensate for insect injury by producing additional flowers.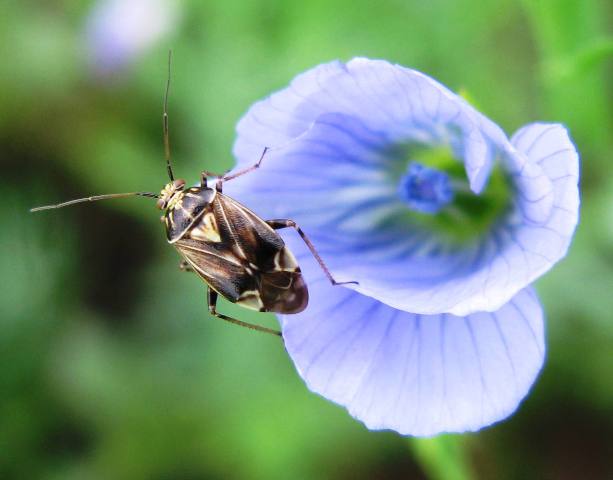 Figure 1. Lygus bug on flax
"Eggs" on heads of cereal plants
Some have been noticing what usually (although incorrectly) get described as eggs on the heads of cereal plants (Figure 2 below). These are not eggs, but clusters of pupal cases of parasitic wasps, likely a species of Cotesia. They are often parasitizing caterpillars such as armyworms, and before the caterpillar dies it climbs to the top of the plant. When you see a large armyworm near the top of the plant during the day, that could mean they are infected with either a parasitoid of pathogen. Healthy older armyworms prefer to take cover on the ground during the day. Many Cotesia larvae will emerge at roughly the same time from the armyworm (Figure 3), and quite rapidly after emergence form these silky pupal cases in a cluster, often high on the plant. So if you are seeing a lot of these, this is a sign that parasitic wasps have been actively working in the field.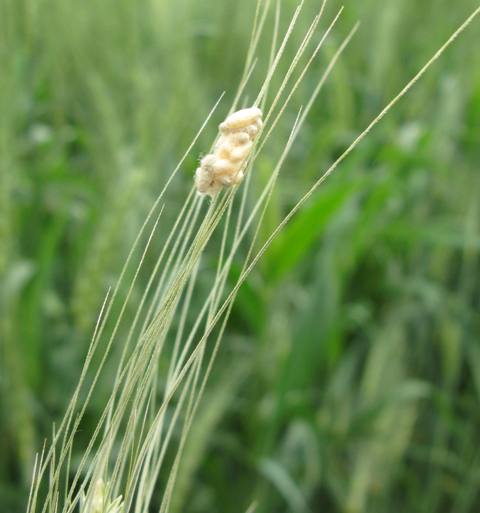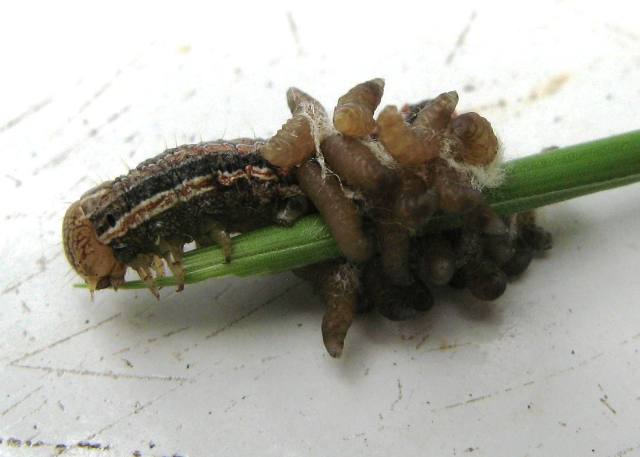 Figure 2. Pupal cases of parasitoid                        Figure 3.
Cotesia
emerging from armyworm
Emergence of wheat Midge
The following map shows the percent of wheat midge that are expected to have emerged, based on models using degree days to calculate percent emergence. In almost all areas that wheat is grown in Manitoba, greater than 90% of the wheat midge are expected to have emerged (red on the map). So emergence of the adult midge should be nearly completed.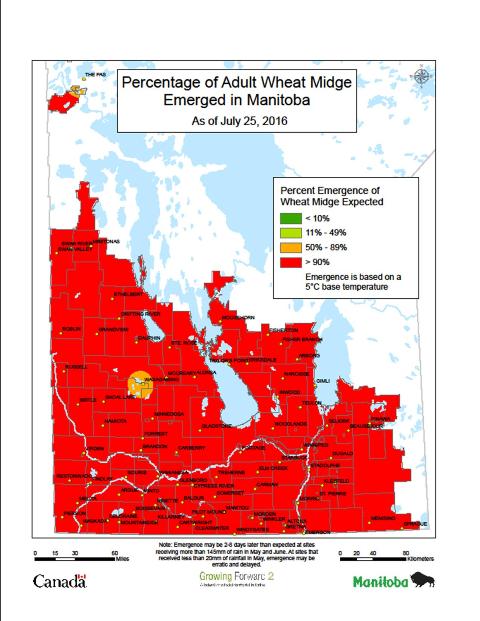 A reminder that wheat that has already produced anthers is no longer susceptible to feeding by wheat midge. Even if adults are still active in these more advanced fields, the larvae will not feed on the grain.
Note: Emergence may be 2–8 days later than expected at sites receiving more than 145 mm rain in May and June. 
A lot of wheat fields in Manitoba would have not been susceptible to wheat midge (having already flowered) by the time high levels of wheat midge had emerged. By now, all but the latest seeded fields would likely be too advanced for wheat midge to be a concern.
There were very few reports of economical levels of wheat midge this year.
 
 Insect Monitoring Programs 
Bertha armyworm: Cumulative trap counts for bertha armyworm are mainly in the low risk range (less than 300). Out of 83 traps, 72 are in the low risk range, 10 are in the uncertain risk range (300 to 900 moths), and 1 traps is in the moderate risk (900 - 1,200 moths). No traps are in the high risk range (1,200 plus moths). Most of the counts above the low risk range are in the western regions of Manitoba. The table below shows the highest counts as of July 26:
Cumulative trap counts for bertha armyworm

 0-300=low risk     300-900=uncertain risk     900-1,200=moderate risk    1,200+=high risk

Location
Count                    Risk
Durban (NW)
1,035                      Moderate
Benito (NW)
660                         Uncertain
Lena (C)
510                         Uncertain
Kenville (NW)
462                         Uncertain  
Minto  (SW)
447, 361                Uncertain
Roblin (NW)
408                         Uncertain
Tummel (NW)
399                         Uncertain
Swan Valley (NW)
350, 320                Uncertain
Dunrea (C)
333                         Uncertain
In the map below, green=low risk, yellow=uncertain risk, and orange=moderate risk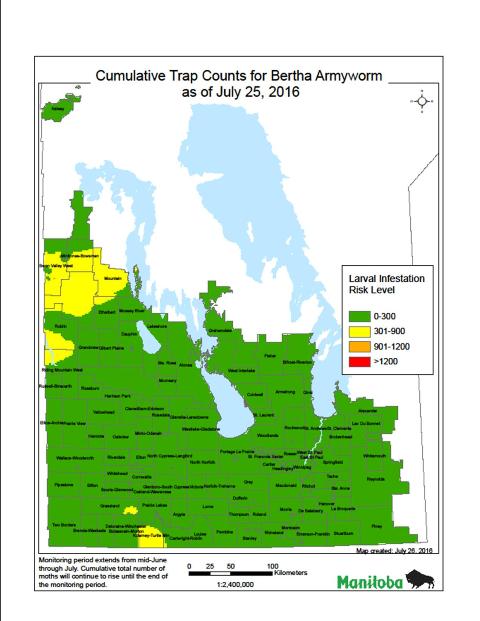 A reminder for those monitoring traps that the week of July 24-30 is the last week of data entry; traps can be pulled after data for that week is collected.
For uncertain risk the precaution we use is that economic levels of larvae may not be widespread, but fields that were particularly attractive to egg-laying females could have higher levels. Check your fields.
Note that there are times when we get to these levels, and no economic levels of larvae occur.
Also, higher levels of larvae, should they occur, may or may not be in the fields that the traps are in.

So far there have been no reports of high levels of larvae of bertha armyworms.
Compiled by: 
John Gavloski, Entomologist                    Pratisara Bajracharya, Field Crop Pathologist        
Manitoba Agriculture                                    Manitoba Agriculture
Phone: (204) 745-5668                               Phone: (204) 750-4248      
To report observations on insects or plant pathogens that may be of interest or importance to farmers and agronomists in Manitoba, please send messages to the above contacts.
To be placed on an
E-mail list
so you will be notified immediately when new Manitoba Insect and Disease Updates are posted, please contact
John Gavloski
at the address or numbers listed above.
---