Granny's new software to boost efficiency, effectiveness and profits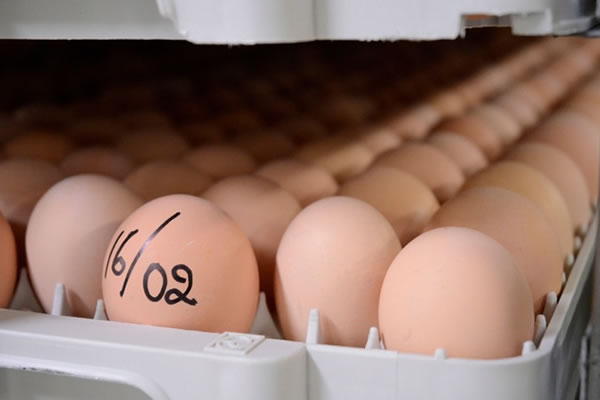 Eggs being sorted by date at Granny's facility.
Leaving behind scattered documents of data, spreadsheets and information, a Manitoba poultry plant can more accurately plan their future production.
Internationally recognized and fully integrated software is now helping to improve the communication and organization of data. As of March 31, 2015 Granny's Poultry Cooperative Ltd. began operating on MTECH software, which combines live and historical data from the hatchery, onfarm and production into one shared source.
"We have turned a risky and uncommunicative process into a solid, progressive connection that we can build on for a mutually beneficial future for our producers, our company and ultimately our consumers," said Rod Harder, Chief Financial Officer at Granny's.
It will take about six months for the system to become fully adapted, but once it does the company will be able to better plan the fulfillment of customer orders based on knowing what amount and size of birds they will be receiving on each shipment. Prior to this system the company would have a rough idea of how many birds would be delivered and how much each bird would weigh, but it would rarely be accurate. With the new software, Granny's producers can input number of birds, weight, and instances of mortality, giving the plant a clear sense of what it will be able to process to best meet customer needs.
Specific needs met through software
The software is designed specifically for the needs of a poultry plant and Granny's is the first in Canada to implement it. It tracks key information unique to poultry hatching and processing, such as: the weight of birds, and inventory of breeder flocks, eggs, chicks and broilers ready to process. Once it is fully adapted and about six month's worth of data is entered, the software will start helping to plan the next year's hatching schedule, quota utilization and production.
"For the sake of having one source of truth, it makes everyone's lives a lot easier and makes us more co-ordinated as a company," said Harder. "It integrates our producers with our hatchery, with our processing plant, and with our line operators by putting every area's data in one program, so each department is on the same page and know what is being done throughout the entire process."
Granny's was founded more than 50 years ago by a group of rural Manitoba farmers who wanted to ensure consistent high quality and fair pricing for the poultry they raised. Since then, the business has grown into the largest poultry processor in the province, with close to 500 employees. It processes more than 17 million chickens, turkeys and fowl each year and distributes its products across the country.
Upgrades good for Manitoba economy
"The system really helps them reduce errors and improve quality. It will definitely help to boost their production and profitability," said Grant Carlson, program manager at Manitoba Agriculture, Food and Rural Development. "Having it be the first in Canada, and customized to the Canadian specific quota system, I hope to see more Manitoba businesses interested in using this type of software to build their organization."
The project was funded in part by the Growing Value program, which aims to assist in the purchase of equipment, programs, or training that add value and innovation to the market. This can include new product development, market research, value-added equipment purchases, adoption of environmental sustainability practices and skill development.
---