Leading the market in hemp
Local company growing with each year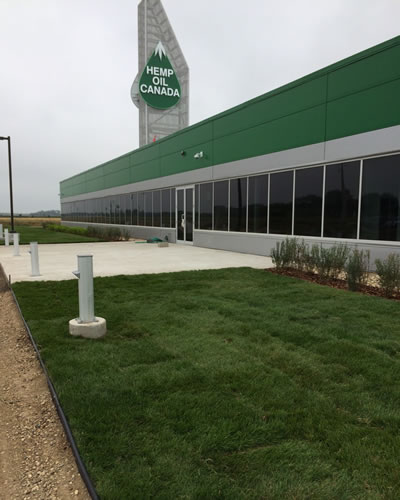 Hemp Oil Canada's new building tripled the organization's production capacity.
A new facility for a rural business is the first step in becoming a food processing leader.
Hemp Oil Canada's new facility in Ste. Agathe will have the capacity to produce three times more of their products, ranging from hemp oil, to hemp protein and even hemp coffee, than at its current location. This has allowed the business to hire four new full-time employees and it expects to hire another four or five staff in the next year to keep up with the demand in packaging, production, sales, marketing and administration.
"With the added capacity our company is now in a position to meet the 30 to 50 per cent annual growth expected over the next several years," said Shaun Crew, president and CEO of Hemp Oil Canada.
Crew expects that the larger demand for production will in turn increase Hemp Oil's contracting with prairie hemp producers, and said he is proud of the company's growth and contribution to the community.
Crew has been operating Hemp Oil Canada since he opened the original Ste. Agathe facility in 1998. It was one of the first hemp companies in the country following Health Canada's decision to re-legalize the cultivation of the plant for industrial and nutritional uses.
"It was a trailblazing experience and a true ground floor opportunity to create new food products from hemp seed, utilizing new processes that didn't exist before and then selling these products into new markets that had not yet been developed," said Crew.
Healthy benefits
The business began developing and selling products that fit within the health and wellness industry. The company has seen annual growth of at least 20 per cent for the past 17 years.
"This company is at the top of its game and hemp continues to be a product everybody wants," said Laura Telford, organic sector development specialist for Manitoba Agriculture, Food and Rural Development. "These mid-sized companies are very good at driving the economy. When they're growing like this they hire a lot of people and are able to hit above their weight."
Hemp Oil Canada received funding from the Growing Value program to help facilitate its move and purchase new equipment to improve production.
Some of the new equipment includes a rotary pouch filler, which will quickly pump the hemp into packages with minimal spillage and a colour sorter to reduce food contamination by certain allergens.
"There are a number of people now who, for health reasons, are trying to eat gluten free foods. Hemp is gluten free but sometimes a wheat seed can get mixed in with a batch - the colour sorter would remove those unwanted seeds," said Telford.
The new facility was also designed and built to the highest food safety standards, which brings the business within reach of being designated under the highest level of food safety. With the designation would come more opportunities to grow and expand, allowing the business to sell their products internationally.
---