Maple Leaf Foods adds new bacon varieties to its Manitoba production
Nothing will get between a bacon lover and their favourite food, especially not Maple Leaf Foods. Ever changing consumer tastes means agri-food companies need to be constantly refining their products. The company recently introduced new varieties of bacon to its production line here in Manitoba, including an antibiotic-free product.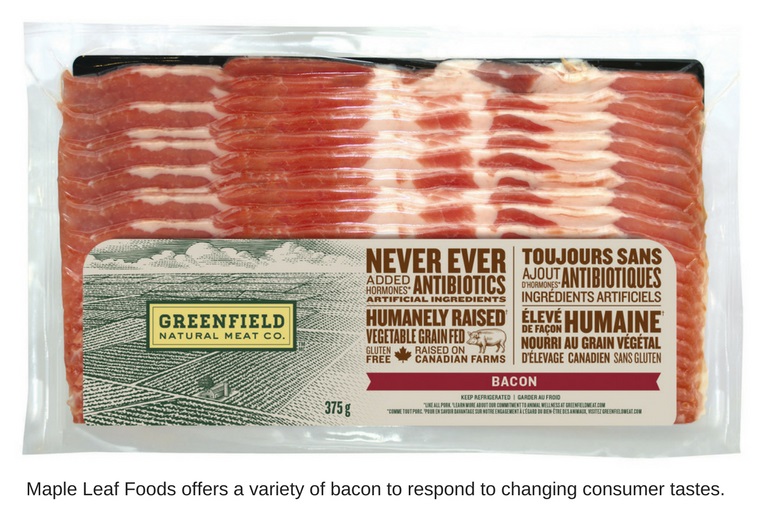 With the new products, Maple Leaf Foods is responding to a market trend where some consumers do not want antibiotics used in the production of the foods they eat. It's all part of a number of recent shopping trends reflecting a nationwide interest in seeking a greater variety in the foods we eat. 
"Canadians of all ages are taking the time to read ingredient labels and to make more conscious and deliberate decisions about food choices," said Jeff Fidyk, Business Development Specialist for Manitoba Agriculture. "They are interested in the type of production methods utilized and for processed foods, what ingredients are included and where they are from."
More bacon brings more jobs
The change in consumer shopping and eating habits has opened the door to new opportunities for employment in Manitoba.
Growing Forward 2, a jointly-funded initiative of the federal and provincial government, funds innovation and economic development in the agriculture sector. Through its recent contribution to Maple Leaf Foods, Growing Forward 2 supported the creation of 34 new full-time jobs through the expansion of Maple Leaf Foods' plant in Winnipeg, which produces bacon that meets the needs of the consumer segment who looks for products raised without antibiotics, as well as producing additional bacon varieties.
Funds from the program, totaling $500,000, contributed towards the $5.9 million purchase of a new slicing and packaging bacon line at the Winnipeg plant. These innovations have helped achieve greater labour efficiency, line speed and quality control. 
Rory McAlpine, Senior Vice President of Government and Industry Relations at Maple Leaf Foods, said the Manitoba government has been very responsive to the timeline on completing the Bacon Production Expansion project, which was critical to the company meeting its expansion goals. 
"We were able to create many new jobs in the plant, the line is operating very well and customers are happy with our product quality and our ability to meet their requirements," said McAlpine. 
As the employer of approximately 4,000 people, and with 80 per cent of their hogs sourced in Manitoba, Maple Leaf Foods plays an important role in our local economy. The company's investment in its new production line along with Growing Forward 2 funding is driving new employment in the province and creating new opportunities for producers.
"Manitoba has become a centre for jobs and pork products in North America," McAlpine said. "We've seen a very positive response from Manitoba's outstanding hog farmers."
Manitoba has a vibrant food and agri-product processing sector that is growing at an impressive rate. Funding provided by Growing Forward 2 has helped businesses grow faster than they otherwise would, with some of the funded companies getting a full two-and-a-half years ahead of their original growth plans.
"This project has filled an important need because it has enabled Maple Leaf Foods to expand within Manitoba using its integrated supply chain instead of resorting to outsourcing packing in the United States," said Grant Carlson, Industry Development Leader for Manitoba Agriculture.
Maple Leaf Foods employees have also been able to use state-of-the-art technology as a result of the funding from Growing Forward 2, allowing the company to meet customer demands for product freshness and quality. 
A focus on sustainability
A wide array of factors come into play when Manitobans make their food and shopping decisions. For companies such as Maple Leaf Foods and the producers it works with, the question is about offering variety to the consumer and ensuring sustainability.
"It's not just about raising hogs, which is very important, but there's lots of value being added—it's good for the economy, job creation and consumer health," McAlpine said. 
"We're proud of the employment we're creating and that we are producing products that reduce the need for antibiotics. We're helping to accomplish that and respond to consumers' interest in different products. It's a win-win!"