Manitoba soy processor powering forward amidst soy boom
Natural Proteins reaching new markets with help from equipment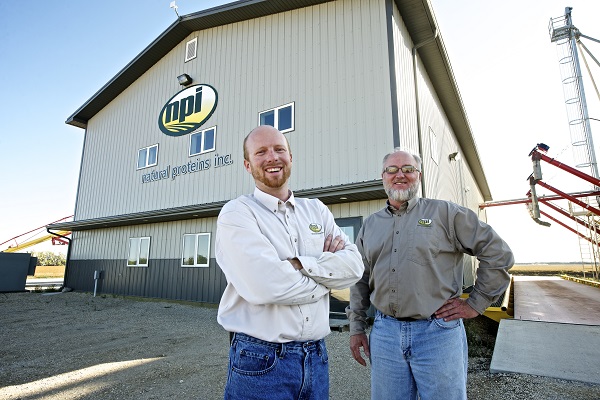 Wendell Penner's farm is seven miles away from Natural Proteins Inc. in Blumenort, MB. Penner typically has a three crop rotation, but this year his field is two-thirds soybeans and one-third canola due to his winter wheat not working out (the third crop). Natural Proteins uses soybeans to make high-quality meal (that feeds dairy cows), and soybean oil to give cattle feed an additional energy source.
The company's consumption of local soy and production capacity have increased since adding a supplemental disk mill, press and steeping conveyor system. Natural Proteins received about a quarter of the funds necessary to purchase the equipment through the Growing Forward 2 Growing Value - Commercialization program. 
"There's a good market for soybeans in North America. Having a crushing plant close to my place, that's a big bonus for me," said Penner. "Soybeans are relatively easy to grow and there's a demand for them."
Increased production benefits local farmers
With its increased capacity, Natural Proteins can process 100 tonnes of soybeans a day, up from 65 tonnes before its expansion. Most of the soybeans are grown on farms within 60 kilometres from the processing plant. 
"I'm glad when local businesses do well. It's a win for all of us," said Penner.
Ryan Dueck, the owner of Natural Proteins Inc., said the equipment has been in place for almost a year already. 
"What it has boiled down to is improved quality of product and improved efficiency; these two things have allowed us to enter more markets that we didn't have access to before because of quality, consistency and capacity concerns," said Dueck. "We've grown from a business of three employees to a staff of 11."
Mechanical process eliminates chemicals
The company uses a completely mechanical process that does not use any solvents. The soybeans are quickly cooked at a high temperature in an extruder, which deactivates the undesirable enzyme systems. This process naturally releases the oil for easy separation, and improves the digestibility of the protein.
Dueck said soybean meal is one of the most digestible and balanced protein sources in the world, and Natural Proteins sells their feed based on a minimum of 42% protein, which is higher than pea protein (about 30%), and wheat or barley (between 10-14%). 
"There's huge demand for protein, both for human food and animal feed, and we have the ability to grow it better than other provinces," said Scott Stothers, leader in industry development at Manitoba Agriculture's Food and Agri-Product Processing Branch. 
"In 2001, we had under 50,000 acres of soybeans. In 2017, we've reached a record of almost 2.3 million acres of soybeans, and we're expecting the number to climb to three million by 2022, if not sooner. The acres are the proof that the industry is responding to the demand from livestock producers for more soy-based feed."
Capturing new markets
Just because the demand is there, doesn't mean processors don't have to do the work to expand their markets. Dueck said there were a few key things that helped his company capture new markets in Western Canada. 
"The first person you have to convince is the nutritionist - the meal needs to show proven results and benefits," said Dueck. "Then there's logistics. Regarding shipping and cost of shipping, we can always be two days away by truck. It makes the purchasing flow a lot easier and is more reliable for customers."
Fast shipping turnaround for customers and a quality product made with Manitoba-grown soybeans has helped Natural Proteins carve out a growing market share in North America. Today, it sells soybean meal to approximately half of the dairy farmers of Manitoba. Dueck said he's confident his company will continue to grow.
"Soybeans are an amazingly adaptable plant. We're also farmers, and they've been the mainstay in our farm for the last 10 years," said Dueck. "Soybeans can handle drought, excess moisture, changes of temperature. You might never get rich growing soybeans, but you won't go broke either."