Manitoba crop commodity organizations working to increase member value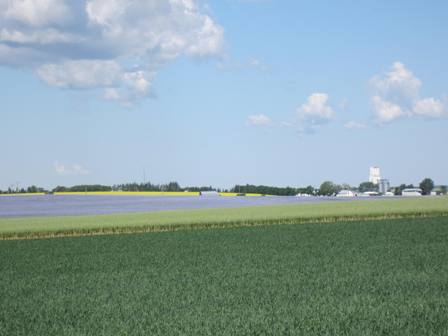 Fields of peas, wheat, flax and canola.
Eight crop commodity organizations in Manitoba are taking a hard look at their operations with the goal of increasing the value they bring to their members.
The organizations met in November 2016 and are deliberating how they can work together to reduce overlap between groups and maximize their budgets. The first action taken is the creation of an annual roundtable meeting to share issues of common interest. More co-operative activities could develop soon.
Agriculture changing
"Commodity organizations in Manitoba have been around for about five decades. A lot has changed in agriculture during that time," says Kelly Dobson, consultant with DobsonLead who facilitated the discussion between the groups.
Leaders from the National Sunflower Association of Canada, Manitoba Corn Growers Association, Manitoba Pulse and Soybean Growers, Manitoba Canola Growers Association, Manitoba Wheat and Barley Growers Association, Manitoba Oat Growers Association, Winter Cereals Manitoba Inc. and Manitoba Flax Growers Association attended the meeting which received funding from the Growing Forward 2
Growing Visions
program.
"The two top priorities that the directors were concerned about were research and market development," says Dobson. "Those are typically very capital intensive activities."
Working together to benefit all
He explained the groups discussed how they could restructure to be more effective on behalf of their membership. One of the choices they face is whether to merge and create a larger organization that represents multiple commodities. Another option is to collaborate more closely.
"These organizations are at various stages of understanding and readiness for change," says Dobson. "It has been a very positive and respectful discussion amongst all members in spite of not having identical viewpoints."
Anastasia Kubinec, manager of crop industry development with Manitoba Agriculture, was also present at the November meeting of the eight organizations.
"With the groups looking to collaborate and identify where there is potential overlap, there could be maximization of check-off dollars for certain projects," she says. She added that it's important to remember that most farmers in Manitoba grow many commodities, not just one.
The groups discussed a number of practical ideas to stretch budgets and increase value to members. For example, they could share employees and send out joint newsletters.
Dobson explained the organizations also discussed how they could improve the way they interact with governments.
"These organizations are engaging with governments through the same vehicles, and that whole process takes resources," he says, adding that it's natural to explore if they can work together in that area.
Looking to the future
There was also a discussion as to what possibilities have yet to be explored. Should the whole commodity organization model be reworked to function more effectively in the 21st century? Groups were willing to explore the idea of major changes, though they didn't want to disrupt their members without a clear vision moving forward.
"I see a bright future for commodity organizations," says Dobson. "But it's going to take some courage and it's going to take some imagination to envision and then act to create a new infrastructure that could provide unprecedented member value."
---
---