Flax-enriched food creating a healthier Manitoba
Flax research at work from farm to fork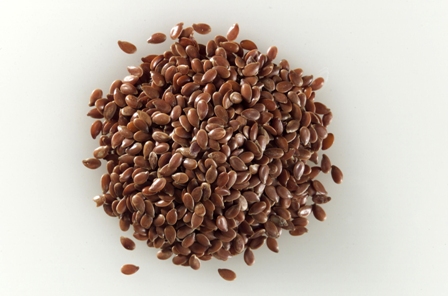 Flaxseed   
Manitoba has the researchers, the growers and the processing facilities to produce wholly-local, high-quality, flax-enriched foods. All it needs now is consumer awareness and a more robust food market, say industry leaders.
Research proves flax lowers cholesterol and blood pressure
Kelley Fitzpatrick, president of NutriScience Solutions and longtime consultant for the agriculture and food industry, says flax has many health benefits including lowering cholesterol and blood pressure. She pointed to the work currently being done by St. Boniface Hospital executive director of research, Dr. Grant Pierce, who recently received a prestigious Canadian Institute of Health Research grant to study flax's effect on hypertension or blood pressure.
"There aren't a lot of products out there that can actually reduce blood pressure to the extent that flaxseed has shown," says Fitzpatrick. "So many ingredients and products claim to lower cholesterol but very few claim they can lower blood pressure. Blood pressure is a huge issue in North America. It's estimated that 18 out of 20 individuals will get hypertension at some point in their life."
Dr. Pierce's work has already found that 30 grams of ground flaxseed a day was effective in lowering high blood pressure in patients with certain conditions better than many blood pressure lowering medications.
Health Canada gives flax stamp of approval
Health Canada's 2014 health claim stating ground (whole) flaxseed helps lower cholesterol is also a big step in raising awareness about flax's healthy properties.
"It's a big deal for the industry," says Fitzpatrick, who was involved in the three-year process with the Flax Council of Canada and Health Canada to provide the information necessary for the health claim. "Everybody talks about how healthy their food ingredients are but here we have an actual health claim approved by one of the strictest regulatory authorities in the world: Health Canada."
The claim recommends consuming 40 grams of flax per day to lower cholesterol and reduce the risk of heart disease.
Research for farmers and for food
Don Kerr, president of the Flax Council of Canada, says that the council is working on exciting research to increase the agronomic benefits for farmers - focusing mostly on increasing the yield of flaxseed - as well as market development.
"There's a growing demand for healthy products, healthy foods and better nutrition worldwide," he says. "So that's where we do most of our market development, in increasing the health and nutrition benefits of flax."

The council's program recommends eating two tablespoons of ground flax per day. Kerr says they receive many questions from consumers as to how they can incorporate flax into their diet.

"The challenge that we have is not only to produce the products that will provide the health and nutritional benefits of flax, but also to get the message out to consumers as to how to get the flaxseed into their diet."

One of the tools the council developed to do that is a website called healthyflax.org, which promotes flaxseed and gives consumers information about its benefits and how they can consume it.

"In terms of Manitoba, we'd like to see the value-added industry grow but we'd also like to try to give farmers a better opportunity to grow flaxseed and compete with some of the existing crops," says Kerr.

Producers hopeful about production increasing technology

Eric Fridfinnson, chair of the Manitoba Flax Growers Association (MFGA) and board member at the Flax Council of Canada, farms nearly 8,000 acres with his brother near Arborg, Manitoba. Flax was the first crop he ever grew in 1976 and he still produces it today. He often sells his flaxseed to be used for human consumption.

"As a grower, the research I'm most interested in is some of the production technology that's being developed," he says. "There is a fair bit of work taking place under the minor pesticide program to bring new weed control technology and seed treatments for flax."

The new technology may help flax gain back some of the acres it has lost to crops such as soybeans and corn. Both crops exploded in popularity in Manitoba after improvements in genetic research made growers take notice.

"Producers should grow what they can make the most money on and if it's soybeans or corn that's what they should do," says Fridfinnson. "But at Manitoba Flax Growers we feel with the new technology that's being developed, and the new varieties that have come forward in the last couple of years, that flax is still a crop that you can make a good dollar growing."

More flax food needed for the industry

One company that has been a pioneer in providing flax-enriched food in Manitoba is Pizzey Ingredients.

In the early 1990s, Linda Pizzey started a flax bread business on her family farm with husband Glenn Pizzey. Through their efforts, flaxseed began to receive more interest in Manitoba and eventually in Canada. The Pizzeys process flax in their own facility and are a supplier of ground flaxseed to Canada Bread.

They've also been generous with flax-based research projects and will supply flax to Dr. Pierce's upcoming research projects.

"We have always supported flax research either with dollars or with products," says Linda Pizzey. "Really the reason we got into this industry to start with was because of all the research that had been done."

Project to develop flax-enriched health food

Consumers who are interested in tapping into the health benefits of flax, may find it daunting to find recipes and food products that will provide the Health Canada recommended 40 grams per day - which relates to about two tablespoons of flax per serving of food.

To combat that, Fitzpatrick and the Flax Council of Canada approached Manitoba's Food Development Centre and proposed a project to create a series of flax-enriched health foods containing the required 13 grams of flax per serving. The project, supported through the Growing Forward 2 Growing Actions program, focused on products that were practical and easy to eat. Pizzey Ingredients donated the flax for the trials which created a muffin, smoothie mix, snack bar and bread.
---