Students come face-to-face with farming
Program helps reboot breakfast program, and creates new classroom curriculum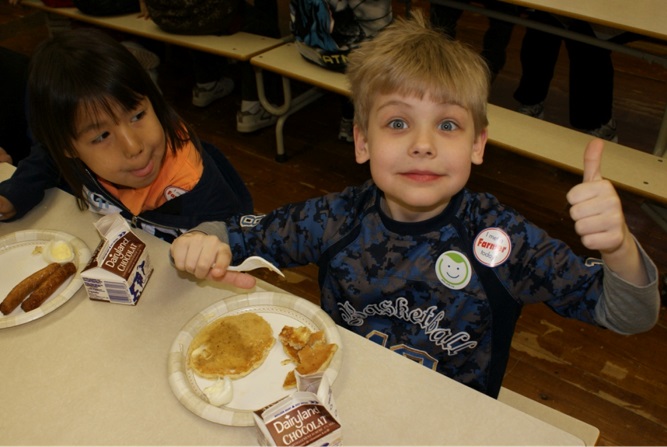 Rural elementary school students enjoying pancakes, chocolate milk and sausages—courtesy of the Made in Manitoba Breakfast program.
For some kids, the Made in Manitoba Breakfast program is where they realize food comes from a farm, and not from a grocery store.
"One of the kids at an event didn't know that flour came from wheat, he thought it came from dried marshmallows," says Sue Clayton, executive director of Agriculture in the Classroom Manitoba (AITC-M). "When the producers serve the kids breakfast...they get it. The dairy producer is standing there handing them their chocolate milk, there's a flax producer serving pancakes, and there's a pork producer serving them their pork sausages."
The
Growing Actions
program will support two AITC-M programs totalling $25,000. The majority of the Growing Actions funding will go to the Made in Manitoba Breakfast program, allowing it to expand to 10 new schools in Winnipeg this year.
"There's a lot of mixed messages out there, and our goal with Agriculture in the Classroom is to teach kids how to think critically, and to give them the accurate, balanced, current information," says Clayton.
Off the farm and into the classroom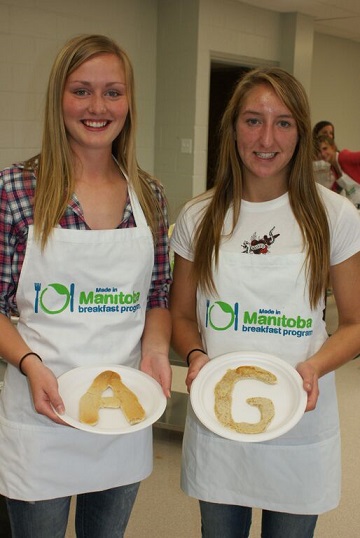 Volunteers serving pancakes and helping students learn about agriculture at the Made in Manitoba Breakfast program.
Each Made in Manitoba Breakfast program starts with a grade-appropriate presentation, explaining where food comes from and what is grown here in Manitoba. Students are invited to ask questions, and finally the farmers and volunteers serve the breakfast at stations.
"We found through taking surveys, talking to teachers and gathering information from students afterward that this really does have an impact," says Clayton. "They understand more about how their food is grown, where it comes from and the importance of agriculture."
Clayton says the farmers also get a boost from being there to interact with the students.
"By telling their story of what they do for a living, they feel proud of what they do every day, and the value of it," says Clayton.
Jillian Einarson, an extension specialist in agriculture awareness, says she sees the disconnect between people and agriculture.
"We don't have as many people farming as we used to and consumers are losing touch with agriculture," says Einarson. "It's really important to bring farmers and youth together to connect youth to how their food is produced, the importance of farming, and the exciting careers available in agriculture.

Einarson says youth are future consumers who are going to be making purchasing decisions about food.

"There are so many choices out there, so it's important for them to gain knowledge about agriculture to make informed choices."
Hands on growing, first hand learning
A portion of the funding will go toward developing the curriculum for the Edible Classroom program that is designed to fit in seamlessly with a teacher's existing curriculum.
"Experiential learning stays with you. It can have more of a lasting impression," says Einarson. "It's reaching students that may not have an opportunity to feel connected to agriculture, and giving them a first-hand experience with it."
The Edible Classroom program will tie in with the Little Green Thumbs Classroom Garden Project that is already teaching classes how to grow their own gardens.
"There was a grade four classroom last year where there was a student who said they've never eaten a tomato before," says Clayton. "It was an inner-city classroom, and fruits and vegetables are expensive and a luxury that many families can't afford."
AITC-M reaches approximately 30,000 students and teachers every year at all grade levels with curriculum-based programs, activities and tools focused on agriculture and its importance to Manitoba. To learn more about this non-profit organization and its initiatives, visit
www.aitc.mb.ca
.