Budget 2020

Budget 2020 continues to move Manitoba forward by focusing on the issues that matter most to Manitobans:
With record investments in health, education and families, a lower deficit, and the second consecutive reduction in the province's PST rate, Budget 2020 moves Manitoba further along the road to recovery.
---
Manitoba Provincial Budget and Supporting Documents
The previously announced retail sales tax rate reduction, introduction of a green levy and the tobacco tax rate increase that were effective July 1, 2020 have all been deferred until further notice.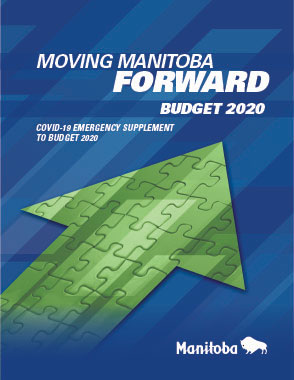 Other financial documents are available in alternate format upon request: feedbackfin@gov.mb.ca
---
PROVIDING BETTER SERVICES
Budget 2020 makes record investments in health, in education and for families.
The implementation of the Provincial Clinical and Preventive Services Plan will invest more than $250 million in rural and northern healthcare, digital health supports and infrastructure investment in projects and program delivery.
Additional funding of $10 million for cataract and joint replacement surgeries will further shorten surgical wait times for thousands of Manitobans.
$160 million in funding for K-12 Education capital projects, including the construction of seven new schools and several major additions and renovation projects.
4,425 new classroom spaces will be open or under construction by March 2021.
Investing $2.7 million for the addition of 1,087 licensed early learning and childcare spaces.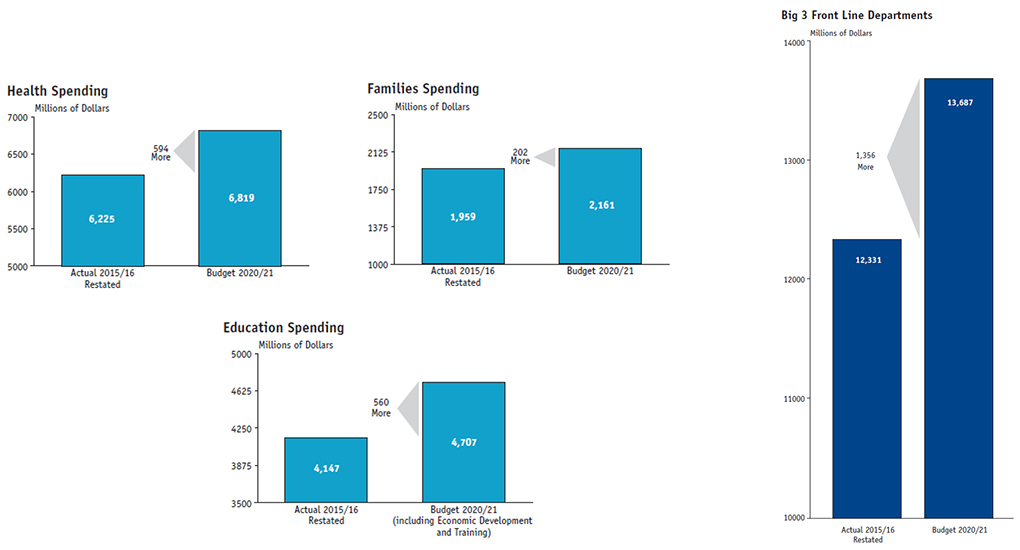 ---
PROTECTING OUR ENVIRONMENT
Manitoba's best-in-Canada Climate and Green Plan protects our environment from climate change and pollution. It invests in the production of renewable hydroelectric energy, protects our watersheds and cleans up contaminated sites.
Manitoba's Green Levy is more effective than the proposed federal carbon tax and, with its flat $25 per tonne level, it will be better for Manitoba's economy.
$45 million for climate resiliency projects throughout the province, and $101 million in funding for the Lake Manitoba Outlet Channels project.
$21.8 million in additional funding for the City of Winnipeg's North End Water Pollution Control Centre.
$15.8 million to assist in the development of safe and sustainable water and sewage facilities for municipalities outside Winnipeg.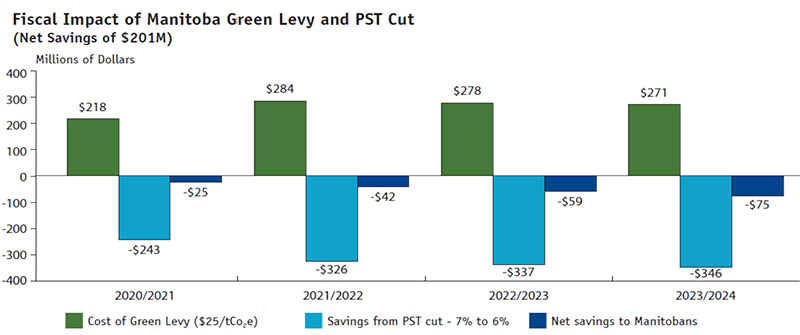 The table below shows that the one percentage point reduction in the PST returns more money than the revenues collected from our flat $25 per tonne green levy.
---
MAKING OUR COMMUNITIES SAFER AND STRONGER
Budget 2020 provides the funding needed to keep your community safe and growing.
Additional funding of $6 million for provincial police service agreements, including funding for 27 additional police officers.
$5 million to fight crime and gang activity.
More than $1 million to help police detect and deter drug impaired driving.
$561,000 for grants to support community projects that deliver services to victims of crime in Manitoba.
A replenished Rainy Day Fund, along with $100 million for emergency expenditures.
The highways capital budget rises by $12.5 million to $362.5 million.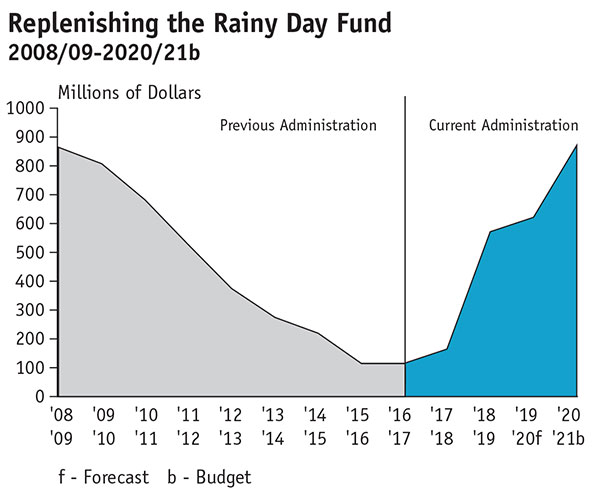 ---
MAKING LIFE MORE AFFORDABLE
Budget 2020 leaves more money on the kitchen tables of Manitobans.
The retail sales tax rate will be lowered to six per cent, effective July 1, 2020 saving Manitoba families an average of $476 annually.
Continued indexing of the Basic Personal Amount will save Manitobans $16.2 million in taxes next year.
All probate fees will be eliminated as of July 1, 2020.
1,000 employers will benefit from increased payroll tax thresholds.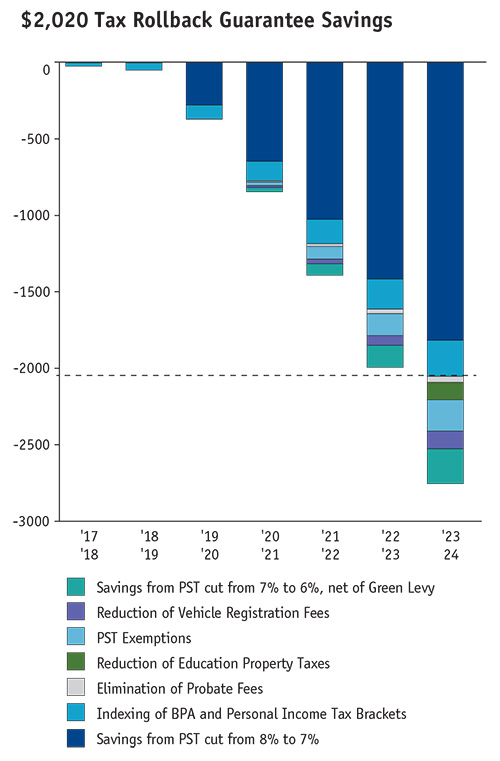 The graph illustrates our progress towards the $2,020 Tax Rollback Guarantee. The savings to taxpayers will accumulate over time to reach, and then exceed, our rollback target.
---
BUILDING A BETTER, BRIGHTER FUTURE FOR ALL
Increased funding for the Manitoba Scholarship and Bursary Program by $4.8 million.
Over $41 million in interest-free loans available for students to realize their post-secondary education goals and move into their chosen careers.
$500,000 toward implementation of the Mineral Development Protocol.
Project-based funding of up to $50,000 each to First Nation communities to support activities related to mineral exploration and development within their territories.
---