Display and Exhibition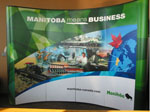 Please complete the BOOKING APPLICATION (PDF)
name of organization
contact information
name of display or exhibit
display area requested
duration of exhibit (start and end date—please include set up date and dismantle time as well)
goals of the exhibit (under description)
any special requirements
After your booking application has been received, a Manitoba Government representative will contact you within five business days to discuss your application.
Please Note:
Depending on what location you request and the time of year, the duration of your exhibit may need to be adjusted.
All costs associated with exhibits will be the responsibility of the organization requesting permission. 
Exhibitors will not be allowed to charge admission, place commercial advertising or have items for sale during the display period. 
Artist/Organizations are responsible for installation and dismantling.  Samples of exhibit will be required with application.
For information regarding event requests, please contact EventsRequest@gov.mb.ca