Become Classified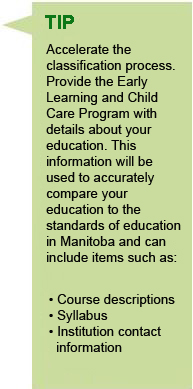 STEP 1. Required Documents
A. Transcript
You must provide the Early Learning and Child Care Program with an original official transcript of your post-secondary education that is specific to Early Childhood Education.
Related credentials, such as a Bachelor of Education, Bachelor of Social Work, Bachelor of Psychology, Bachelor of Human Ecology, or Diploma in Montessori, etc, are not recognized for the Early Childhood Educator classifications and therefore do not undergo a detailed assessment.
Applicants who are unable to provide documents in accordance with the Early Learning and Child Care Program regulations must consult with a Qualifications Specialist regarding alternative documentation.
B. Notarized Translation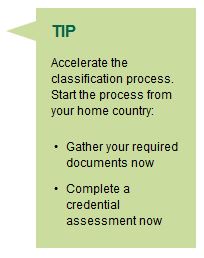 If your transcript is in a language other than French or English, you must provide a notarized translation. This means that your transcript must be translated into French or English and then signed and stamped by a qualified person such as a notary public or commissioner of oaths.
C. Name Change
If the name on your transcript is different from your current name, you must provide a photocopy of a marriage, divorce or change of name certificate. Do NOT mail originals of any of these documents.
IMPORTANT INFORMATION:


Notarized Translations Services

 
The Immigrant Centre can refer you to cost-effective translation services. The Immigrant Centre also provides free notary public services for permanent Manitoba residents who have been in Canada less than three years.

Contact
Immigrant Centre
100 Adelaide Street
Winnipeg, Manitoba
Phone: 204-943-9158