Business Transformation and Technology (BTT)
Service Quality Partners
---
Who is Service Quality Partners (SQP)?
Service Quality Partners logoService Quality Partners was
created in 1995 to champion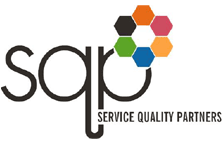 service and management improvement in the Manitoba government by leading and sustaining change through education, communication, direct assistance, and recognition of success.
Service Quality Partners is committed to supporting a positive and innovative workforce that is reflected in the services provided by staff to clients throughout Manitoba.
A steady wave of interest from across the province has increased membership each succeeding year, with the total number of SQP members now in excess of 1600 civil servants.
Our Mission
Service Quality Partners is a volunteer network of provincial public servants from all levels engaged in and committed to supporting the public service in the development and delivery of services of the highest quality to the citizens of Manitoba.
Our Principles
Commitment to service quality and results

Recognizing success

Voluntary participation

Diversity

Fostering communications

Partnerships: 

New Professionals Network (NPN) 
Manitoba Quality Network (QNET) 
Institute of Public Administration of Canada (IPAQ)

Sponsorship:

Quality and Innovation Resource Centre (QUIRC)
What we do
The idea of offering improved learning and educational opportunities to all staff evolved into reality through a group of enthusiastic civil servants seeking to better the quality of services provided by the government. 

Promote pride and awareness in the civil service through the Manitoba Service Excellence Awards (MSEA), which recognize individuals and teams within the Manitoba Government who go the extra mile and excel in the workplace and the community.
Provide learning and networking opportunities through the popular Brown Bag Lunch program. These informal networking sessions feature presentations of internal success stories, updates on current initiatives and topics of general interest.

Provide Learning Opportunities for SQP volunteers with seminars on topics related to service quality such as Performance Management/Leadership and Tools and Techniques of Quality. 

Showcase Manitoba Government employees who have been nominated for the Manitoba Service Excellence Awards for their contributions of leadership, innovation, service excellence, community service, partnership, and the Premier's Career Achievement through the SQP Spotlight. 

Assist Manitoba Government employees outside Winnipeg to develop local community-centered and community-run SQP programs through Rural and Northern Initiatives.

Co-sponsor special events in conjunction with the City of Winnipeg and the Federal Manitoba Manager's Network. 

Sponsor QUIRC, the Quality & Innovation Resource Centre which offers books, videos, reports and quality service success stories for government employees who want to know more about the worldwide quality and innovation movement. The QUIRC collection is located at the Legislative Library, Main Floor 200 Vaughan Street, Winnipeg, R3C 1T5. 
Ride the wave of continuous learning with this thriving volunteer network!
If you would like additional information on SQP and its variety of volunteer-based opportunities, call 801-0382 or send an email to sqp@gov.mb.ca
Top of the page