The Lieutenant-Governor's Reception Room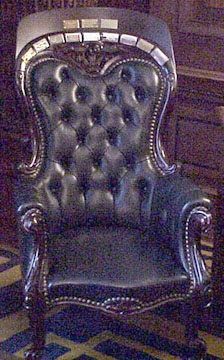 This elegant room is located in the east corridor of the building next to the legislative chamber. It is used by the Lieutenant-Governor on state occasions to receive visiting royalty and foreign dignitaries. During such events, scarlet-coated Royal Canadian Mounted Police are posted on either side of the door and military aides assist the Lieutenant-Governor with official duties.
The room is panelled in black American walnut inlaid with ebony, and decorated with hand-carved ornaments around the ceiling and along the four corner pillars. Pictures of sovereigns grace the walls and a French gilt chandelier hangs from the ceiling. The floor features a carpet specially handwoven in Donegal, Ireland. Except for the Prince of Wales chair, the furniture was especially designed for this reception room and hand-crafted from mahogany. The Prince of Wales chair is reserved for visiting royalty and carries the Prince of Wales' coat of arms on the back. Prince Edward VII first used it in Saint John, New Brunswick in 1860. Following the death of Queen Victoria, he became King of Great Britain.
Prince of Wales Chair