Shellmouth Dam
The Shellmouth Dam (which helps protect Brandon, Portage la Prairie and Winnipeg from high flows on the Assiniboine River) is located about 24 km (15 miles) northwest of Russell. The reservoir created by the dam is approximately 56.3 km (35 miles) long. The reservoir is known as Lake of the Prairies.
There is a reinforced-concrete, horseshoe-shaped conduit that allows a controlled release of water from the reservoir. During flooding, a portion of flood water is stored in the reservoir. When reservoir levels are very high, uncontrolled flows can spill over the concrete chute spillway and affect agricultural land.
Construction on this project began in 1964 and was completed in 1972, at a cost of $10.8 million.
Canada and Manitoba have committed to cost-share improvements to the dam, including the installation of spillway gates on the concrete spillway. These gates would allow higher reservoir levels which could provide additional flood protection benefits and potential for more water supply for domestic, commercial and irrigation use.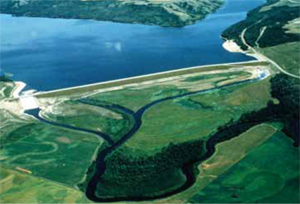 Shellmouth Dam structure and reservoir (Lake of the Prairies)