Red River Valley Ring Dike Communities and Properties
There are 18 ring dike communities in the Red River Valley providing protection up to 1997 levels, plus 0.6 m (2 ft). The dikes protect the communities and can be partially or fully closed during a flood. During the 2009 flood, the ring dikes prevented about $700 million in flood damages to these communities.
The communities in the Red River Valley with ring dikes are: Emerson, Gretna, Letellier, Rosenfeld, Dominion City, St. Jean Baptiste, Riverside, Rosenort, St. Pierre-Jolys, Aubigny, Morris, Roseau River, Lowe Farm, Ste. Agathe, Brunkild, St. Adolphe, Niverville and Grande Pointe.
Over 1,800 sites in the valley have been floodprotected - homes, businesses, farms - preventing another $100 million in damages during the 2009 flood.
Ring dikes and other forms of flood works protect 95 per cent of the homes, businesses and farms in the valley.
The 1997 Canada-Manitoba Partnership Agreement on Red River Valley Flood Protection funded $130 million in enhancements to eight ring dike communities that already had ring dikes; provided for the construction of 10 additional ring dikes; and supported flood protection for homes, farms and businesses.
Spring Flood Peaks
(feet above sea level; Winnipeg is based on James Ave.)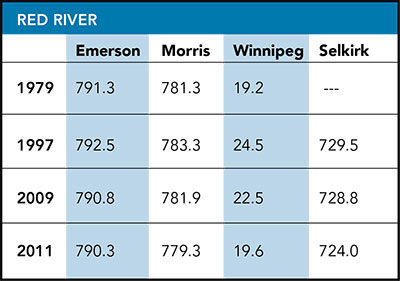 | | | |
| --- | --- | --- |
| Ring dike community of St. Adolphe | | Ring dike community of Morris |