Manitoba Government Job Opportunities
Working for the Manitoba Government

Values and ethics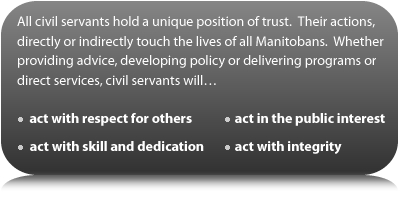 Over the past few years the Manitoba government embarked on a number of initiatives to confirm the positive kind of workplace environment desired by civil servants, and to renew the government's commitment to seeing such an environment continue to exist.
The work on these initiatives was undertaken by employee project teams who consulted widely and did extensive research. In all instances the results were something specific to the needs and culture of the Manitoba civil service.

This resulted in the publication of the Values and Ethics Guide, the introduction of the Respectful Workplace Policy and revisions to the Conflict of Interest Policy.

In the same timeframe The Public Interest Disclosure (Whistleblower Protection) Act was introduced. This Act facilitates the disclosure and investigation of significant and serious wrongdoings in, or relating to, the public service while protecting the persons who make disclosures from reprisal. The Act complements other protections already in place under existing statutes, agreements, policies and procedures.