Health, Seniors and Active Living
Minister of Health, Seniors and Active Living
Province of Manitoba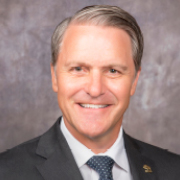 Cameron Friesen was elected as the MLA for Morden-Winkler in 2011 and re-elected in 2016. In 2016, he was appointed minister of finance and minister responsible for the civil service. He is now minister of health, seniors and active living.
Born and raised in Morden, Friesen earned degrees in music and education, and spent 12 years teaching in the Winnipeg, Hanover and Western school divisions.
He and his wife Shelley have three children.