Comprehensive Care Management Tariff Quick Start Guide
How to:

Clinics using secure interface PCDE communications

All other clinics

Provide Manitoba Health with the location of the clinic (address and contact information), and number and type of practitioners providing services at that location

Click on here and complete the form to register your clinic and request access to the enrolment portal. The Home Clinic team will work with you to provide guidance and answer your questions. The person(s) you designate to maintain enrolment information, usually a clinic manager or administrator, will be provided with a user ID and password for the portal.

Clinic location and contact information is maintained in the portal. Initially, only information about main Primary Care Providers (Most Responsible Providers/MRPs) will be collected. In the near future, the portal will be enhanced to include the number and type of practitioners providing services at your clinic.

Establish Enrolment with patients

Patients may be enrolled using one of two methods:

Communicating with the patient to establish an enrolment agreement
Through analysis of EMR chart data to infer a continuous, comprehensive relationship with the patient.

Talk to the Home Clinic team to learn more about approaches to enrolment.

Communicate patient enrolment to Manitoba Health – Initial Bulk Enrolment

These can be communicated to Manitoba Health using the Primary Care Data Extract through your usual submission method. The Home Clinic team can help you with this process.

These can be communicated to Manitoba Health using the Primary Care Data Extract. The Home Clinic team can help you with this process and provide you with details on how to submit your data.

If you have questions about the Primary Care Data Extract, the Home Clinic team can help.

Communicate patient enrolment to Manitoba Health – Ongoing Enrolment

Log in to the portal and make changes (add/edit/terminate), through your regular monthly Primary Care Data Extract or using Enrolment Service (if implemented at your clinic).

Log in to the portal, and make changes (add/edit/terminate) to enrolled patient information.

Communicate the medical services consistent with the applicable indicators in the Manitoba Primary Care Quality Indicators Guide

Through your regular monthly Primary Care Data Extract. This is the same extract that will be used to update your enrolment records in the portal.

Send your Primary Care Data Extract (PCDE) on an encrypted USB or CD with submission form to:

ATTN: PCDE
Information Management & Analytics
Manitoba Health
4040-300 Carlton Street
Winnipeg MB R3B 3M9
1 This includes clinics who are using an EMR product that is certified against the PCQI Reminders and Data Extract specification.
2 This includes all clinics who are using EMRs that can create the PCDE, but send them in via encrypted CD or USB.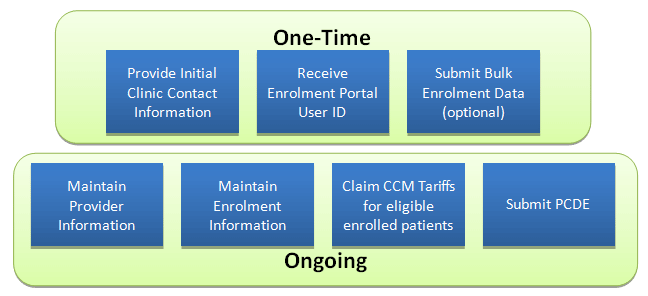 If you have any questions, contact the Home Clinic team at (204) 926-6010, 1-866-926-6010 or HomeClinic@sharedhealthmb.ca.
Click here for a printable version of this page.