Growth, Enterprise and Trade
Economic Analysis and Research
Manitoba Labour Market Information by Region
---
Manitoba, with an area of 649,950 square kilometres (250,900 sq mi) includes six economic regions: Southeast, Southwest, Central, Winnipeg, Interlake, and Parklands and North.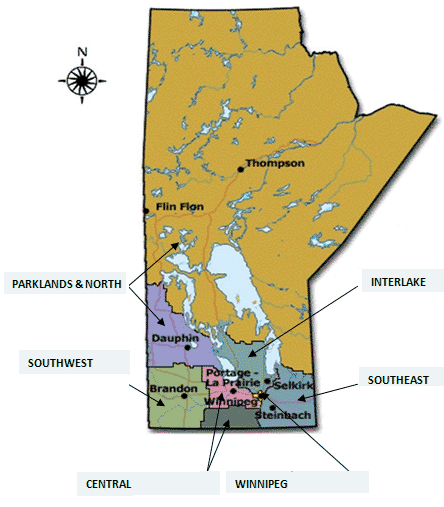 ---
Did you know?
61 per cent of Manitoban's in the labour force live in Winnipeg. In 2016, Winnipeg's labour force comprised of 411,200 people. Between 2012 and 2016, the labour force and employment in Winnipeg increased by 4.3% per cent and 3.3% per cent respectively.
The Southeast region experienced the highest percentage growth in labour force. Between 2012 and 2016, the labour force in the region increased by 7.8 per cent. Employment growth was also strongest in this region with 7.5%. Both labour force and employment decreased in the Southwest, Interlake  and Parklands and North regions of the province in the past five years, while the Central region saw modest increases in both.
In 2015, the Southeast had the highest labour force participation rate in Manitoba (69.5 per cent), followed by the Winnipeg and Parklands & North regions with 68.2 per cent.
The Central region had the lowest unemployment rates in Manitoba (4. 1per cent) in 2016, while Winnipeg had the highest unemployment rate (6.8%). Manitoba's unemployment rate was at 6.1 per cent.
Labour Force Characteristics Tables