Land Use and Development
2003 Manitoba Planning Excellence Awards
2003 Award Winners
Brandon Riverbank Inc. & Lombard North Group (1984) Ltd. in collaboration with the City of Brandon

 
     Project: Brandon Assiniboine River Corridor Master Plan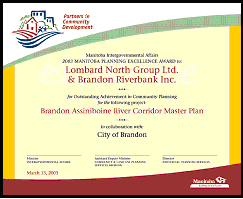 David Palubeski (middle) of Lombard North Group Ltd. and Dr. John Everitt of Brandon Riverbank Inc. receive a Manitoba Planning Excellence Award from Minister Jean Friesen
The Brandon Assiniboine River Corridor Master Plan presents a vision for the Assiniboine River Corridor within the limits of the City of Brandon. This plan balances the challenge of conserving the natural river environment with community needs and desires to access and enjoy the natural habitat. The multi-step planning process included workshops involving input from citizens and a multitude of diverse community interests to help develop the desired vision, objectives, options and solutions.

 
The non-profit Development Corporation Brandon Riverbank Inc, was established to implement the plan, which assisted the City of Brandon in securing matching funding for phase one of the revitalization priorities. Projects already completed, include a trail system, a tourism centre, a pedestrian bridge, a discovery centre, an outdoor interpretive area, a botanical garden, the Canada Games Sport Park, Curran Park, Assiniboine landing, the Optimist soccer complex, and riverbank rehabilitation.
South Interlake Planning District Board in collaboration with Concord Colony, Lombard North Group (1984) Ltd., & Selkirk Community Planning Services

 
     Project: Planning to Manage the Development of On-Farm Small Scale Industry
Alice Bourgouin, Chairperson of the South Interlake Planning District Board receives a Manitoba Planning Excellence Award from Minister Friesen.
The South Interlake Planning District Board initiated a planning approach to amend their development plan and zoning by-laws to allow for small scale manufacturing as a secondary activity to farming operations. The resulting by-laws require that land uses are compatible with the environment, scaled so they do not have negative effects on nearby urban centres and help diversify farm income. The by-laws now reflect current economic farming realities and will help prevent potential land use conflicts.
2003 Honourary Mentions
     Project: Community Beautification - Downtown Revitalization Initiative
Churchill Council and partners revitalized community pride and sense of place in the Town of Churchill through commissioning landscaping projects using natural rocky terrain, restoring the Via Rail station, building a new airport terminal, developing parks and green space, installing new playground equipment, erecting unique street signage, improving street lighting, and involving school children in a mural project based on historic themes.
Hilderman Thomas Frank Cram Landscape Architecture and Planning in collaboration with the City of Brandon
    Project: City of Brandon - Greenspace Master Plan
This project initiated by the City of Brandon's Department of Community Services explores community greenspace assets, establishes a ten-year vision for greenspace development and care, examines the issues, identifies and classifies greenspace, makes recommendations, outlines a plan of action, and connects it to funding and policy.
Seven Oaks Neighbourhood Resource Network in collaboration with the Heart and Stroke Foundation, City of Winnipeg, Manitoba Hydro, MTS, & Garden City Shopping Centre
     Project: Seven Oaks Hearts in Motion Trail
The Seven Oaks Neighbourhood Resource Network partnered with community members, residents associations, organizations and businesses to develop a 42 kilometre trail that links community structures, green space and sites of interest to encourage a healthy lifestyle, enhance safety, highlight community assets and develop community networks. A trail brochure and map was developed and signage has been installed along the trail throughout the Seven Oaks community in the City of Winnipeg.