Land Use and Development
2005 Manitoba Planning Excellence Awards Winners: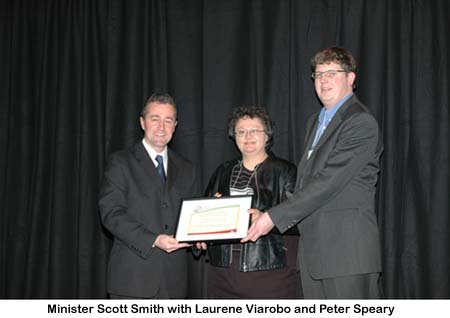 Proponent: Peter Spearey / Spearey Environmental
Project: Downtown Brandon Greenway Planning Study
In Association with: Brandon Neighbourhood Renewal Corporation, City of Brandon Parks and Recreation & Engineering Departments.
The Study is a visual and illustrative document used to facilitate discussions with community stakeholders and possible partners to help determine preferred greenway design interventions within an existing streetscape in Downtown Brandon. The study identifies the range of planning and design opportunities that could be incorporated, including provisions for bicycling, strengthening existing greenspaces and the introduction of appropriate streetscaping. The study includes an implementation component that considers how the identified opportunities may be realized within downtown Brandon. Two of the suggestions have been implemented thus far, greenway signage and the introduction of educational and promotional material marketing this active transportation route.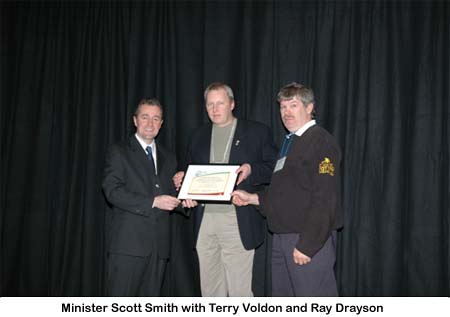 Proponent: Evergreen Waste Facility Steering Committee including participation from the Rural Municipalities of Odanah, Langford, Elton, North Cypress, Minto, Towns of Minnedosa, Neepawa and Carberry
Project: Evergreen Environmental Technologies
With the vision of designing, constructing and operating an environmentally responsible waste disposal facility that provided a long term solution to the problem of waste management, the Evergreen Waste facility Steering Committee created Evergreen Environmental Technologies, an innovative, environmentally responsible and regionally integrated waste disposal solution to the waste management problems faced by the area. The realization of the facility also demonstrates the benefits that can be realized when neighbouring municipalities and towns work in collaboration with each other, rather than in isolation, to find solutions to common challenges. The facility incorporates waste compaction technology, on-site recycling and composting helping in the reduction of the overall volume of solid waste increasing the long term viability of the project.
2005 Manitoba Planning Excellence Honourary Mention: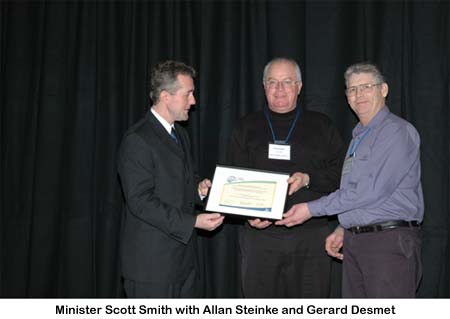 Proponent: South Central Planning District and Lombard North Group (1984) Ltd.
Project: South Central Planning District Development Plan
Representing the community's vision for the future, the South Central Planning District Development Plan develops strategies to provide localized initiative to guide community revitalization, encourage rural economic development and diversification, apply nutrient management guidelines, and promotes environmental stewardship. The Plan provides the policy framework that guided the development of zoning standards for siting Manitoba's first wind energy electricity generating system. The Development Plan was created through the collective and mutually supportive leadership of the Planning District Board, the Portage Community Planning staff, local business, agricultural and community interests.