Energy Efficiency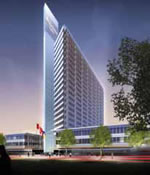 Manitoba continues to be the "shining star" among Canadian provinces in promoting and supporting energy efficiency according to a national report card authored by the Canadian Energy Efficiency Alliance. The organization awarded the province an A rating for the second year in a row, citing Manitoba Hydro's leadership in promoting and supporting energy as an important factor in Manitoba's top rating.
Power Smart
The Manitoba Hydro Power Smart program is widely recognized as offering effective, user-friendly tools for homeowners, businesses and industry to boost energy efficiency and save significantly on energy costs.
For homeowners, programs provide a broad array of educational materials, ranging from how to retrofit a home to energy efficient products and practices, as well as financial assistance to customers making home efficiency improvements. The Power Smart on-bill financing program recently topped $100 million.

Business customers are provided with technical advice and guidance, as well as financial assistance on select technologies that are proportional to the amount of energy saved.

In 2003-04, Power Smart Industrial programs saved 214.5 GW.h in electricity savings-to-date and reduced electricity demand by 58.4 MW.

Quick Facts

Manitoba Hydro's Power Smart program has saved over 700,000 tonnes of greenhouse gas emissions and saves consumers over $36 million on their energy bills annually.

Innovative companies that embrace energy efficiency can increase their competitiveness and profitability.
Green buildings are the beacons of revitalization in Winnipeg, with the new downtown Manitoba Hydro building poised to be among the most efficient structures in the world. We're at the forefront of "green" construction, with award winning buildings like Red River College's downtown campus and the leading edge Mountain Equipment Co-op bringing excitement to downtown Winnipeg. The University of Winnipeg will also soon be home to the upcoming Richardson College for the Environment.
All new buildings receiving public funds are required to meet internationally-recognized LEED (Leadership in Energy and Efficiency Design) Green Building Rating System ™ silver standard or better, and new energy requirements for commercial buildings are scheduled to follow. Click here for more information on the Manitoba's Green Building Policy for Government of Manitoba funded projects.
Centennial Project
The recently launched Centennial Project will see low-income homes in a Winnipeg inner-city neighbourhood retrofitted with energy and water-saving devices and materials. These include attic and basement insulation, setback thermostats, pipe wrapping, low-flow shower heads, high-efficiency toilets and compact fluorescent light bulbs.
The project is a creative approach to delivering Power Smart programs to the usually under-represented areas of rental and low-income housing. The initiative is expected to deliver $30,000 in energy savings. Water consumption is projected to be cut by 10 million litres annually, resulting in $25,000 in water bill reductions.
Island Lake First Nations Energy Efficiency and Housing Retrofit
Manitoba is committed to working with the province's 62 First Nations to address the critical issues and opportunities related to energy consumption and climate change. A pilot project with the Island Lake First Nations communities on the east side of Lake Winnipeg will launch an energy efficiency and housing retrofit program. The project will serve as a template for future programs with other First Nation communities.
The program is designed to substantially reduce energy use while lowering bills for participating households. Oil and propane use will also be cut, reducing carbon dioxide emissions as well as saving the fuel that would be consumed to truck these commodities to the community.
In addition to saving energy, the retrofitting program will provide new jobs and increase skills within the community, thereby helping to foster economic development and offering First Nations new opportunities to benefit from a Manitoba industry that generated $50 million during the past three years.
Green Manufacturing Tax Credits
The Manufacturing Investment Tax Credit has a green component. Energy conservation equipment is included as an eligible asset for the credit, conditional on energy conserved or renewable energy harnessed being used internally by the manufacturing corporation. In 2006, there was a reclassification for capital cost allowance purposes of some energy conservation equipment. This initiative will be followed up by a 10 per cent Green Energy Manufacturing Tax Credit to encourage new and expanded manufacturing and use of machinery and equipment to produce renewable energy.

Please visit Manitoba Energy Development Initiative for more information.

Additional Resources
Green Manitoba