Watercraft Inspection Program
The annual watercraft inspection program has ended for 2019. The program operates from late spring, through the summer and into the middle of the fall.
To stop the spread of aquatic invasive species (AIS), surface water-users need to follow the general provisions of the Aquatic Invasive Species Regulation (i.e., Clean, Drain, Dry). There are extra requirements when exiting an Aquatic Invasive Species (AIS) Control Zone. They include:
Disposing of all bait before leaving the shore.
Decontaminating watercraft (e.g., canoes, paddle boards and fishing boats) and water-related equipment (e.g., fishing lures, bait buckets) before they are placed into another water body.
Note: AIS Control Zones include all tributaries of the water body until the first impassible barrier.
During the winter (ice-covered season), to decontaminate you can:
allow items to freeze (e.g., outside) for at least three days at -10°C or colder.
or
follow the Approved Decontamination Methods for Watercraft (Schedule B) and Water-related Equipment (Schedule C) in the Aquatic Invasive Species Regulation.
As a reminder, AIS requirements and set fines for Aquatic Invasive Species (AIS) offences are in effect year-round. The winter (ice-covered) season and open-water season checklists are helpful resources that outline the legal requirements for surface water users, when entering and exiting non-control zone and control zone water bodies.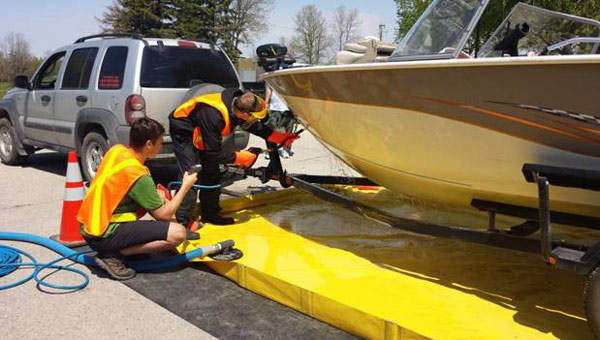 Watercraft inspectors conducting a decontamination on a watercraft at Selkirk Park, Selkirk Manitoba.