Manitoba Geographical Names Program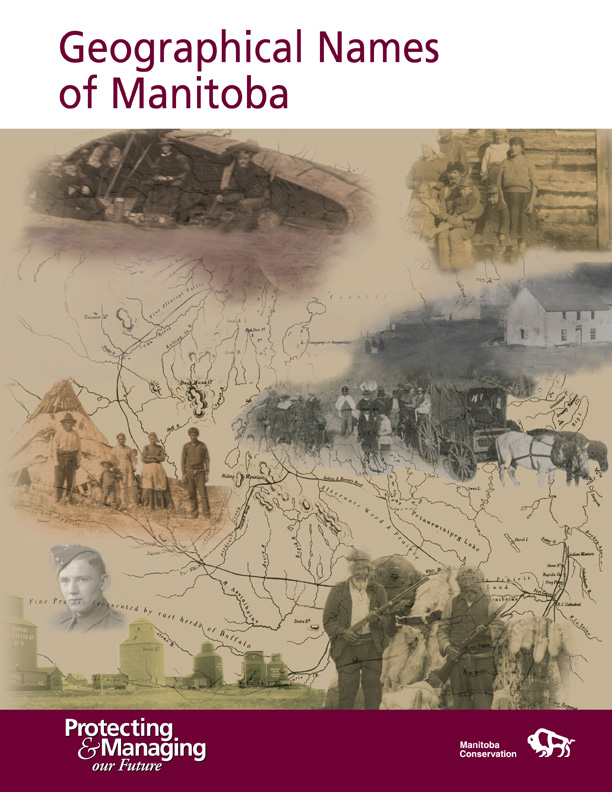 Geographical Names of Manitoba (PDF)
Geographical Names of Manitoba is a publication of the Manitoba Geographical Names Program. It contains historical and geographical descriptions of nearly 12, 000 natural features, settlements, ghost towns, and trails within the province and attempts to trace the origins of their names. This information is based upon over 100 years of correspondence of the Geographical Names Board of Canada with railway officials, surveyors, settlers, postal officials, and local historians, and is supplemented by several years of field work in some of he more remote reaches of the province. Map references indicate the date and author of the first map on which a name appears, how it has changed over time and when it was last used. The volume includes several thousand names in Indigenous languages as well as more than 4000 place names named after Manitoba's war casualties. It is anticipated that this volume will be of interest to historians, geographers, genealogists as well as the general public.
Several sample entries follow:
Manigotagan (62P/1) Community on the southeast shore of Lake Winnipeg, northwest of Bissett. The Post Office opened on Township 24-8E at the mouth of the Manigotagan River in 1890 (Campbell 1972). The name is Cree meaning bad throat. The School District around NW 8-25-9E was named Bad Throat. A Department of the Interior map (1911) showed the Post Office in the larger Manigotagan Settlement area. Boulette+ (1957a) listed the name as Manigottgan, so called by a Native chief who was camped at the mouth of the river. Reportedly he had heard a moose calling with a peculiar sound in its throat. The Manigotagan River was noted on maps several years before the community, however. Manigotagan Lake (52 L/13) South of Bissett. Located on the Manigotagan River and first noted correctly on a Department of the Interior map (1902). Presumably named after the river. Douglas (1933) noted it as Mainwarins Lake on Arrowsmith (1821; probably intended as Mainwaring). SGO (1895) Rat Portage Lake. Manigotagan River (62 P/1) Flows west into Lake Winnipeg. First noted correctly on a Department of the Interior map (1877). Tyrell (1915) identified it as a Cree name meaning Bad-throat River. Upstream at Wood Falls, the river makes a peculiar gurgling sound like a person clearing his throat (CPCGN records 1975). The rivers was first noted on Fidler maps (1808, 1818) as Mainwarings River, although other maps such as J. Arrowsmith (1832) appeared to place it in the position of Wanipigow River (Douglas 1933). Some maps, such as a Department of the Interior map (1883) called it Sand River, probably intending Sandy River just to the south. Fieldwork revealed the local Saulteaux name Manegotagana Sepe. Lean (map of Assiniboia 1811) Mainwaring River; A. Arrowsmith (1814) Mainwarins River; Anonymous (ca. 1875) Bad River; Russell (1877) Sandy Creek (should be south); Page (1879) Manigotugan River; Burland (1885) Bad Throat River.
Kalliecahoolie Lake (53 L/3) Southwest of Gods Lake. Named in 1935 after a popular song of the 1930s. The information was obtained from Mr. J. H. Morgan who was with the GSC in 1935. While plotting a survey of an unnamed lake, the party chief asked for a name. The cook was singing the song My Little Grass Shack in Kealakekua, Hawaii. "Kalliecahoolie" was the closest he could render this difficult Hawaiian word and was the name suggested to commemorate Ted's singing abilities as well as his cooking. The Air Force photographed large tracts of northern Manitoba years later and requested names for the lakes in the area. They were not authorized to use Native names but accepted Kalliecahoolie because it sounded unique. Mr. Morgan was visiting Gods Lake gold mine several years latter when he met a linguist who showed him a copy of a newly issued four-mile topographic map of the area. He translated Kalliecahoolie as "Lake of the Dying Bullfrog." Locally known as Mistigan Lake, a Saulteaux name meaning fish trap.
Jetait (64 C/3) Locality southwest of Granville Lake, CBGN records (1953) indicated this to be a Canadian National railway point, named by the CNR after World War I Casualty Captain James Edward Tait who was awarded the Military Cross and the Victoria Cross for his "conspicuous bravery" at the Battle of Amiens (1918). He had worked on the original surveys for the Hudson Bay Railway.
Jeffrey Island (64 I/13) Shethanei Lake. Named in 1995 after World War II casualty Private Arnold F. Jeffrey of Holland, Manitoba. He served with the Lake Superior Regiment.
The cost of the book or CD (Compact Disk): $19.95 plus shipping and handling and GST.
For more information, please contact:
Manitoba Geographical Names Program
Lands Branch
Manitoba Conservation
Box 25, 200 Saulteaux Crescent
Winnipeg MB R3J 3W3
Canada
Phone: (204) 945-1798
Fax: (204) 945-4232
Email: Des Kappel (des.kappel@gov.mb.ca)
To order directly, please contact
Canada Map Sales.com
Manitoba Sustainable Development
1007 Century Street
Winnipeg MB R3H 0W4
Canada
Phone: (204) 945-6666
Fax: (204) 945-1365
Toll Free: 1-877-627-7226
Email: Map Sales