During the COVID-19 pandemic seniors were at high risk of serious illness and death. The virus was easily spread. Extra care was taken in senior's group living facilities to prevent outbreaks. However, outbreaks did occur. One of the worst outbreaks was declared at the Maples Long Term Care Home in Winnipeg.
The outbreak began on October 20, 2022. It lasted for more than 12 weeks and was over on January 12, 2023. In that time:
74 staff tested positive for COVID-19
157 residents tested positive for COVID-19
56 resident deaths were linked to the outbreak
An external review was needed to understand more about how the outbreak got so bad. In November 2020, the Manitoba government hired an advisor. The advisor would review the outbreak and provide feedback and recommendations.
The main areas of focus included:
determining staffing levels
defining the level of care provided
infection prevention
control policies and procedures
The report, now called the Stevenson Review, shows what pandemic plans were in place. In brief, it found that:
pandemic plans had been prepared and were in place
the plan did not address the sudden loss of staff who tested positive and had to self-isolate
the urgency of requests for more staff and supports was not understood until the situation became critical
The Stevenson Review made 17 recommendations for changes at:
the facility
regional management
Health Incident Command
Manitoba Health
A plan to implement the recommendations was shared on March 2021. In February 2022, the province released the final implementation plan which included four key areas:
Resident safety
Staffing complement
Pandemic preparedness
Communication with families and staff
The plan also shares positive changes already being made. These plans will continue to be made to benefit all personal care home residents, their families, and staff.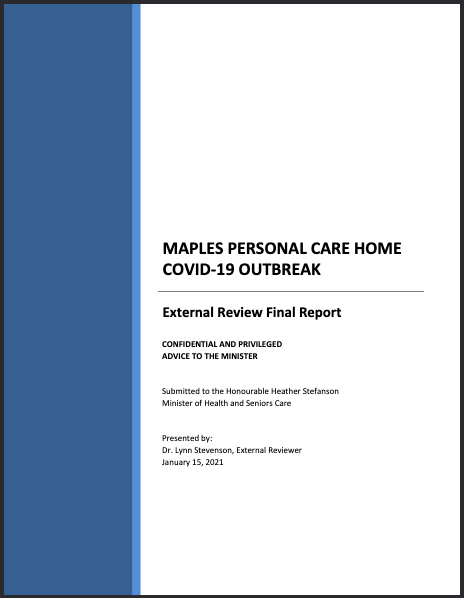 Stevenson Review (pdf)