Seniors and Healthy Aging
Age-Friendly Manitoba Initiative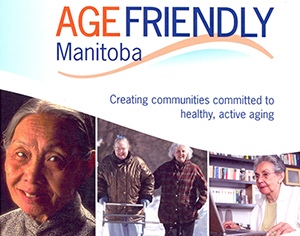 The Age-Friendly Manitoba Initiative is a comprehensive, multifaceted approach in addressing the needs of a growing seniors' population.
The concept of "age-friendly" is built on the World Health Organization's healthy aging framework, which encourages active aging by optimizing opportunities for health, participation and security in order to enhance quality of life as people age.
In 2019, in Manitoba, close to 16 per cent of the population were 65 years and older.
Between 2018 and 2028, in Manitoba, people aged 65 and over are expected to increase by 31 per cent (Manitoba Bureau of Statistics).
As most older adults, aged 65 and over live in the community, communities face opportunities and challenges in responding to their needs and desires.