Stop The Violence
SAFETY ALERT: If you are in danger, please use a computer in a safe place, or call 911. You can leave this site quickly by clicking on Quick Escape
Note: Any visit to a website is recorded in your browser history. If you have experienced family violence and are using a computer that is shared with your abuser, use extreme caution to clear your browser history when you are finished visiting this site. If you do not know how to clear your browser, search the help available for your particular browser or use a public computer if possible

---
November is Domestic Violence Awareness Month in Manitoba
For confidential help and information on domestic violence, call 1-877-977-0007
If you know or suspect that a family member or friend is living with family violence, help take action by:
Letting them know that the abuse is NOT their fault.
Being supportive and listen.
Letting them know there is help available and help them find resources.
Not giving up on them, even if they are not accepting of help at first.
Connect with local resources and supports available in your region: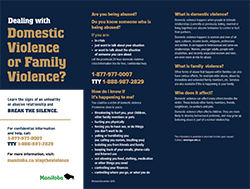 ---
Help create a culture where abuse is not accepted
The Winnipeg Blue Bombers are asking you not to be a bystander and to speak up against domestic violence. Share these videos on social media and be a part of the conversation by using #StopTheViolence.
| | | |
| --- | --- | --- |
| 1. Locker Room Talk | | 2. Stats on Sexual Violence |
---
What is Domestic or Family Violence?
Family violence is actual or threatened physical, sexual, psychological, emotional or financial abuse directed toward a family member.
It includes intimate partner abuse, as well as abuse that is directed to others in a family relationship.
An intimate relationship can be between people who are married, living together, dating, separated or divorced.
Violence can happen in any family and affects women and men of all ages, cultures, income levels, religions, professions and abilities.
Without help, abusive relationships only get WORSE.
---
Help is available
Contact one of the resources below for more information and find out how to create your own protection plan. If you are in an abusive relationship, or you know someone who may be, call 1-877-977-0007.
If you are in immediate danger, call 911