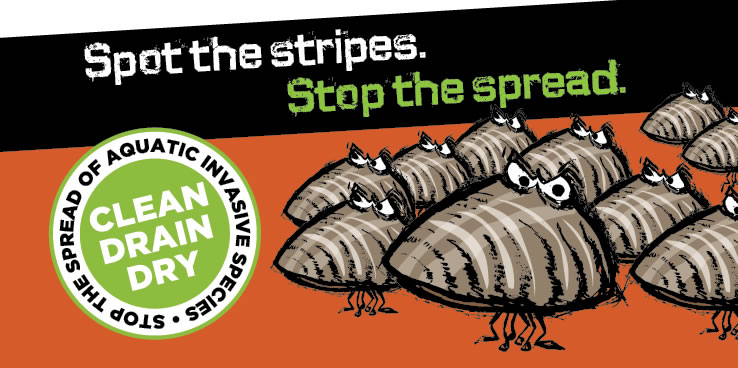 Control Zones
Control zones are areas in which zebra mussels or other aquatic invasive species have been found or are expected to spread.
When you leave a control zone, you must clean, drain, dry AND
dispose of bait in the trash
decontaminate all items before they are placed into a different water body
Aircraft cannot be moored in the Central Control Zone for longer than 12 hours unless the aircraft's floats or pontoons are treated with anti-fouling paint maintained in good condition. The antifouling paint used must be approved by Health Canada. For more information, visit http://www.hc-sc.gc.ca/cps-spc/pest/index-eng.php.
There are four control zones in Manitoba.
1. Central Control Zone includes:

the portion of the Red River from the United States border to its entry into Lake Winnipeg
Lake Winnipeg
the Nelson River from Lake Winnipeg to Hudson Bay, including all lakes through which the Nelson River passes

2. Whiteshell Control Zone includes:

Betula Lake
Jessica Lake
White Lake
the downstream portion of Whiteshell River from Jessica Lake to Winnipeg River

3. Buffalo Bay Control Zone includes:

the portion of Buffalo Bay in the Lake of the Woods located within Manitoba

4. Winnipeg River Control Zone includes:

portions of the Winnipeg River from the Ontario border to its entry into Lake Winnipeg
all the lakes through which the Winnipeg River passes