Guidelines for Owners/Operators, Staff/Volunteers and Patrons of the Arts
The following guidelines have been developed to assist owners/operators, staff, volunteers and patrons of the arts. This includes guidance for live theatrical performances (e.g., ballet, plays, orchestras, symphonies, musical theatre, etc.) or going to the movies.
People at higher risk of experiencing severe illness, including those 60 years of age and older, and individuals living with a chronic health condition or weakened immune system, need to decide their comfort level of risk related to COVID-19. Given their increased risk, individuals in these high-risk groups are advised to consider:
avoiding unnecessary outings and gatherings;
avoiding large groups of people or crowds; and
limiting the number of people they come into contact with at this time to lower their individual risk as well as reduce the spread of COVID-19 in the community.
Theatre goers should be aware that there is currently no evidence on a specific amount of time that is safe. Facilities are advised to increase ventilation (e.g., open windows) or consider moving performances/screenings outdoors, as feasible and practical.
Theatres are subject to provincial public health orders, including the number of people who can assemble in an area.
NOTE: Outdoor drive-in movies should follow the guidelines for outdoor drive-in events. All performers including cast and crew members should follow all the guidelines for film production as well as for vocalists and instrumentalists.
The following guidelines should be followed by owners/operators, staff, volunteers and theatre goers when visiting theatre facilities to catch a movie, play or other live performance (e.g., ballet).
Protecting Staff, Volunteers and Theatre Goers
Staff, volunteers and theatres goers are reminded to stay home if they are feeling unwell, even if their symptoms are mild. (Visit www.manitoba.ca/covid19/about/index.html for a list of symptoms.)
Staff, volunteers and theatre goers should screen themselves for symptoms of COVID-19 or exposures prior to entering the facility (online screening tool available at https://sharedhealthmb.ca/covid19/screening-tool/). Post signage (available at http://www.manitoba.ca/covid19/resources/index.html) to aid people in screening themselves for symptoms and exposures.
Where possible, provide online ticket sale and concession options, and encourage theatre goers to pre-purchase tickets/concessions to limit in-person contact and ensure occupancy limits are followed. As an alternate option, consider offering individual automated box office kiosks that are distanced two metres apart.
In situations where in-person ticket/concessions are purchased, encourage cashless transactions while also ensuring that physical distancing between staff, volunteers and theater goers is maintained.  
Educate staff and volunteers on physical distancing.
Maintain a single point of entry to the building and ensure physical distancing is maintained at all times. Consideration must be given to how people enter/exit seating areas. Line-ups and areas where people congregate (e.g., entrance, washrooms) should be monitored to ensure theatre goers maintain a physical distance of two metres/six feet.
Floor markers may be installed to help theatre goers with maintaining separation and signs should be posted to remind theatre goers to maintain their distance from people outside of their household. Consider installing physical barriers (e.g., plexiglass) when staff/volunteers and theatres goers typically interact in-person, such as during ticket and/or concession purchases.
Establish different points of entry and exit from high-traffic areas, where feasible to do so, and stagger start times to minimize the number of people entering and exiting the facility at the same time. Additionally, consider allowing a predetermined window of time when theatre goers can attend the facility before the scheduled show time.
Seating arrangements should allow for a two metre/six foot separation on all sides between theatre goers from different bookings. Assign seats at the time of ticket purchase to assist with maintaining this physical distance. Depending on the size of seats, this may mean leaving alternating rows empty, and leaving one or more seats empty between parties. This may be done through a combination of blocking off unavailable rows, and posting signage reminding theatre goers to leave the appropriate number of seats between parties.
Consider blocking off seats bordering aisles so that people are not required to walk close to others when coming or going from the theatre.
Place signage at the entrance and throughout the facility to remind staff, volunteers and theatre goers of physical distancing measures, hand hygiene and cough etiquette.
Avoid a formal, traditional intermission to mitigate the chance of theatre goers congregating in the lobby. Consider shorter performances or fewer set changes, for example, to mitigate the need for a formal intermission to remove opportunities for intermingling.
If an intermission is required (e.g., performers require a break), encourage the audience to remain seated, and ensure that patrons are able to maintain adequate physical distancing at all times when exiting/re-entering the hall, in line-ups to use the restroom, etc.  
Cleaning and Disinfection
Ensure hand hygiene stations (alcohol-based hand sanitizer, or soap and water) are available at the entrance, exit and throughout the facility.
All common-touch surfaces (e.g., door handles, arm rests on the seats) must be frequently cleaned/disinfected with Health Canada approved disinfectants that kill viruses, at minimum twice daily but ideally between showings.
Washrooms must have frequent cleaning/disinfection, at minimum twice daily but ideally between showings. Developing and posting a cleaning/disinfection schedule will assist facilities in ensuring commonly touched surfaces and washrooms are adequately cleaned/disinfected.
Shared equipment and objects (e.g., ticket purchasing kiosks, microphones, speakers, props, etc.) should be cleaned/disinfected after each use. If shared equipment cannot be cleaned/disinfected between each use, then it should be removed and not used.
Place plastic-lined garbage containers throughout the facility.
Uniforms and costumes should not be shared, if possible. Encourage staff and volunteers to launder their uniform after each shift.
Concessions
Food services should follow applicable restaurant guidelines (see - Restaurant Guidelines). Close onsite snack bars and other buffet-style counters and do not have self-serve items such as salt/pepper shakers, condiments, straws, napkins or similar items available for pick-up. Rather, supply these items with the concessions at delivery/pick-up. Do not refill drinks.
Ensure that individuals maintain adequate physical distance and do not congregate in the concession area. Consider alternative ways of ordering to avoid interactions in the concession area.
Where possible, have staff/volunteers bring concessions directly to the theatre goer's assigned seat or designate a specific time or pick up location to avoid areas of crowding.
Limit sharing of objects between staff (e.g., popcorn scoops, ice scoops, etc.), or clean/disinfect between uses.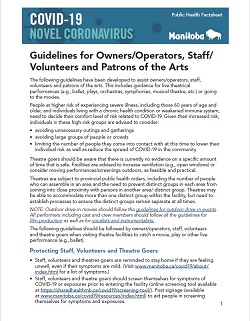 Guidelines for Owners/Operators, Staff/Volunteers and Patrons of the Arts (PDF)