The Manitoba Protein Advantage
Manitoba is home to the world's largest pea processing facility, the world's largest hemp processing company, the first canola protein processor in North America and Canada's largest bacon processing facility. The growing demand for protein puts Manitoba in a strong position to not only process the raw commodity but also incorporate the manufactured ingredients in further value-added consumer products. It is also home to cutting-edge food processing and world class research infrastructure in the agri-food space.
The Manitoba Protein Advantage Strategy
Manitoba released the Manitoba Protein Advantage in 2019 to grow the plant and animal protein industry and create new value for producers and processors through innovation and value chain collaboration and attract new investment of $1.5 billion and 1,550 jobs by 2025. The Manitoba government appointed a Manitoba Protein Consortium to provide leadership on projects of strategic importance and encourage stakeholders to mobilize to achieve the Manitoba Protein Advantage Strategy's objectives.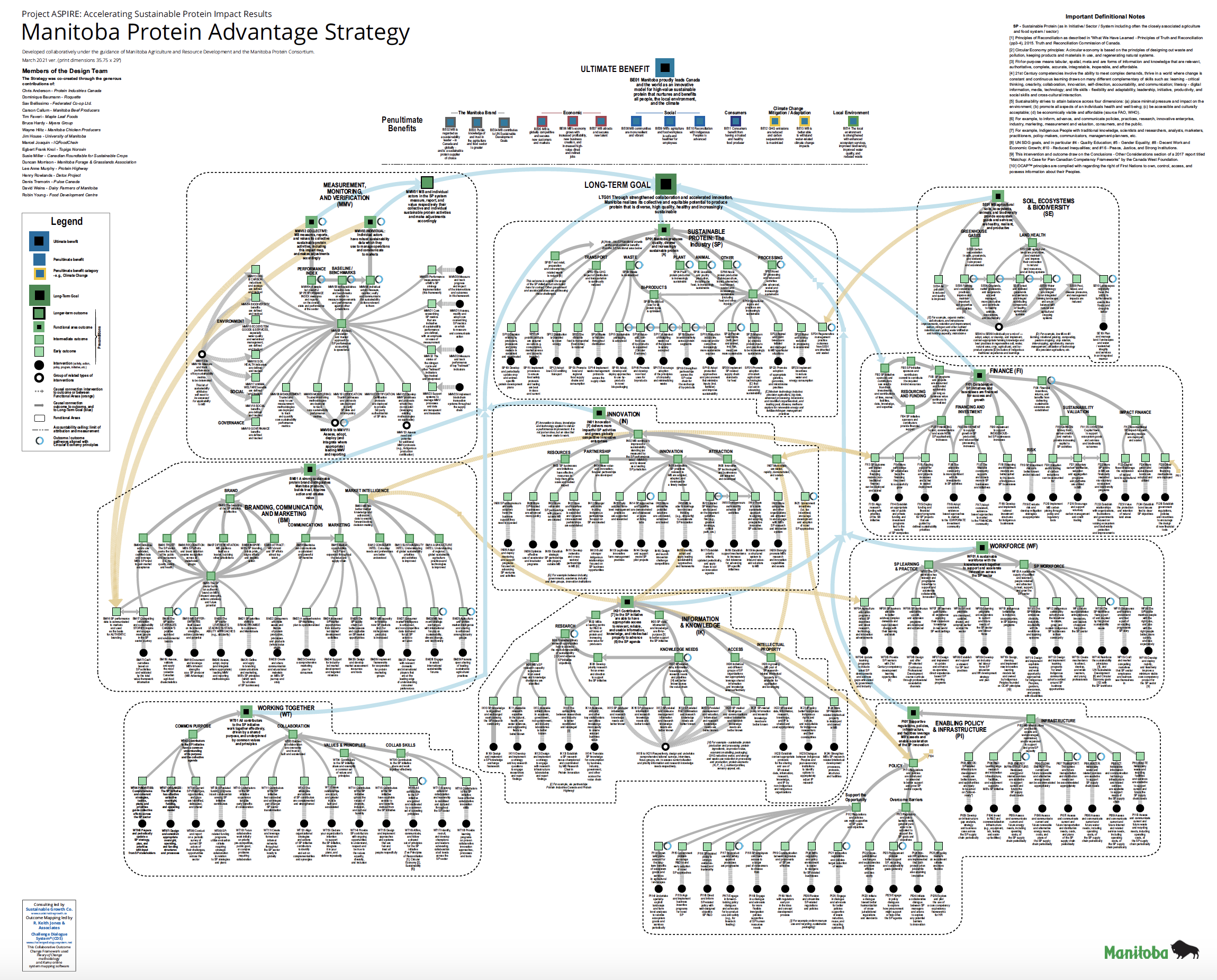 Project ASPIRE: Accelerating Protein Impact and Results
Project ASPIRE: Accelerating Sustainable Protein Impact and Results is the industry-led implementation of the Manitoba Protein Advantage, a collaborative 
stra
tegy to sustainably grow the protein industry and position Manitoba as a global leader in sustainable protein.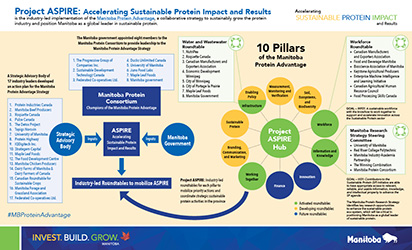 Manitoba's Sustainable Protein Research Strategy
Manitoba has a robust research ecosystem, and with strategic direction and targeted resources, the province can advance its position as a leader in sustainable protein innovation. Dr. James House, professor at the University of Manitoba's Department of Food and Human Nutritional Sciences, with the support of Research Associate Dr. Erin Goldberg (University of Manitoba) developed the Manitoba Protein Research Strategy (MPRS) to help advance Manitoba's Protein Advantage.

Want more information about protein in Manitoba?
Click the thumbnail below to read the 2021 Manitoba Protein 

Industry Highlights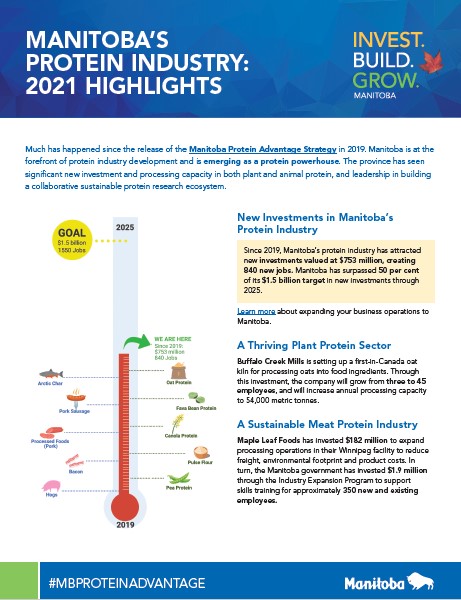 Invest in Manitoba

Expand your operations

 

Sustainability

Responsibly feed the world

Invest in protein research

 

Manitoba Protein Challenge

Compete to win

Reports, Videos and Podcasts

Learn More about Protein
 See our 2020 Protein Highlights for more information
Latest News
June 8, 2022: Manitoba Government Unveils New Protein Research Strategy
February 18, 2022: Manitoba's Plan to Become World Leader in Sustainable Protein Gains Momentum
February 16, 2022: Innovative Agricultural Insurance Product to Strengthen Manitoba Forage and Livestock Sectors
February 14, 2022: Manitoba Creates New Immigration Advisory Council to Guide Improvements to Provincial Policies, Programs
January 13, 2022: Agricultural Crown Land Lease Auctions to be Held Online in 2022
November 30, 2021: Governments Announce New Herd Management Program Under Agrirecovery Framework
November 19, 2021: Governments Invest in Innovation to Help Increase Competitiveness and Sustainability of Pork Producers
February 25, 2021: Province's Second Protein Summit a Resounding Success
February 23, 2021: Province Hosts Second Protein Summit
February 11, 2021: Manitoba Agriinsurance Coverage Highest on Record
February 5, 2021: Agricultural Crown Land Auctions to Begin Next Week
January 11, 2021: Agricultural Crown Land Auctions to be Held Online
January 7, 2021: Governments of Canada and Manitoba Provide Support to Small Businesses
Contact