Invest in Manitoba
Since the release of the Manitoba Protein Advantage Strategy in 2019, Manitoba has attracted investments of over $753 million in the animal and plant protein sectors, which has created 840 new jobs. Manitoba has surpassed 50 per cent of its $1.5 billion target in new investments through 2025.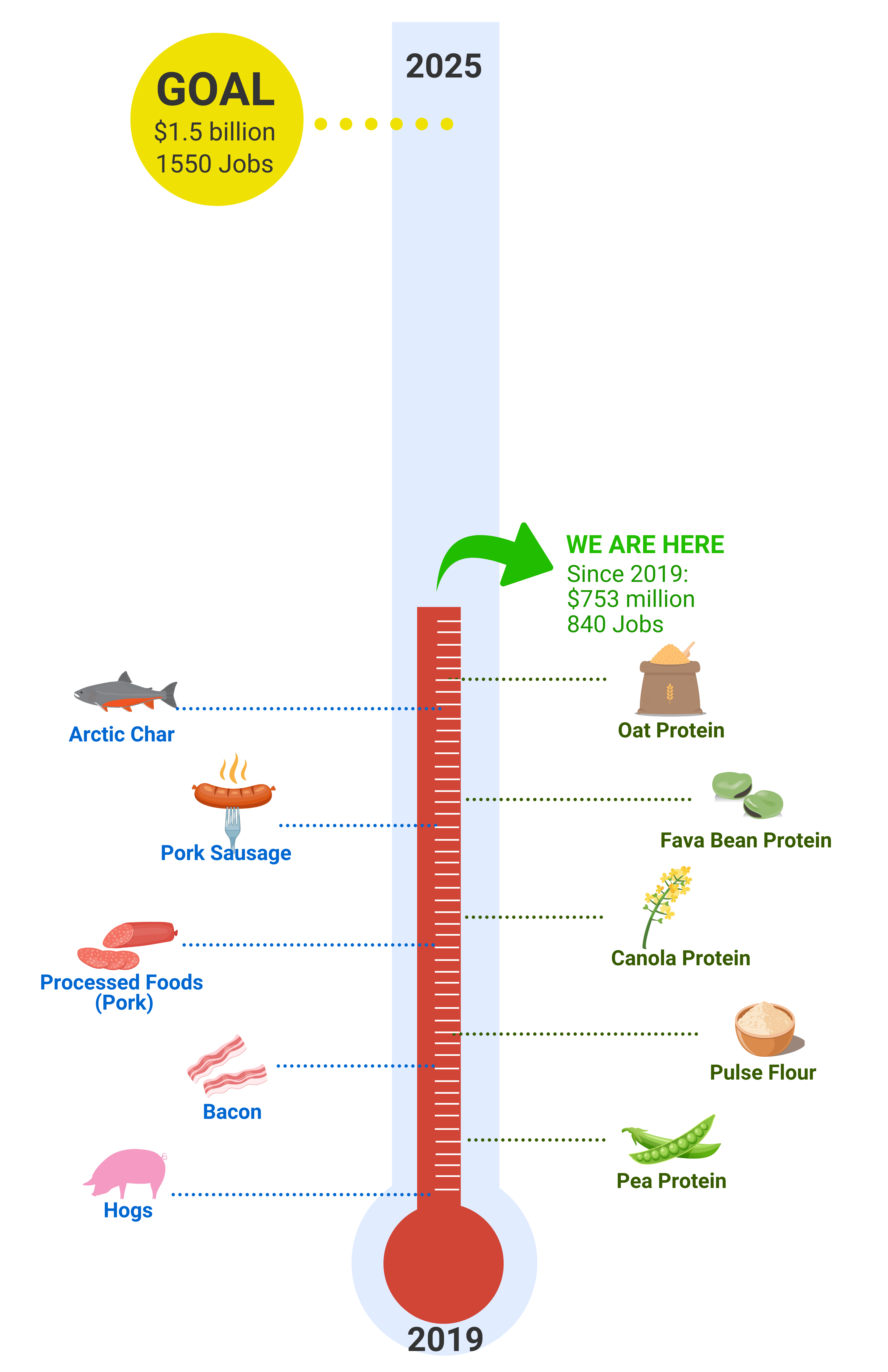 Video Placeholder
Manitoba's Advantages for Investment Attraction

Manitoba has an abundance of advantages that make it an ideal location to invest, build and grow your protein business. Make Manitoba your destination for sustainable plant and animal protein production, processing and innovation.
Advantages include low costs, 99.7% of electricity from renewable energy proximity to plant and animal protein supply, excellent transportation services, competitive business costs, a skilled workforce at competitive wages, research and innovation capacity and a high quality of life.
Video Placeholder
Funding Innovation and Business Expansion in Protein

The Canada and Manitoba governments committed a $176 million investment in Manitoba's agri-food industry through the Canadian Agricultural Partnership.
Since the release of the Manitoba Protein Advantage Strategy in 2019, the province has invested $6 million in protein and innovation on projects such as protein extraction, crop genetic improvements, biosecurity systems and the health impact of protein products. Manitoba also continues to invest to support business expansions and equipment purchase, and to enable businesses to enter and grow international markets. Learn more about how to apply to the Canadian Agricultural Partnership program.
Manitoba is a member of Protein Industries Canada, $153 million supercluster that supports value-added agriculture projects, growing Canada's position as a global leader in plant protein. Protein Industries Canada has invested over $51 million in Manitoba's protein industry to construct a plant protein facilities, address nutrition and processing challenges, explore the value of blended plant protein products and to develop crop varieties that combine high-yield potential and high-protein content. Learn how to apply to the Protein Industries Canada's program.

Video Placeholder
Regional Economic Profiles
The Manitoba Economic Profiles provides an overview of demographics, job and business data within a defined region to evaluate the desirability of an area for investment opportunities. Manitoba is broken into eight economic regions, each with unique competitive advantages and potential opportunities. There are also profiles available for the Capital Region, rural Manitoba and northern Manitoba.
Video Placeholder
Recent Investments in Manitoba's Protein Industry 
$600 million by Roquette Canada 

to construct the world's largest pea protein processing facility in Portage la Prairie

$212.5 million by

Hylife Foods

to expand pork processing (Neepawa) and feed and pig production (southwestern Manitoba)

$102 million by Merit Functional Foods

to construct a pea and canola protein processing facility in Rosser

$100 million by MDI Holdings Inc.

to construct a dairy processing facility in Winnipeg

$50 million by

Parmalat

to construct a fluid milk plant in Winnipeg

$85 million by Paterson GlobalFoods

to construct an oat processing plant in Winnipeg