Read Emma's Journal

Homesteading in Manitoba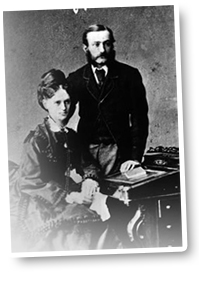 Emma Louisa Averill (née Peacey), was born in England's Cotswold Hills country. In 1870, Emma married Octavius Averill and the couple settled on rented property near the village of Tetbury. Seeing no future for their children in England, the Averill family set sail for Canada on board the S.S. Sardinian on April 1, 1880.
A year after leaving her home in England, Emma Averill wrote a journal which gives her account of the trip from Liverpool to the 'Far West of Manitoba' and the experiences in establishing a homestead near Minnedosa.
Emma's journal gives us a glimpse into the life of one Manitoba homesteader: her motivations for moving to Canada, her optimistic approach to her new life and the building of rural Manitoba, one homesteader at a time.