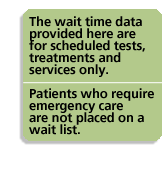 Cardiac (Heart) Surgery
Cardiac surgery is performed in the Winnipeg Regional Health Authority. All Manitoba cardiac patients are co-ordinated by two Cardiac Surgery Wait List Co-ordinators.
What is Cardiac Surgery?
Cardiac surgery is surgery on the heart, typically to correct different kinds of heart disease or valve problems created by various causes, including endocarditis. In Manitoba, wait times are reported for all cardiac surgery combined, and for Coronary Arterial Bypass Grafts (CABGs) (commonly referred to as bypass surgery) broken down by level of urgency: emergent & urgent, semi-urgent and elective. Information provided on the number of cases includes the procedures listed here.
---
Cardiac Surgery Wait Times (Median)
All Cardiac Surgery Combined
41 days
LEVEL 1 CABG:
Emergent & Urgent

LEVEL 2 CABG:
Semi-urgent

LEVEL 3 CABG:
Elective

All CABG Levels

6 days

25 days

79 days

12 days

Data for September 2022
Median wait time: The point at which half the patients have had their treatment, and the other half are still waiting. For example, if a median wait time is 4 weeks, this means that half of the patients waited less than 4 weeks, and half waited more than 4 weeks. The median is another way of reflecting what a "typical" patient might have experienced in that time period. Unlike the average, the median is not generally influenced by one or two very unusual cases (long or short), and is therefore more stable over time.
Emergent and Urgent (Priority Level 1 – within 14 days): These are critically ill, medically unstable patients, who cannot be discharged from hospital prior to receiving care.
Semi-Urgent (Priority Level 2 – within 15-42 days): These are patients with significant heart health problems. They may be doing poorly on medication and/or may have pain with minor exercise. These patients are not critically ill but waiting too long could result in a deterioration in their health status.
Elective (Priority 3 – within 43-180 days): These are patients who are stable but have some form of heart health problem. Their procedure may be scheduled after a wait time without undue deterioration in their health status.
Cases of Cardiac Surgery
Regional Health Authority

Facilities

Total Number of Cases
(per month)

2022/2023
Fiscal Year to Date1

2021/2022
Fiscal Year1

Winnipeg
St. Boniface General Hospital &
Health Sciences Centre

84

527

970

Data for September 2022
1 Fiscal year is April to March.

If you are currently waiting for cardiac surgery and you have more questions, you can contact a Cardiac Surgery Wait List Co-ordinator at:
204-237-2334 or toll free 1-800-667-7070.
---
Cardiac Procedures reported on this website include:
Coronary Artery Bypass Grafts (CABG)
Heart valve replacement, repair, annuloplasty (surgical reconstruction of an incompetent cardiac valve)
Atrial and ventricular septal defect
Left ventricular aneurysm, left ventricular assistance device
ECMO (extracorporeal membrane oxygentation-temporary support of heart and lung function by partial cardiopulmonary bypass)
Pericardectomy (surgical excision of a part of the pericardium, or the membrane which encompasses the heart)
Deep hypothermic cardiac arrests
Trauma to heart
Tumours of heart
Resection of thoracic aorta vessels
---
Cardiac Surgery Historical Information
Historical data for the previous 13 months is available by clicking the link below:
View the historical information here - PDF


View the historical information here - Excel