Legislative Page Reunion 2021
The 2020 Page reunion has been postponed to 2021 due to COVID-19. More information will be posted here at a later date.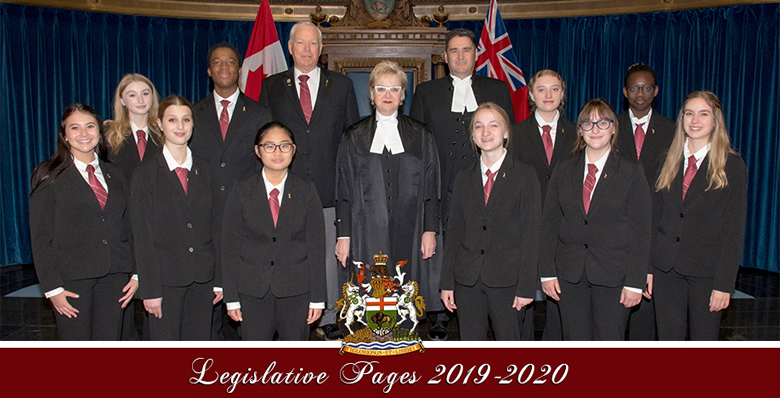 Did you once work as a Legislative Page in the Manitoba Assembly?  If yes, we are looking for you to take part in a celebration this summer.
For many decades, the Legislative Assembly has employed Pages to provide essential services to the Members and Officers of the Legislature while the House is in session. The Page Program provides Grade 11 and 12 students who have an interest in politics, government and the legislative process with an opportunity to see firsthand how public policy decisions are made by Members of the Legislative Assembly. Pages perform a broad range of tasks during session, including: announcing Members' names during recorded votes, preparing the Legislative Chamber for each sitting, delivering messages to MLAs and distributing documents in the Chamber.
In this anniversary year of 2020 – when we are marking 150 years since Manitoba joined Canada, and 100 years since the opening of our Legislative Building – we will be celebrating our Page Program and all the great people who have served the Assembly in this role with an event at the Legislature in the Fall of 2020 (date to be announced).
In advance of this event, we are seeking contact information for anyone who has served as a Page at any time in our history. We hope to gather as many former Pages as possible for this celebration.
As the Hon. Myrna Driedger, Speaker of the House, noted: "We are so proud of all our Pages every year for the exceptional work they do, and we are looking forward to gathering as many alumni from as far back in our history as possible for one big celebration. We look forward to hearing former Pages share stories and anecdotes from their time in the building."
If you are a former Page, please contact us at pagereunion@leg.gov.mb.ca, or (204) 945-3636, providing your name, contact information, and the years you served as a Page.
If you know of someone who served as a Page, please pass on this information.
---
For further information please contact:

Office of the Clerk of the Legislative Assembly
Room 237 Legislative Building
450 Broadway
Winnipeg MB R3C 0V8
(204) 945-3636
pagereunion@leg.gov.mb.ca