Municipal and Northern Relations
Welcome to The Manitoba Municipal Board Web site.
Established under The Municipal Board Act, The Municipal Board operates as a quasi-judicial administrative tribunal. The Board is governed by 17 different Acts of the Legislature. The Board has a very broad mandate but the two main areas of its jurisdiction are to hear property assessment appeals and planning appeals and referrals.
In an effort to assist the public with various matters before the Board, the content of this site is tailored to inform those who may have the right to appeal or to object to a matter, as the applicable legislation allows. Information on how to file a notice of appeal and what to expect at a hearing is included.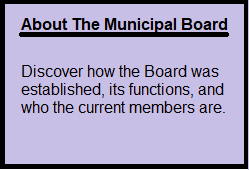 Don't hesitate to
contact us
if you have any questions or comments about the Board's operations or our site.