2019 Regulatory Accountability Report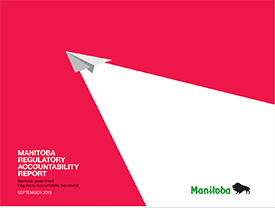 Documents
2019 Manitoba Regulatory Accountability Report (pdf 2 MB)


The Manitoba government is continuing to reduce red tape and improve regulatory accountability as part of its plan to fix the finances and repair the services of Manitoba as we rebuild the provincial economy.
Improving regulatory accountability and reducing red tape lowers the cost of understanding and complying with regulations for stakeholders, such as municipalities, not-for-profits and businesses. Manitoba is making steady progress in its goal of being the most improved province for regulatory accountability by 2020.
The regulatory accountability initiative has reduced numbers of provincial regulatory requirements to just over 880,000, down from more than 960,000 on April 1, 2016.
This new report outlines the progress made in 2018/19 and covers the regulatory accountability activities and results of all departments and government agencies. Manitoba's approach to regulatory accountability is comprehensive in terms of identifying and measuring regulatory requirements in all regulatory instruments, including Acts, regulations, policies and forms.
Changes to regulatory instruments and reductions to regulatory requirements will continue to be monitored and tracked on an ongoing basis. The Regulatory Accountability Database was deployed to assist in tracking regulatory requirements and to provide a powerful set of tools for managing the development and analysis of regulatory requirements and instruments.