Current Crop Topics
The latest information on crop management and agronomy issues in field and horticultural crops in Manitoba.
Presentations - Manitoba Ag Days (2018):
crop-rotation-slippery-slope.pdf
Presentations and Posters - Manitoba Agronomists (2017):
Manitoba Agronomists Conference (2017)
---
Changes to wheat variety classifications will impact spring seeding intentions
As of August 1, 2018, 25 Canada Western Red Spring (CWRS) varieties and 4 Canada Prairie Spring Red (CPSR) varieties will be moved into the Canada Northern Hard Red (CNHR) class.

 

Prior to putting seed in the ground, consult the Canadian Grain Commission's variety designation list to see if the variety you are planning to grow will be changing classes before harvest.

 

The complete list of varieties transitioning to CNHR is available at:

 

https://www.grainscanada.gc.ca/consultations/classes-en.htm
The modernization of the wheat class system revised the parameters of the CWRS and CPSR classes to ensure that wheat varieties in these classes met strict quality guidelines.

 

The varieties transitioning from CWRS and CPSR to CNHR do not meet the quality parameters of their current class.

 

The CNHR wheat class was created to allow farmers more flexibility in the wheat varieties they grow while preserving the quality of the CWRS class.

 

Wheat varieties in the CNHR class such as Faller, Prosper, and Elgin ND, have slightly lower protein than CWRS wheats but are higher yielding.

 

  

    
Factors to Consider with Herbicide Carryover
Plantback or re-cropping restrictions for residual or extended control herbicides are an important crop rotation consideration. Soil moisture is an important consideration.

 

In addition, soil texture, organic matter and pH can influence the degradation of any herbicide.
Re-cropping intervals are also be impacted by use rates and time of application, so always read the label for specific re-cropping instructions.
Check Manitoba Agriculture's current
Guide to Field Crop Protection
 for detailed information on re-cropping restrictions (Page 78).
With lower than normal rainfall amounts in many areas in 2017, risk areas have been developed based on precipitation amounts received during the period from June 1 - September 1, 2017.

 

Producers in the normal risk areas should follow label directions to determine what crops they may plant, but may still have localized areas that are susceptible to extended carryover due to the low in season rainfall. Producers in the extreme, very high risk and high risk areas should contact the manufacturer of the residual herbicide for rotational crops supported by that company. Producers in the moderate risk areas that also have low organic matter or have soil pH less than 6.5 or greater than 7.5 should also contact the manufacturer of the residual herbicide used previously.
It is important to have rainfall records for each field in order to determine localized risk.
Herbicide residues can be managed, but it requires good record keeping, planning and knowing which herbicides leave residues.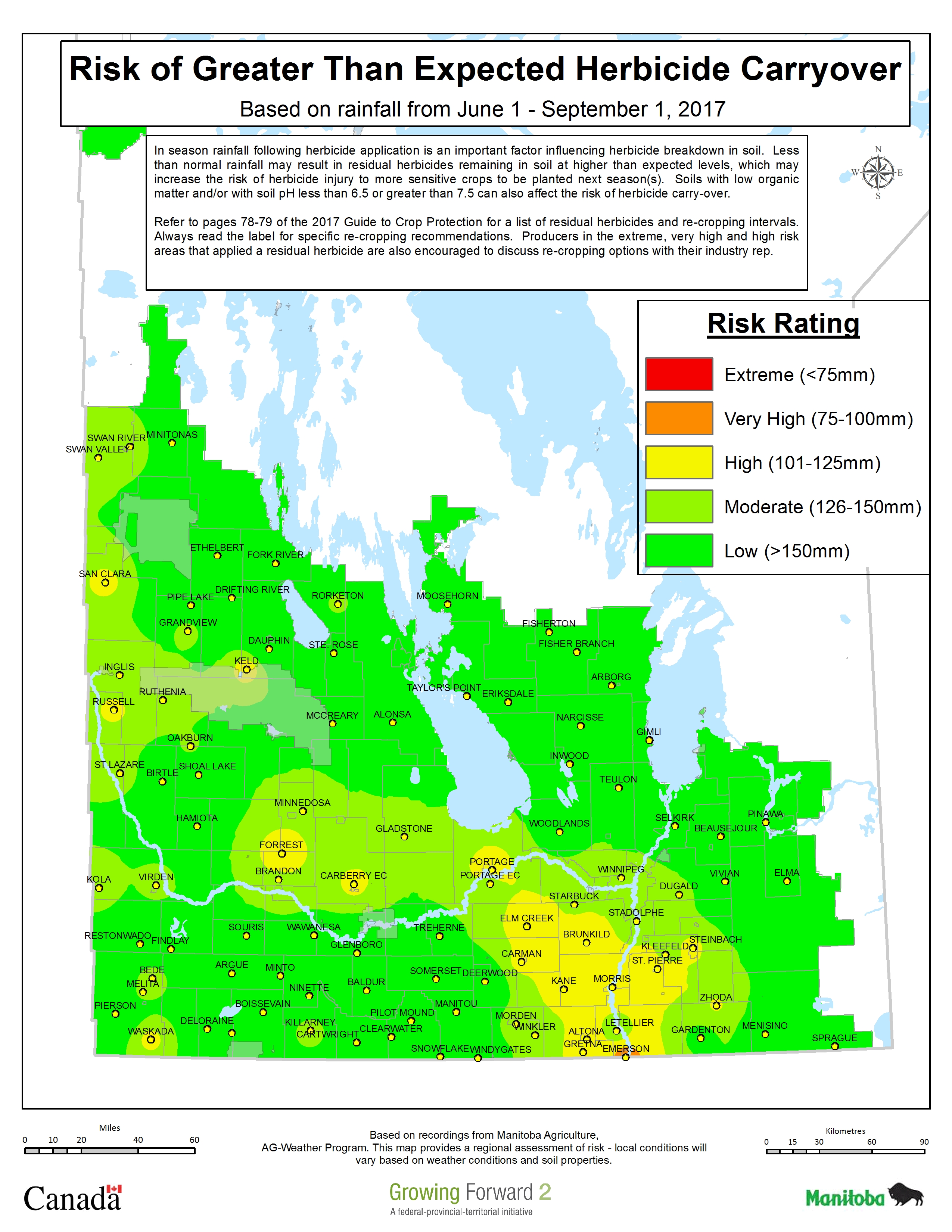 How did the cold temperatures affect my winter wheat?
Extremely cold temperatures were experienced throughout Manitoba at the end of December and beginning of January.

 

The cold temperatures combined with limited amounts of snow cover have many winter wheat producers thinking about winter survival.

 
Manitoba Agriculture's Ag Weather Program has been monitoring soil temperatures in winter wheat fields for a number of years.

 

There are currently three weather stations measuring real time soil temperatures in winter wheat fields at Alexander, Dauphin, and Kleefeld.

 

The data collected from the weather stations is made available to the University of Saskatchewan and Western Ag Labs for their Winter Cereal Survival Model, available at: https://www.wheatworkers.ca/wcsm.php.

 

The Winter Cereal Survival Model compares the cold tolerance of winter wheat varieties to the daily average soil temperature at crown depth (about 1").

 
Plotting the soil temperatures against hardiness curves can give an early indication if there is a concern for winter injury or winterkill.

 

Factors that can impact the level of cold hardiness of the plant include weather, fertility, seeding date, and seeding depth.

 

In Manitoba, the majority of winter wheat acres would likely be considered to be well-hardened.

 

The figure below shows soil temperatures at 1" depth in three winter wheat fields in Manitoba, plotted against three hardiness curves.

 
Figure 1.

2017/18 soil temperatures (as of January 16, 2018) measured at 1" depth in three winter wheat fields.

 

Data Source: Manitoba Agriculture Ag Weather Program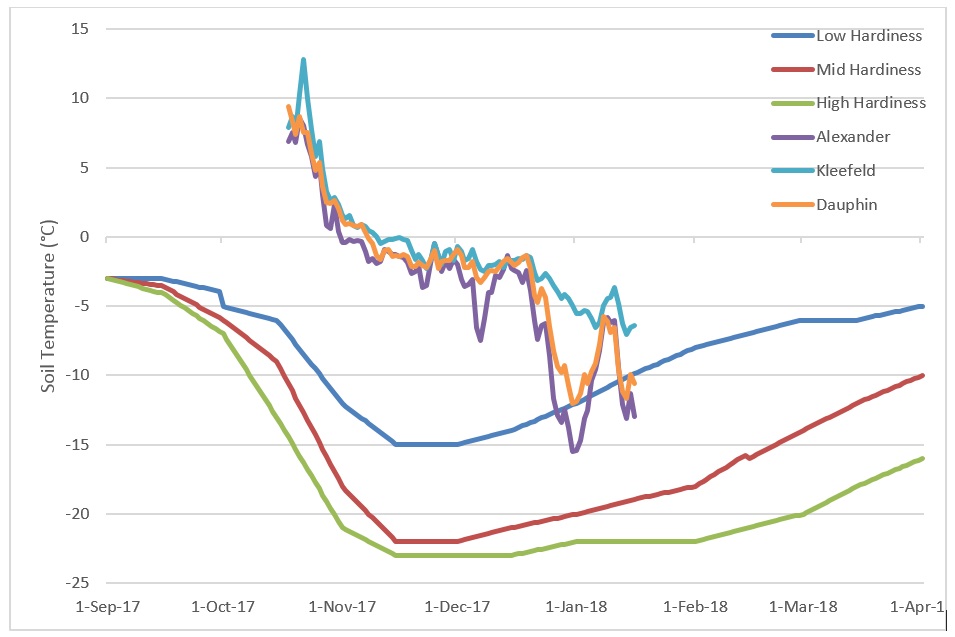 Soil temperatures in Alexander and Dauphin dipped below the low hardiness curve, but have not approached the mid and high-hardiness curves at this point.

 

To assess the level of risk on your farm consider how well-hardened your field may be and check your fields for level of snow accumulation.

 

It is still early in the season, so check back in on the Winter Wheat Survival Model throughout the winter to get an idea of the risk of winterkill in your area.

 
Considerations for Overwintering Corn
The vast majority of corn in Manitoba is in the bin, but what about those few fields that may not be harvested yet?

 

In some cases weather conditions may have made it difficult for farmers to harvest corn in the fall, but some farmers may decide that the corn moisture level and costs associated with drying mean that it is more economical to leave corn in the field to let it dry down naturally over winter.

 
Just how much dry down can be expected over winter?

The amount of drying that occurs in the field depends on the corn maturity, variety, and moisture content, as well as environmental factors such as temperature, humidity, solar radiation, and wind speed.

 

Field drying is extremely slow in the winter, and corn will only dry to about 20 to 21% moisture content. In a typical year, it is expected that corn will dry approximately 11-12% in October, 4-5% in November, and just 2% per month in December and January (Table 1).

    

  
Table 1.

Estimated corn field drying
Month

EMC (%)*

GDD

PET (in.)

Estimated Drying (% pt.)

Month

Week
EMC – equilibrium moisture content, GDD – growing degree days, PET – potential evapotranspirationEMC – equilibrium moisture content, GDD – growing degree days, PET – potential evapotranspiration
*EMC is the moisture content to which corn will dry and is based on air temperature and relative humidityEMC is the moisture content to which corn will dry and is based on air temperature and relative humidity
Source:

Ken Hellevang, 2009. 2009 Post-harvest tips for later maturing corn. NDSU Extension Service.

 
Risks of overwintering corn

Heavy snowfall during the winter can cause significant amounts of lodging resulting in yield losses.

 

Root and stalk strength should be taken into consideration when deciding if a field should be overwintered. Research conducted at the University of Wisconsin examined corn yield loss during the winter (Table 2).

 

This researched showed that in 2000, a year with heavy snow cover, yield loss was much greater than in 2001, a year with very little snow cover.

 

Standing corn may result in more snow catch and slow soil drying in the spring, which could delay planting.
Table 2.

Percent yield loss of corn left standing in the field through winter at Arlington, Wisconsin.

 
Corn can be harvested throughout the winter if conditions are cool and there isn't much snow.

 

If stalks stay standing throughout the winter, and ear drop and wildlife damage are limited, corn can get through the winter without much yield loss.

 

Yield loss throughout the winter will vary by hybrid and environmental conditions.

    
If you are planning to over winter corn please contact your local MASC agent.