Food Is An Integral Part Of School Life
Whether it is served in cafeterias, canteens, or vending machines; offered as part of breakfast programs; used for fundraising or special events; or is a subject for curriculum instruction, food plays an important role in the school day.
Schools across Manitoba are taking action to promote healthy eating and healthy food choices at school. This website will provide guidance and resources for anyone working in or with a school on food related activities throughout the school day, including teachers, parents, administrators, students, and health professionals.
What's New?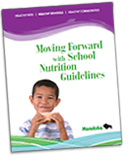 "Moving Forward with School Nutrition Guidelines"
This document replaces the guidelines in the 2006 "Manitoba School Nutrition Handbook: Getting Started with Guidelines and Policies" document. It is divided into six areas of focus where schools often provide food for students and is designed to assist schools as they make plans to improve school nutrition environments in Manitoba.

A series of downloadable colourful posters promoting healthy eating in schools, early learning and child care centres and recreation facilities. Aussi disponible en français. A limited quantity of additional copies are available to order ONLY by schools, child care centres and recreation facilities in MANITOBA. Call 1-888-547-0535

These boards/posters/banners are designed to help parents, caregivers, older students and adults understand healthy food choices and use information on food packages to help make decisions. Each board includes shopping tips for busy on-the-go people.

A healthy lunch including a variety of foods can provide the energy, nutrition and balance that students need to learn. Look here for tips and ideas on making lunches.

Nutrition Resources for Educators

Nutrition information and tools for educators in Manitoba

Nutrition Information for Parents and Caregivers

Resources are available to help you and your family eat well with Canada's Food Guide and make healthy food choices.

Breakfast, Snack and Lunch Programs

Good food is critical for health and the ability to grow and learn. Learn more about school nutrition programs and grants in Manitoba and the Vegetable and Fruit Program.

Canteens, Cafeterias and Vending

Manitoba schools are providing nutritious food options for sale to staff and students. This section of the Food In Schools website is dedicated to sharing tips, recipes and menu ideas for cafeterias, canteens and vending machines in Manitoba Schools.

School fundraising can support a healthy school culture.

Special Lunch Days and Special Occasions

Make healthy food special! When planning food for school events or parties, provide nutritious food choices. Healthy eating at school makes good sense and gives a consistent message with nutrition theory taught.

Taking part in recreational or competitive sports at a young age helps develop skills, confidence, good health, and fitness. The child and teen years are also important times for growth and development.

A healthy school promotes the physical, emotional, and social health of students, their families, school staff, and school community. Providing an environment where kids can eat healthily is part of being a healthy school.

School Nutrition Guidelines and Policies

Resources are available to help school communities develop nutrition policies and implement changes to promote healthier eating options.

School Nutrition Information Line

Need help with improving your school nutrition environment? Call 1-888-547-0535 toll free for assistance from the school nutrition support team.
Healthy Schools is a partnership of:
Healthy Living and Seniors
Education | Healthy Child Manitoba