Historic Resources Branch
Manitoba Municipal Heritage Site No. 353

Arnes Lutheran Church
NW 9-21-4 EPM
Arnes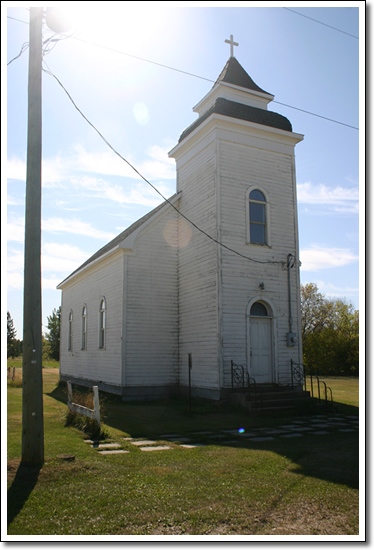 Designation Date: July 15, 2010
Designation Authority: Gimli (R.M.)
Present Owner: Arnes Lutheran Church

Arnes Lutheran Church (1910; interior completed 1919) is a well-preserved example of the type of simple rectangular wood-frame church that was once found in nearly every Manitoba community, but was often replaced by larger buildings as communities grew. The church, which is in the Pioneer Baroque Style, is entered through an elegant two-tiered square tower projecting from the front. It is an important physical reminder of the Icelandic heritage of the district, which had expanded north into the region in the late 1870s after a disastrous smallpox epidemic in the Gimli area. It initially stood on a site south of Arnes, and was moved to the current site by horse and sleigh in 1920. The church played an active role in the community until attendance began to drop in the 1960s and 70s; it still has a high degree of physical integrity, with nearly every historic feature intact.