Historic Resources Branch
Manitoba Municipal Heritage Site No. 362

St. Luke's Anglican Church – Pembina Crossing
SE 26-2-9 WPM
Kaleida area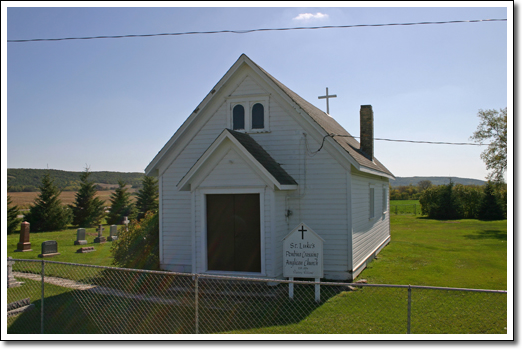 Designation Date: March 28, 2011
Designation Authority: Pembina (R.M.)
Present Owner: St. Luke's Anglican Church – Pembina Crossing

St. Luke's Anglican Church-Pembina Crossing is the solitary remaining structure recalling the pioneer community of Pembina Crossing. That settlement, formed in the early 1880s, was for a time a bustling commercial centre, situated on the Boundary Commission Trail, an important settlement route leading into western Canada. But like so many places in southern Manitoba, the community succumbed to the final location of a railway line, which bypassed Pembina Crossing. The present 1922 church, which replaced the original building from 1885, which burned, is an excellent example of the kind of small, dignified structures that provided sanctuary for small rural congregations.